Taiwan: Officials Call on the Government to Deny Entry of Governor of Chinese Province of Liaoning (Photos)
February 16, 2011 | By Li Huirong
(Clearwisdom.net) Chen Zhenggao, governor of Liaoning Province, China, is scheduled to visit Taiwan on February 15, 2011, for a week. Chen has been an active participant in the persecution of Falun Gong in China and severely violated Falun Gong practitioners' human rights. On February 14th, councilors, legislators, professors, human rights lawyers, and representatives from the Global Mission to Rescue Persecuted Falun Gong Practitioners and the No CCP Villain International Alliance held press conferences in Kaohsiung and Yunlin to protest Chen's visit to Taiwan and to call on the immigration department to deny Chen's entry.
Reporters from Liberty Times, China Times, United Daily News, CNA, The Commons Daily News, The Journalist, The Real Daily, Juvenile China Morning Times, Taiwan News, Lihpao Daily, Happy Radio, and JTTV, were at the press conferences.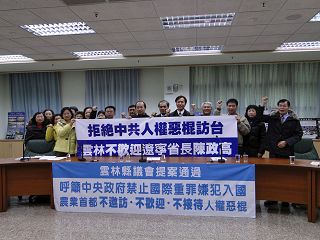 At the press conference held at the Yunlin County Council, the participants ask the immigration department to deny Chen's visit.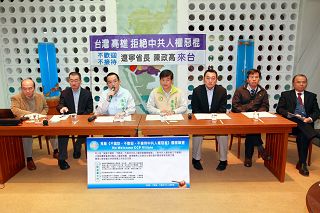 At the press conference held at the Kaohsiung City Council, the participants ask the immigration department to deny Chen's visit.
Liaoning Province has aggressively participated in the persecution of Falun Gong practitioners since it began in 1999, according to the Coalition to Investigate the Persecution of Falun Gong. Chen, in the past 12 years, has played a leading role in persecuting Falun Gong practitioners in Liaoning. In 2008, Chen ordered the persecution of Mr. Yu Ming, a successful businessman from Shenyang, Liaoning. Mr. Yu was tortured in the Masanjia Forced Labor Camp. The guards brutally beat him, shocked him in his genital area with electric batons, hung him in the air through the handcuffs on his wrists for several days, and locked him in a metal cage for three months. The guards forged his suicide note while planning to murder him.
Based on the incomplete statistics on the Minghui/Clearwisdom website, by February 2011, the number of Falun Gong practitioners who are confirmed to have been killed by authorities in Liaoning Province is 409.
Legislator Liu Chien-Kuo said at the press conference, "Taiwan is a free democratic country. It would be absurd for us to welcome and receive a Chinese Communist Party (CCP) official who has been abusing human rights."
Liu asked more people to step forward and tell the government to protect human rights.
Tsai Yueh-Ju, a member of Yunlin County Council, also called Formosa Plastics Co., the company Chen planned to visit in Yunlin, to uphold its conscience of being an international enterprise and not to invite, receive and welcome Chen.
Kaohsiung City Councilor Hsiao Yung-Ta said that if they welcome the CCP's human rights violators to visit Taiwan, then there will be consequences.
Human rights attorney Liu Si-long believes that business exchange between Taiwan and China will be worthless if universal values such as human rights are ignored. "We have to protect ourselves," said Liu.
"Unless Chen openly apologizes for his violations of human rights, we want him to stay in China," said Kaohsiung City Councilor Chen Chih-Chung. Chen believes Taiwan has the advantage over China because people in Taiwan believe in freedom, democracy and human rights.
Chen Cheng-wen, Kaohsiung City Councilor, asked the mayor of Kaohsiung Chen Chu to "lead the city administration and take the initiative not to receive Chen."
Chang Wen-Jui, Kaohsiung City Councilor, called on everyone to condemn Chen's brutality in China and to deny his entry to Taiwan. Chou Ping-Te, former presidential advisor, said, "Not only do we not welcome Chen, we want to drive him out if he visits."
Kaohsiung City Councilor Cheng Hsin-Chu believes that allowing Chen to come to Taiwan mocks Taiwan's human rights. "If Chen comes to Taiwan, I believe that Falun Gong practitioners should formally sue him."
According to Teresa Chu, spokesperson of the Falun Gong Human Rights Lawyers Working Group, legislator Chen Ting-Fei and the Falun Dafa Association submitted a list of crimes Chen committed against Falun Gong practitioners to the National Immigration Agency, Mainland Affairs Council and Ministry of Justice two weeks ago, asking them to comply with the motion passed by Legislative Yuan and to deny Chen's entry.