Attorney Calls for Justice for Mr. Ruan Fanghua (Photo)
February 16, 2011 | By a Clearwisdom correspondent in Hunan Province, China
Name: Ruan Fanghua (阮放华)
Gender: Male
Age: 59
Address: Unknown
Occupation: Retired from Ruanjiang Paper Mill
Date of Most Recent Arrest: August 3, 2010
Most Recent Place of Detention: Ningxiang County Detention Center (宁乡县看守所)
City: Ningxiang County
Province: Hunan
Persecution Suffered: Forced labor, brainwashing, home ransacked, interrogation, detention
Defense Attorney: Lawyer Jin Guanghong from Beijing(北京律师金光鸿)
(Clearwisdom.net) Mr. Ruan Fanghua, a Falun Gong practitioner from Changsha City, Hunan Province was tried by the Yuelu District Court on January 24, 2011. Mr. Jin Guanghong, an attorney from Beijing, represented him and entered a plea of not guilty. The attorney pointed out that there was no evidence against Mr. Ruan and the charge had no legal basis. The attorney called upon the judge to follow his conscience and release Mr. Ruan as a free, innocent man.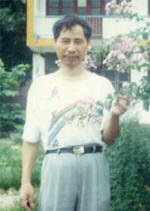 Mr. Ruan Fanghua
On August 2, 2010, Mr. Ruan was arrested by the State Security Team of the Yuelu District Public Security Bureau in Yuelu District, Changsha City under the directive of the 610 Office in Changsha.
On the evening of August 2, Ouyang Zhenyuan, a police officer from the Yuelu District State Security Team, led a team of police officers and shut down the power in Mr. Ruan's building. When Mr. Ruan opened his door to check out the cause, he was met by the police officers and arrested. The police ransacked his home and confiscated his computer and other personal effects. On the evening of August 3, the police from Yuelu District took Mr. Ruan to the Legal Education Center in Changsha without going through any legal procedure. The Legal Education Center is actually a makeshift detention and brainwashing facility exclusively for Falun Gong practitioners, and is operated by the local 610 Office. On August 25, 2010, Mr. Ruan was transferred to a detention center in Ningxiang County after 22 days of brainwashing.
Mr. Ruan was subjected to both physical and mental torture. During his incarceration in Ningxiang Detention Center, Mr. Ruan showed symptoms of hypertension. However, the State Security Team from Yuelu District refused to release him on bail for medical treatment. On September 20, 2010, the police issued an arrest warrant and put him on trial. By then, Mr. Ruan was nearly 60 years old. His family hired Mr. Jin Guanghong, an attorney from Beijing, to seek justice for him.
However, it was not until his family saw Mr. Ruan in the courtroom that they discovered the severe toll the torture had taken on his health. Mr. Ruan had become skinny and his hair turned gray. He looked withered.
During the trial, the attorney entered a plea of not guilty for Mr. Ruan. He pointed out that the charges were not supported by any law or regulation. He said that Mr. Ruan practices Falun Gong and possesses Falun Gong books and materials containing facts about Falun Gong. It has nothing to do with being part of an "evil cult" as claimed by the prosecutor.
The prosecutor then referenced Chinese state media reports on the staged self-immolation act in Tiananmen Square in 1999 as evidence that Falun Gong is an evil cult, and argued that it must be one because Mr. Ruan had been sentenced to forced labor camp for distributing Falun Gong materials.
During the defense, Mr. Jin argued, "The alleged self-immolation was a hoax and propaganda. It has been over a decade since it was reported on television and in newspapers, but no one has ever witnessed any Falun Gong practitioner attempting to commit self-immolation. Have you?"
The prosecutor was silent.
The attorney added that Mr. Ruan wanted nothing but to follow Falun Gong's principles of Truthfulness-Compassion-Forbearance to become a better person and that Mr. Ruan was a law-abiding citizen. He explained that Mr. Ruan produced informational materials about Falun Gong because he wanted to introduce Falun Gong to people and tell people about Falun Gong. Mr. Ruan has been using peaceful and legal means to attain his goals. The attorney added that there is no law prohibiting people from saying "Falun Dafa is good," "Truthfulness-Compassion-Forbearance is good," "Quit the Chinese Communist Party and its associated organizations to be spared from the doom the CCP will ultimately face" or "The CCP will collapse." There is no law or regulation that prohibits people from saying these things. He added that people are entitled to do anything that is not prohibited by law and that it is a given right for everyone.
The attorney said that we are people of laws. Publications such as Nine Commentaries on the Communist Party and Dissolving the Party Culture are not in violation of Chinese laws. He emphasized that people are entitled to do anything as long as it is not prohibited by the law. In addition, the Chinese Constitution guarantees that every Chinese citizen is entitled to the freedom of personal belief and the freedom of speech, and that every Chinese citizen has the right to criticize and make suggestions to the Chinese government. Falun Gong practitioners have been using their own money for the production of the materials containing facts about the persecution against Falun Gong. What is wrong with that?
The attorney stated that it is a disgrace and miscarriage of justice that a Falun Gong practitioner is tried and sentenced to prison for his personal belief, and that it is a disastrous violation of the freedom of religious belief and human rights.
Finally, the attorney called upon the judge to follow his conscience and pronounce Mr. Ruan Fanghua not guilty.
Zhang Weidong, Presiding Judge of Yuelu District Court: 86-731-88926107
Yuelu District Prosecutor's Office:
Luo Honggai, prosecutor: 86-731-88908208 (O), 86-731-88615358 (H), 86-13908498988 (Cell)
Zhang Xiaodong, Chairman of Public Prosecution: 86-731-88908202(O), 86-731-88863665 (H), 86- 13808426265 (Cell)
Yuelu District Public Security Bureau:
Chen Dingjia, Police Chief: 86-731-84780280 (H), 86-13808453788 (Cell)
Tang Shu, Captain of the State Security Team: 86-731-88861950 (O), 86-13973137067 (Cell)
The 610 Office in Changsha City:
Wu Zhibing, Chairman: 86-731-88667548 (O), 86-731-85070065 (H), 86-13307310607 (Cell)
Changsha City Legal Education Center (a brainwashing facility for Falun Gong practitioners):
Wu Kaiming, Chairman: 86-13308408731 (Cell)
Related article: http://www.clearwisdom.net/html/articles/2011/1/5/122330.html