Huang Huajie, Former Shareholder Chairman of the Jiedong Land and Resource Bureau, Arrested Again
Name: Huang Huajie (黄华杰)
Gender: Male
Age: Unknown
Address: Jieayng, Guangdong
Occupation: Founder, Hongan Trading Company, Jieyang
Date of Most Recent Arrest: November 8, 2011
Most Recent Place of Detention: Xinxing Police Station (新兴派出所)
City: Jieyang
Province: Guangdong
Persecution Suffered: Shocked with electric batons, sleep deprivation, forced labor, brainwashing, illegal sentencing, beatings, imprisonment, solitary confinement, torture, detention
(Clearwisdom.net) Falun Gong practitioner Mr. Huang Huajie from Jieyang is the former shareholder chairman at the Jiedong Land and Resource Bureau. Because of believing in Falun Gong and the principles of Truthfulness-Benevolence-Forbearance, he has been arrested and detained at brainwashing centers and forced labor camps. He was sentenced several times by the 610 Offices in Jieyang, Jiedong, and Rongcheng District. Following his release from a forced labor camp, the local 610 Office continued monitoring him. Mr. Huang was arrested again on November 8, 2011.
Arrested Again, Company Forced to Close
Mr. Huang lost his job as a result of his previous arrest. After his release, he started a company in Jieyang (Hongan Trading Company, Ltd.) last year, in order to make a living.
Huang Peishan of the Jieyang Domestic Security Division colluded with police officers from the Rongcheng District Domestic Security Division and Xinxing Police Station, leading a group of officers to break into Mr. Huang's office. At around 12:00 a.m. early November 8, they broke the door lock, entered the office, arrested Mr. Huang, and then ransacked the office. Mr. Huang was taken to the Xinxing Police Station, and his company was subsequently closed down.
Mr. Huang had arranged for a news conference at his company office on November 9, which was purely a business activity. The Jieyang 610 Office is known not only for harassing good people, but for being a criminal organization that steals others' property. 610 Office staff eyed Mr. Huang's company covetously, as its value registered at several million yuan. The 610 Office conjured an excuse to illegally confiscate his property.
Six Years of Persecution in Prison
Mr. Huang Huajie was arrested in April 2004, and subjected to persecution at the Jieyang First Detention Center. Later, he was secretly and illegally sentenced to six years in prison. After calling out "Falun Dafa is good" in Meizhou Prison, he was then beaten to unconsciousness, held in solitary confinement, and subjected to force-feeding. He was tortured until he was close to dying. Once, he ran to an open area to call out "Falun Dafa is good" while the prisoner monitor wasn't paying attention. He was subsequently held in the "Strict Control Team." There, guards struck his head, causing bleeding, and he suffered brutal torture. He was also subjected to sleep deprivation. The guards used electric batons to shock him, and additionally, an electric chair to severely torture him. Despite this extreme persecution, the guards from the "Strict Control Team" could still hear him calling out "Falun Dafa is good!" in the middle of the night.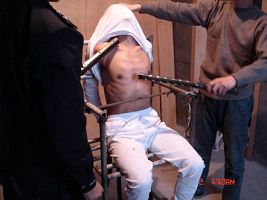 Torture re-enactment: Shocked with an electric baton
Mr. Huang was detained in the "Strict Control Team" section for over a year. Not long after he was transferred to a brainwashing camp, Mr. Huang said, "Falun Dafa is good. Buddha's light shines everywhere" while in a small group one morning in June 2006 He was quickly placed in solitary confinement. The cell was only a few feet wide and long, with a six-foot ceiling. Eating, sleeping, and relieving himself were all confined to that cell. The cell received no sunlight, and was monitored continuously. Mr. Huang was held in the cell for about three months.
Partial list of Persons Responsible for Participating in the Persecution (Jieyang area code: +86-663):
Rongcheng Xinxing Police Station:
Sun Yongfeng, director
Huang Lufeng, instructor: 8679989 (office), 8227801 (home), +86-13822965088
Hong Jieping, assistant director
Chen Ruxiong, assistant director: 8687009 (office), +86-13802315668
Rongcheng District Political and Law Committee:
Liu Zeyu, secretary and police station director: 8233889 (home), +86-13902765093
Jieyang Police Station:
Chen Tiejiang, assistant director (main responsibility is to persecute Falun Gong practitioners): 8213519 (office), 8281122 (home), +86-13902709999
2nd Brigade, Jieyang Domestic Security Division:
Huang Wanbiao: 8235617 (office), 8662693 (home), +86-13502606289
Chen Liangbo: 8235617 (office), 8681091 (home), +86-13360396268
Fang Zhenbo: 8235617 (office), 8224623 (home), +86-13902760623
Xie Yuexin: 8235617 (office), 8673958 (home), +86-13502600786
Huang Peishan: 8235617 (office), +86-13828165211