Police in Wanzhou District, Chongqing City Detain Four Seniors at a Brainwashing Center
December 19, 2011 | By a Clearwisdom correspondent in Chongqing City
(Clearwisdom.net) Officers from the Gaoliang Town Police Station in Wanzhou District, Chongqing City, and police from Wanzhou Brainwashing Center, target senior Falun Gong practitioners for persecution. Together, they formed an arrest team on October 25, and illegally arrested four practitioners who are in their seventies, including Mr. Luo Daqiang, Ms. Li Guoxiang, Mr. Wang Defa, and Ms. Wan Qizhen. They took the practitioners to a brainwashing center located on the sixth floor of Bayi Hotel, in the Zhoujiaba area of Wanzhou District. This hotel belongs to the Reserve Military Anti-Aircraft Fourth Brigade.
Wang Defa is one of the four seniors being persecuted. He is seventy-four years old and lives at Hujia Village, Gaoliang Town in Wanzhou District. He is an illiterate farmer and has never been to school in his life. Prior to practicing of Falun Gong, Wang suffered from all kinds of diseases. He was hunchbacked and had difficulty walking. Six months after starting Falun Gong practice, all of his diseases disappeared and his back became straight. However, the police did not spare him and accused him of "being against the party." Wang's wife is bed-bound due to a stroke. After he was arrested, his wife was left unattended.
Luo Daqiang is seventy-five years old. He is from Damianpo Village, Lihe Town in Wanzhou District. He works as a farm technician in Lihe Town. Luo started practicing Falun Gong on August 8, 1999. Before he practiced Falun Gong, his health was very poor and he suffered from stomach and intestinal diseases. He also had constipation and hemorrhoids. His neurasthenia was so severe that he had continuous fatigue and depression. To his surprise, after practicing Falun Gong for several days, he felt much younger and more energetic. He felt very light when he walked as if someone were pushing him forward. More amazingly, all of his diseases disappeared.
Li Guoxiang is seventy-three and is from Xindian Village, Gaoliang Town in Wanzhou District. Wan Qizhen is also in her seventies and is from Xiangliang Village, Gaoliang Town in Wanzhou District. They are both being persecuted in the brainwashing center.
Wanzhou Brainwashing Center is located on the sixth floor of Bayi Hotel in Zhoujiaba area, Wanzhou district. This hotel belongs to the Reserve Military Anti-Aircraft Fourth Brigade. It was established secretly in July 2011 by Communist party members in Wanzhou District of Chongqing. The officers in charge of this center were selected from key personnel in various police stations. They secretly arrest and detain Falun Gong practitioners and subject them to forced brainwashing. They do not allow practitioners to step outside, and force them to watch propaganda slandering Dafa and write statements promising to never practice Falun Gong again. The perpetrators are Zhao Xiaoping from the 610 Office and Wen from the Political and Law Committee. Since July 20, 1999, when the Chinese Communist Party (CCP) started persecuting Falun Gong, Zhao Xiaoping has actively participated in the persecution and committed countless crimes. Wen is also one of the key persons involved in persecution.
Each practitioner is locked in a room with two perpetrators. Three people live in the same room. They are not allowed to leave the room or contact any other people. This so-called "study session" uses a variety of means to threaten and torture practitioners. When practitioners are tortured so badly that they can no longer eat, the perpetrators force-feed the practitioner as additional torture. One time, a practitioner almost died during the force-feeding. The perpetrators hurriedly left the scene.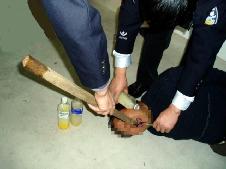 Torture re-enactment: Brutal force-feeding
Work units involved in persecution:
The Politics and Law Committee in Wanzhou district
Deng Xuxue, secretary of the Political and Law Committee: 023-58155201 (Office), 13908263188
Zhang Ping, director of Comprehensive Management: 023-58155303 (Office), 023-58121886 (home), 13908269820
Zhang Xiangfu, assistant director of the 610 Office: 023-58155303 (Office), 023-58231978 (home), 13509435778
Wanzhou District Public Security Bureau
Yang Tao, assistant director (in charge of persecuting Falun Gong): +86-23-58293006 (Office), +86-23-58215189 (home), +86-13709459288
Gaoliang Police Station: +86-23-58302110
Zhang Xiang, director of Gaoliang Police Station: +86-13709457663
Zou Hexian, assistant director: +86-13310260003
Shen Changjun, assistant director +86-13527474000
Wang Zhen, police officer: +86-13668491122
Mou Xiuquan, police officer: +86-13594818551
Wang Zhaolin, police officer: +86-13896261666
Deng Xiaoping, police officer: +86-13996677888
Peng Junhong, police officer: +86-15923862688
Qin Changlin, police officer: +86-13908269466