South Korea Falun Dafa Cultivation Experience Sharing Conference Held (Photos)
November 05, 2011 | By a practitioner in South Korea
(Clearwisdom.net) On October 9, 2011, the South Korea Falun Dafa Association held the 2011 South Korea Falun Dafa Cultivation Experience Sharing Conference in Gwacheon Citizens' Hall in Seoul. Ten practitioners shared their experiences.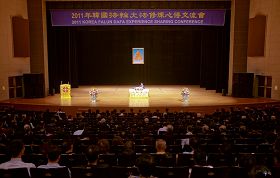 Conference venue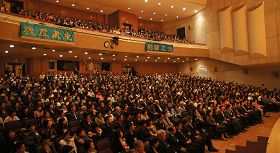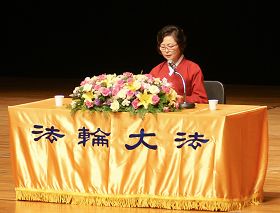 A practitioner sharing her experiences
Gwacheon is the home of a major administrative center of the Korean government. It was a beautiful, sunshiny day, and the conference venue was elegant and serene.
Ms. Kim from Busan shared how she motivated more than 100 colleagues and supervisors to go see the Shen Yun show in Bushan. The theater where Shen Yun was scheduled to perform was interfered with by the Chinese Communist Party (CCP), and selling tickets was rough. She looked inward and got rid of attachments. She and other practitioners believed in Master and Dafa and worked together to eliminate the CCP interference. The Shen Yun show was staged as scheduled.
Ms. Park from Gyeongsangbuk Yeongju related how, as she was promoting Shen Yun in mainstream society, people in one group would introduce her to people in other groups. She felt that Master had arranged everything, and we just need to do it with righteous thoughts. Once she and three other practitioners visited a US military base in South Korea. By coincidence, the person who met them had seen Shen Yun the year before and thought it was great. He said he would encourage more people to see it. They told him about Shen Yun and how the CCP had tried to interfere. He was touched and bought 100 tickets. Once she went to a party with 200 people and did not sell one ticket, because they wanted to get complimentary tickets. She said, "I looked inward to find my shortcomings. I found that I had attachments to showing-off and fame. After those attachments were eliminated, we got many phone calls. One person bought three tickets and asked us to promote Shen Yun using emails and text messages." This is how they introduced Shen Yun to mainstream society.
Mr. Park from Seoul told how he explained the facts about Falun Gong when he worked. As he did, he realized that differentiating whom he would or would not talk to was not compassionate, but sometimes he did it anyway. Through studying the Fa, he overcame this shortcoming and started to speak to everyone. He said he distributed more and more flyers and brochures in his taxi, more than 5000 per year. His passengers included those who worked in the President's office, senior officials, principals of high schools, teachers, professors, and lawyers. He believed that all were arranged by Master, who brought those who were predestined to him. He gave an example, "Some passengers intentionally let other taxis in front go and took my cab. Sometimes I went to some place new and met predestined passengers. Sometimes the passengers did not get out after arriving at their destination; they stayed and talked with me about Falun Gong. These delays meant I earned less during rush hours, but I felt great. Then I would get passengers who wanted to go far away, making up for my loss in earnings."
Mr. Cai has been practitioner only since March. He is a professor in a university. When he saw Zhuan Falun online for the first time, he was drawn to it and read the whole book in more than ten hours straight. He said he was stunned and that he had finally found what he had sought his whole life.
He mentioned that his greatest impression from attending the Washington, DC, conference this year was what looking inward meant. After returning home, he participated in a July 20 event on the square in front of the Seoul city government building. It was midnight when he reached home and nearly 2 a.m. after talking with his wife. His 16-month-old son suddenly woke up and started to cry just as he was going to bed. His son continued crying for more than an hour. He said, "My son wouldn't stop crying. I did not know what to do, and thought about giving up. At that moment, I thought to look inward. I examined my thoughts: my child was crying and I could not go to sleep; there were many things to do next day; I needed to go out to join group practice; I only had less than two hours to sleep, etc. As a practitioner, I realized I should think of others before myself and not be selfish. At that moment, the impatience in heart disappeared. My son asked for a banana. He held it in both hands and became quiet. He went to sleep when he had finished less than half of the banana."