The Netherlands: Communist Official Jia Qinglin, One of the Chief Culprits in the Persecution of Falun Gong, Sued Again (Photos)
November 03, 2011 | By a practitioner in Europe
(Clearwisdom.net) Chinese Communist Party (CCP) official Jia Qinglin was once again sued by Falun Gong practitioners on October 27, 2011, the day he arrived in the Netherlands on a visit. Jia is chairman of the CCP's National Committee of the Chinese People's Political Consultative Conference. As one of the chief culprits in the persecution of Falun Gong, he has been sued in many countries for having committed crimes of genocide and torture.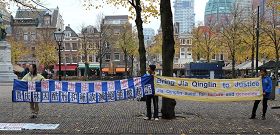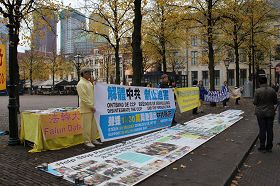 Practitioners hold protest activities during Jia Qinglin's visit to the Netherlands
A lawyer representing the Netherlands Falun Dafa Association filed the lawsuit with the Public Prosecutor Lanlijk Parket, charging Jia Qinglin with crimes of torture and genocide. A radio station in the Netherlands interviewed Mr. Hu Ben, president of the Netherlands Falun Dafa Association.
On October 29, practitioners in the Netherlands continued holding activities in front of the House of Representatives of the Dutch Parliament in the Hague, exposing the crimes committed by Jia Qinglin and urging the CCP to immediately stop the persecution of Falun Gong. Practitioners held up banners and set up display boards, protesting the entry of this criminal into the Netherlands. Practitioners read the press release in both Chinese and Dutch. Passersby stopped to listen, and many said that the Dutch government should not just value economic benefits while ignoring human rights. Some people viewed the information on the banners and said that the persecution was very cruel and should be ended soon.
On July 20, 1999, Jiang Zemin and Luo Gan's clique initiated the persecution of Falun Gong and set up the 610 Office to carry out the persecution of Falun Gong practitioners. Jia Qinglin is one of the main instigators. As of today, more than 3440 practitioners have been verified to have died as a result of the persecution, including the elderly, women, and young children.
When Jia Qinglin worked as Beijing Party secretary between 1999 and 2002, he directly participated in and was responsible for detaining and torturing numerous Falun Gong practitioners. During that time, practitioners in Beijing were subjected to intense persecution, and many were tortured to death. The staged "Self-immolation Incident in Tiananmen" occurred during that period.
Since September 2004, Jia Qinglin has been sued in Austria and Spain by Falun Gong practitioners who were severely persecuted in China. He was charged with having committed crimes of genocide, torture, and crimes against humanity. On October 27, 2011, the Netherlands Falun Dafa Association filed a complaint against Jia Qinglin with the Dutch judicial authority. Falun Gong practitioners called upon the Dutch government and the international community to show concern over this ongoing persecution in China, and called for all kindhearted people around the world to work together to stop the persecution.