Jogjakarta, Indonesia: Falun Dafa Warmly Received at Jogja Java Carnival 2011 (Photos)
November 15, 2011 | By a Falun Dafa practitioner in Jogjakarta
(Clearwisdom.net) On October 22, 2011, Falun Dafa practitioners participated in the 4th annual Jogja Java Carnival, an international event in the cultural city of Jogjakarta, Central Java.
Practitioners in the waist-drum troupe took part in the parade, as well as in the subsequent celebration. They performed from 7 p.m. until midnight. In front of the main stage at Lor Square, they got the chance to perform for the VIP guests, including the governor of Jogjakarta Special Region, the mayor of Jogjakarta City and other city officials.
Behind the waist-drum troupe in the parade procession, five practitioners demonstrated the five sets of Falun Gong exercises on a float decorated with messages "Falun Dafa is good" and "The world needs Truthfulness-Compassion-Forbearance."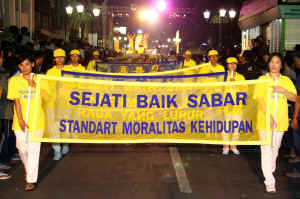 Practitioners carry Falun Dafa banners in the parade.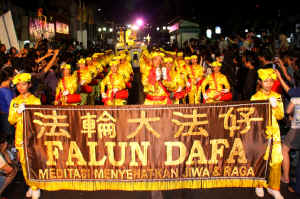 Practitioners in the waist-drum troupe perform in the parade.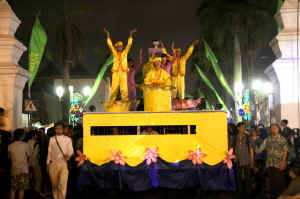 Practitioners demonstrate the Falun Gong exercises on the float in the procession.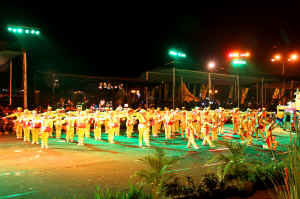 Practitioners in the waist-drum troupe perform for the spectators at Lor Square.
Jogja Java Carnival was the culmination of a series of events to celebrate the 255th anniversary of Jogjakarta City. This year's event was attended by tens of thousands of spectators.
The performance of Falun Dafa practitioners seized the attention of the local residents and spectators visiting from overseas. Many spectators greeted practitioners enthusiastically. Many took photos and recorded the procession, and some even lined up to get a photo together with the practitioners. Some people expressed their wish to learn the exercises and asked for contact information of the local practice sites.