Inquiry into Those Responsible for Ms. Wang Chunxiang's Death (Photo)
November 01, 2011 | By a Clearwisdom correspondent from Liaoning Province, China
Name: Wang Chunxiang (王春香)
Gender: Female
Age: 55
Address: Zhenxing District, Dandong City
Occupation: Retired from the Highway Engineering Division of Dandong City
Date of Death: September 25, 2011
Date of Most Recent Arrest: October 31, 2006
Most Recent Place of Detention: Liaoning Province Women's Prison (辽宁省女子监狱)
City: Dandong
Province: Liaoning
Persecution Suffered: Illegal sentencing, beatings, imprisonment, home ransacked, detention
(Clearwisdom.net) Fifty-five-year-old Falun Gong practitioner Ms. Wang Chunxiang from Dandong City, Liaoning Province, was sentenced to eight years of imprisonment in 2006. She was detained in the No. 9 Ward of Liaoning Province Prison and died as a result of torture in custody on September 25, 2011. The following is an account of the persecution she endured which led to her death as well as an inquiry into those responsible for it.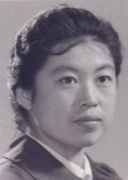 Wang Chunxiang
1. Arrest
Ms. Wang started to practice Falun Gong in 1996. On July 20, 1999, the Communist regime began its persecution of Falun Gong. Police from the Dandong Police Station, led by Cao Yujia, illegally arrested her on October 31, 2006. They also took her computer, printer, paper, books and other personal belongings including cash. At the same time, they took away her house key and returned to ransack the house again. Approximately 2,000 yuan in cash was stolen during the second raid of Ms. Wang's house. This group of policemen led by Cao Yujia were the first perpetrators.
2. Persecuted in the Detention Center
Ms. Wang Chunxiang was detained in the Dandong Detention Center. Officer Wang Jing slapped her in the face several times and handcuffed her to the window bars for 24 hours. When her family came to visit her, she told them that her back was injured by police officers who kicked her. She went on a hunger strike to resist the persecution and her physical condition deteriorated.
Officer Wang Jing sent Ms. Wang to Dabei Prison in Shenyang in early April 2007. However, prison officials refused to take her because she had very high blood pressure. During her detention, as a result of the torture, her blood pressure was constantly at high levels. She was examined in a hospital and her blood pressure exceeded 200 mmhg. Doctors diagnosed her with heart trouble and hardening of the cerebral blood vessels.
On September 8, 2007, the detention center sent Ms. Wang to Dabei Prison again. In the afternoon that same day, her family received a call from Dabei Prison, telling them to bring her medical records over. Her family went to the detention center several times but could not find her medical records.
Several days later, her mother and elder sister went to visit her in prison. She told them: "I was deceived into coming here by Wang Jing, who claimed that I needed to have a medical examination. My health records are being held by Wang Jing."
The persecution she was put through in the detention center played an important role in her death. Policewoman Wang Jing was the second perpetrator.
3. The Court's Judgment
The Zhenxing District Court secretly sentenced Ms. Wang to eight years in prison. The Court and its presiding judge intentionally violated the law; hence they are the third group of perpetrators.
4. Persecuted in Prison
Despite Ms. Wang's health condition, Dabei Prison detained and tortured her for over five years, until she died. When she passed away, doctors claimed that her cause of death was heart trouble, high blood pressure, hardening of the cerebral arteries, weakened kidney function and other ailments.
Ms. Wang was detained in the No. 1 Ward. The ward chief at that time, Wang Jian and guard Wu Hong imprisoned Ms. Wang in a small room. She was forced to read books and watch DVDs slandering Dafa. Every day, two convicts monitored her around the clock. She had to stand for long periods of time and was not allowed to sleep. She succumbed to this coercion and against her conscience, wrote a guarantee statement promising to give up the practice of Falun Gong. However, Wu Hong and other guards then intensified the persecution. She went on a hunger strike in protest. Wang Jian and Wu Hong brutally force-fed her, causing great damage to her body. She lost even more weight and often fainted.
In the winter of 2007, police officers instructed convicts Wang Xiulan and He Yijie to hit her on the head with wooden clogs and wantonly kick her lower body. She was also shut in an ice cold store room and beaten. This further worsened her already weak physical condition.
From 2008 to 2009, she was sent to the prison hospital and stayed there for more than eight months. Her family paid 1800 yuan in medical fees. The doctor advised that Ms. Wang was not fit to carry out any physical labor and that she was in danger of dying at any moment. Yet every day, she was forced by guards Wang Jian and others to work eight to twelve hours or longer.
In 2011, Ms. Wang was sent to ward No. 9. Guards Wu Hong and Su Ying and convict Li Shuqin berated her every day and threatened to torture her to death.
Prison guards and the convicts who were used to persecute her are the fourth group of perpetrators.
From arrest, detention, and sentencing to forced labor, Ms. Wang was persecuted every step of the way. Everyone who took part in persecuting her contributed to her death, and is a culprit who should bear responsibility.
Related article:
"Ms. Wang Chunxiang Tortured to Death in Liaoning Province Women's Prison"