Abuse Cases in Jilin Province Gongzhuling Prison
October 05, 2011 | By a Clearwisdom correspondent from Jilin Province, China
(Clearwisdom.net) Guards at the Jilin Province Gongzhuling Prison have been abusing Falun Dafa practitioners. The following describes three cases of this ongoing abuse.
Mr. Xie Guichen of Shulan City, Jilin Province
The "Attack Fortification Office" of the prison is a group which specializes in using extreme means to "transform" practitioners who do not give up their beliefs during the general "transformation" process. The current director of the office is Zong Mingjun, who was a guard in Ward 5 in May 2010. All practitioners admitted to Ward 5 were first assigned to Group 2, where Zong attempted to coerce them into "transforming" by shocking them with electric batons. They were then re-assigned to other groups.
When he was assigned to Group 2 and heard the abuse, Mr. Xie Guichen asked to see the warden and the procurator of the prison. Zong denied his request and threatened him, "You want to see them. I will fix you." Ward 5 political instructor Yin Yuhui, in cahoots with Zong, had inmates handcuff Mr. Xie's hands behind his back and shock him with electric batons for over an hour in the office. Afterwards, they took him to a solitary cell and hung him by the handcuffs from a metal bean. Two abusers with electric batons in each hand shocked him repeatedly. They specially targeted the sensitive body parts, including his chest, armpits, abdomen, and genitals.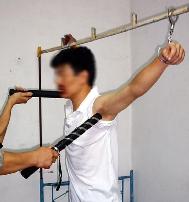 Torture re-enactment: Hung on metal bean and shocked with electric batons
To increase his suffering, they poured cold water on his body, then shocked him again. Zong shocked him, saying, "I came to abuse Falun Gong practitioners, I'm the one who fixes you." They shocked Mr. Xie for about three hours until they became tired. Zong said, "I will fix you every day. This will be your program." Mr. Xie's body was covered with injuries from the electrical shocks. Even a year after the torture took place, many of his injuries have not fully recovered, and some have developed into sores. The guards locked Mr. Xie in solitary confinement, and held him still on a dead man's bed until he was almost dead.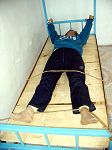 Torture re-enactment: Dead man's bed
Mr. Zhang Hui of Yanji City, Jilin Province
Mr. Zhang Hui was imprisoned in Ward 3 of Gongzhuling Prison. He refused to work as a slave laborer. Guards repeatedly confined him to a single cell, put him on a dead man's bed, shocked him with electric batons, and had inmates torture him in various ways.
After suffering many years of abuse, Mr. Zhang developed intestinal tuberculosis. He could not eat normally due to the great pain. Guards accused him of being on a hunger strike and for opposing the government. He was forced-fed with liquid food and salt water. He died from abuse at the age of 30 in April 2009.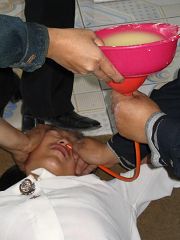 Torture re-enactment: Brutal force-feeding
Mr. Wang Enhui of Fuyu County, Jilin Province
Mr. Wang Enhui went on a hunger strike after he was imprisoned in Gongzhuling Prison in 2010. He was tortured with brutal force-feeding, solitary confinement, dead man's bed, etc. He was later transferred to the Recovery Ward where he was tortured again.
The political instructor, whose family name is Guo, ordered inmates to abuse Mr. Wang. They beat and kicked him, and brutally force-fed him. They did not allow him to use the restroom so he was forced to defecate in his pants. When the temperature was below freezing in winter, they carried him to the wash room and poured water on him. They tied his arms and hands behind his back with string. They told others who tried to stop the torture, "The guards said it was OK to beat him to death. It would be classified as a normal death."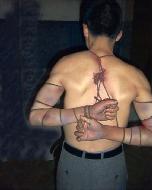 Torture re-enactment: Tied up with string
Mr. Wang died from abuse on February 15, 2010.
Related article:
The Persecution of Practitioners at Siping and Gongzhuling Prisons in Jilin Province
(http://www.clearwisdom.net/emh/articles/2007/3/15/83549.html)