Brutal Persecution Suffered by Female Falun Gong Practitioners in China – Part 1: Beatings
October 04, 2011 | Summary report by a Clearwisdom correspondent in China
(Clearwisdom.net)
Table of Contents
I. Preface
II. Accounts of Persecution
Part 1. Beatings
Part 2. Force-Feeding
Part 3. Torture in Medical Facilities and Forced Drug Administration
Part 4. Sexual Abuse and Rape
Part 5. Organ Harvesting
Part 6. Forced Abortions
Part 7. Brainwashing
Part 8. Deaths Due to Other Forms of Persecution
III. List and Photos of Female Practitioners Who Have Died Due to Persecution
IV. Afterword
I. Preface
The ancient country of China is also known as "The Divine Land." Its territory encompasses a massive area of land and a large, multicultural population which carries 5,000 years of civilized history. Falun Dafa, or Falun Gong, began its rapid spread in 1992, but has a much longer history as a high level cultivation way of the Buddha School. Because Falun Dafa teaches people to be good, encourages the strengthening of social values, miraculously eliminates sickness, and purifies the body, this ancient practice is loved and praised by people from all walks of life and the world's governments alike. Shortly after its initial dissemination, the then Chinese government officials conducted many surveys concluding that Falun Dafa brought no harm, but rather, only generated immense benefit to the State and its people. Secret research funded by the government found that at least 70,000,000 people had taken up the practice by 1999, a mere seven years after its introduction to the public.
The former Chinese Communist Party (CCP) chief, Jiang Zemin, utilized the party power to initiate the persecution against Falun Dafa and it practitioners on July 20, 1999. A full time persecution headquarters—the 610 Office—was created and given absolute power over each level of party administration, including all political and judiciary systems. The 610 Office thus controlled all media and courts, establishing the freedom to fabricate suicide, murder, and the self-immolation incident, all in order to defame Falun Dafa. The office set forth the goal to eliminate Falun Dafa within three moths.
Jiang sought the complete eradication of Falun Dafa, ordering to "ruin their reputation, bankrupt them financially, and destroy them physically." The army, armed police, CCP Political and Judiciary Committee, and all domestic and state security systems began to arrest, detain, set up forced labor camps, sentence imprisonments, torture, and murder in all provinces, municipal cities, and autonomous regions. 610 Office branches spread all over China, using prisons, forced labor camps, hospitals, mental institutions, brainwashing centers, and rehabilitation centers to secretly detain practitioners long-term. Forced brainwashing, forced slave labor, brutal force-feeding, forced abortion, drug injection, sexual violence, and even the live harvesting of organs were methods included in the attempted genocide of Falun Dafa practitioners.
Since July 20, 1999, the CCP has not let up in its bloody reign of ruthless crimes. As of the end of May 2011, 3,425 practitioners are confirmed as having died as a result of torture and other mistreatment at the hands of CCP authorities. Among the confirmed, 1,867 are female practitioners from all areas of society, social class, employment, and status – including farmers, scholars, and government employees.
This report is compiled from Clearwisdom reports on the persecution of female practitioners. The following accounts, however, merely reveal the tip of the iceberg.
II. Accounts of Persecution
Part 1 – Beatings
In the past twelve years of this large scale persecution, the CCP has utilized more than 100 methods of torture. Many once happy families have been broken under the persecution, couples have been torn apart, people have left their home towns to avoid being arrested, and many have been forced to live homeless lives. Because these practitioners refused to renounce their faith in Truthfulness-Benevolence-Forbearance, they were brutally beaten and, in many cases, even beaten to death. Each brutal instance of torture may last anywhere from one hour to days, weeks, or much longer. Listed below are some such accounts:
1. Ms. Zhao Jinhua, 42, a farmer from Zhaoyuan City, Shandong Province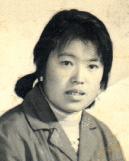 Ms. Zhao Jinhua
On September 27, 1999, officers from Zhangxing Town Police Station arrested Ms. Zhao on her way to her farm. She refused to give up her faith in Falun Gong, which led to continuous torture while in custody at the Police Station. When the guards entered her cell on the evening of October 1, 1999, they pummeled her with their fists and rubber batons before subjecting her to electric shock. When she passed out, they took her to the emergency room and then returned her to the station when she regained consciousness. Ms. Zhao felt pain in her chest and numbness throughout her entire right side. Her whole body was in pain, she had blood in her urine, and she was unable to eat. From her lower back down, her skin was dark purple, but the police refused to let her receive treatment. When Ms. Zhao passed out again at 4 p.m. on October 7, and the police returned her to the emergency room, the doctor found that she had died prior to arrival. The autopsy was performed by a forensic doctor from Yantai City. The report revealed multiple wounds to the head and other parts of her body, most likely obtained by being struck repeatedly with a blunt object. (See also http://www.clearwisdom.net/emh/articles/2006/12/14/80856.html)
2. Ms. Ren Jinhuan, 28, a multilingual finance expert from Fang County, Hubei Province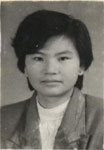 Ms. Ren Jinhuan
Ms. Ren began to practice Falun Dafa in 1998. On July 22, 1999, she was dismissed from work because she held firmly to her belief in Falun Dafa, thus losing her only source of income. On September 20, 1999, she went to Beijing to appeal. When all government departments refused to listen to any appeals, she went to Tiananmen Square to unfurl banners. After Beijing police arrested her, she was later returned to Fang county. During the 28 days while she was jailed in the Fang County Detention Center, she protested the persecution with a hunger strike, but she was instead only met with force feedings and physical brutality. The thugs in the detention center employed all of the torture methods normally reserved specifically for death row criminals on Ms. Ren. Three days after Ms. Ren's return to Fang County, when her mother finally had a chance to see her, her face was dark purple and beyond recognition from the heartless torture she endured. While in the detention center, the local policemen went to her home and confiscated Dafa books; they also looted her VCR and tape recorder. They pressured and threatened her elderly mother, then paraded her through the streets before detaining her for two days without any food. Later, the perpetrators forced Ms. Ren's mother to pay 2,000 yuan in order to bail her daughter out. They did not, however, release Ms. Ren until after 28 days of imprisonment.
On April 25, 2000, Ms. Ren once again traveled to Beijing in order to appeal. She was arrested again by the Beijing police. On April 28, her family was informed that she was disabled due to the further onslaught of beatings, and her mother had to pay 40,000 yuan for her daughter's medical expenses. On May 5, 2000, her family was informed that she had died, and on May 11 Ms. Ren's ashes were brought back to Fang County. (See also http://clearwisdom.net/html/articles/2001/6/29/11784.html)
3. Ms. Zhao Xin, 32, a professor employed by Economy Institute of Beijing Industry and Commerce University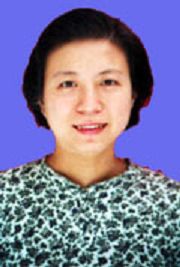 Ms. Zhao Xin
Ms. Zhao Xin was arrested by police on June 19, 2000. Her family received her "life in danger notice" nine days later. Ms. Zhao was brutally beaten by the police at the Haidian District Police Department, resulting in the fracture of her neck in the forth, fifth, and sixth vertebrae. Her head was injured, her left eye was swollen with purple bruises, and she had difficulty breathing. When she was admitted to the Haidian District Hospital, she was still cuffed and shackled. Her life was only sustained through a breathing machine and intravenous injections. Despite severe bodily injury, Ms. Zhao persisted with her belief in Falun Dafa. However, after struggling with extreme pain and suffering for six months, she died on the night of December 11, 2011.
After Ms. Zhao was beaten to death, her parents attempted to sue the Haidian District Police Department, though all they were met with were ignorant and blameworthy faces. Nowhere were they able to find admittance for their case or anyone to issue any explanation of their daughter's death. Their claims were repeatedly rejected, Ms. Zhao's medical file was sealed in the hospital, and the lawyer they hired was continually threatened by the CCP. Due merely to her undeterred and firm faith in Falun Dafa, Ms. Zhao was cruelly beaten to death. (See also http://clearwisdom.net/emh/special_column/death_list_100.html)
4. Ms. Tang Tierong, 51, from Xinbin County, Fushun City, Liaoning Province, cruelly beaten to death in Wujiapuzi Labor Camp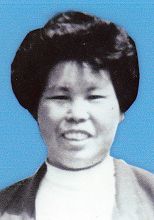 Ms. Tang Tierong
On December 30, 2000, many guards, as well as other prisoners in Fushun City Forced Labor Camp, tortured Ms. Tang. The guards surrounded her, cursing Dafa, striking her in the forehead and back, and kicking her in the legs. They tortured Ms. Tang from morning until night, in an attempt to force her to "reform." The torture continued through 3:30 a.m. the next morning, when an unconscious Ms. Tang was finally dragged from the room. By the morning of January 1, she could neither move nor talk, neither did she have the strength to keep her head from slumping backward. The labor camp proceeded to send Ms. Tang home to avoid being held responsible for her imminent death. Ms. Tang passed away later that afternoon. (See also http://clearwisdom.net/emh/special_column/death_cases/29/v2910.html)
5. Ms. Su Jingyan, 38, a tailor and business owner from Dashiqiao City, Liaoning Province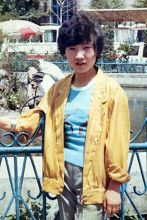 Ms. Su Jingyan
Ms. Su Jingyan, 38 years old, was a skilled tailor and lived in Tielian Village, Dashiqiao City, Liaoning Province. After the persecution began in 1999, she was detained in a drug rehabilitation center, a detention center, and later a forced labor camp.
Around 9:00 a.m. on August 21, 2001, practitioners Su Jingyan, Ma Suyan, and Zhao Guiqin went to Lishan District to distribute truth clarification materials; they never returned. On August 23, it was discovered that the police had already arrested Ms. Ma and Ms. Zhao and were holding them in a detention center, while Ms. Su was found dead in a pond in Xiatun Village, Dashiqiao City.
An insider at Jinqiao Police Department in Dashiqiao City, who admitted his participation and contribution in the act of Ms. Su's death, revealed that officials from Jinqiao Police Department first arrested her on August 21, 2001. They interrogated Ms. Su, asking her if she had distributed any fliers in Lishan District. However, Ms. Su refused to cooperate with them, and as a result she was beaten to death, and her body was thrown into a pond to give the impression that she had instead drown. (See also http://www.clearwisdom.net/html/articles/2005/7/18/62992.html)
6. Ms. Li Ying, a small business owner from Xiuyan Street, Wanghua District, Fushun City, Liaoning Province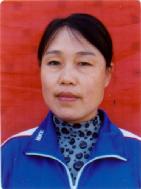 Ms. Li Ying
Falun Gong practitioner Ms. Li Ying was arrested on March 31, 2003 and beaten to death only two days later by the No.1 Division of the Fushun Police Department in Liaoning Province. On that same day, Ms. Li was forcefully carried away by a group of police officers from both the No.1 Division of the Fushun Police Department and the Wanghua District Police Station under the pretext of "verifyying the materials." In addition, without showing any warrants or legal paperwork, the police ransacked Ms. Li's home at noon.
Because of her husband's diligent inquiries as to her whereabouts, it was found that Ms. Li was being detained in the No.1 Division of the police department. On April 1, Ms. Li's family visited the No.1 Division to deliver some food for her. Although she looked unharmed at this time, her family noticed that she was handcuffed and sitting on a chair. The family members were cursed at by the police for their appearance and forced to leave.
At noon on the next day, April 2, Ms. Li's family again visited to deliver food. This time, they saw that she was handcuffed and her hair was loose disheveled. Ms. Li explained to them, "Four officers beat me. I did not say anything. They forced me to press my fingerprints [to the statements promising to stop practicing Falun Gong], but I do not acknowledge it." Soon after, the family was again verbally abused by the police and forced to leave.
That same day, at around 4 o'clock, Ms. Li's family again paid a visit to the No.1 Division of the police department. The chief of police met them and led Ms. Li's husband to the City Police Department. The chief inquired if Ms. Li had heart disease. Her husband replied that she was healthy and had no physical problems at all.
Later that day, the gate of the No.1 Division of the Fushun Police Department was tightly closed, and the family was not allowed to enter. Personnel from the police department, the Procuratorate, and the CCP Political and Judiciary Committee were seen coming and going from the No.1 Division. Observing the abnormal presence of so many different officials, Ms. Li's family forced their way into the building. They saw someone lying on the ground in the hall covered with a tattered bed sheet. They lifted the bed sheet and saw Ms. Li, her dead body covered in wounds.
Ms. Li's family questioned the leaders of the No.1 Division, Hao Jianguang and Hao Shifu, about the cause of Ms. Li's death. They stated that her death resulted from natural causes. The family members immediately rebuffed them saying, "She was all right at noon, and within about four hours, she was dead! How could that be natural?" Consequently, Ms. Li's family hired an attorney and searched for someone to videotape the scene of Ms. Li's death. The police department, the Procuratorate, and the Political and Judiciary Committee all attempted to stop them.
Later the Procuratorate officials guaranteed the family that they would videotape the scene, seal the video tape, and store it in a safe place. They also promised that no one would break the seal without the family's permission. Seeing no other option, the family reluctantly agreed.
Later, the No.1 Division of the Police Department made it known that they intended to carry Ms. Li's body away for an autopsy, but Ms. Li's family protested. They locked hands with each other, blocking the police from leaving with her body. That evening, the police department, the Procuratorate, and the Political and Judiciary Committee personnel held an emergency meeting. At 2 a.m., they ordered in a truck full of riot police. Hao Jianguang roared, "Take action!"
The riot police rushed in together. Each family member was attacked and forcefully carried away by a group of three or four police. They proceeded to move Ms. Li's body away.
Hao Jianguang and Hao Shifu informed Ms. Li's family that the autopsy result confirmed that she indeed died from "natural causes." However, the family was not convinced. Hao Jianguang and Hao Shifu stated, "Minor scuffles [referring to the torture by the police] would not have caused her death. If you are still not convinced, you may apply for another autopsy, but you are responsible for the expenses." Reluctantly, after seeing no other option, the family paid 5,000 yuan for another autopsy.
After several days, a medical professor, along with two interns and three other people, came from the Shenyang City 202 Hospital in order to perform the second autopsy, for which Ms. Li's family and their attorney were present. The Fushun City Procuratorate also set up a video camera to record the procedure. The professor from the 202 Hospital examined in detail the dark, purple wounds on Ms. Li's body, which numbered over a dozen. They cut the skin open to inspect the areas of stagnated blood and recorded the details. Ms. Li's left shoulder had a dark wound the size of a palm, about four centimeters (about 1 3/4 inches) across. After seeing that, the professor said aloud to himself, "What kind of heavy object could have hit this body? There must have been such a large impact!" While dissecting the chest and abdomen, the professor narrated and the interns recorded his findings. The family members could hear him saying, "There was hemorrhaging at the heart, and there is a large amount of blood clotting at its base. The base of the kidneys and the liver have a large amount of stagnated blood as well." After the autopsy, the professor took Ms. Li's various body parts away to perform cross-sectional analysis, explaining that the results would be ready in about 5 or 6 days.
After a week, Ms. Li's family was only told of the results from the autopsy: "Lung thrombosis (blood clotting in the lungs), natural death." They were told that the autopsy report contained the signatures of the six people from Shenyang 202 Hospital.
Ms. Li's family members asked the city Procuratorate if they could see the actual autopsy report. The Procuratorate redirected the family to the No.1 Division to obtain the report. The head of the No.1 Division, Hao Shifu said, "Science must be trusted; it was a natural death." When Ms. Li's family returned to the city Procuratorate in order to request the autopsy video recording, they were denied permission.
At the end of that year, Ms. Li's mother visited the City People's Congress to report what had happened to her daughter. She knelt down in front of the People's Congress building for half a day. Finally, after much diligence on her part, the City People's Congress deemed the No.1 Division responsible for Ms. Li's death and proceeded to facilitate making contact with them to settle the matter on behalf of Ms. Li's mother. An official from the No.1 Division responded by coming to retrieve Ms. Li's mother, and taking her to see Hao Shifu. He offered an excuse, saying that he would look into the matter after the Chinese New Year.
After the Chinese New Year, Ms. Li's mother returned to the No.1 Division in order to follow up with Hao Shifu. He indicated that he was willing to grant the family 2,000 yuan for compensation, and he urged Ms. Li's mother to consider the case settled. Ms. Li's mother cried, saying that the second autopsy results were no different from the first. Hao Jianguang blatantly interrupted, "What does the small amount of money you paid for the autopsy count for? We took those who participated in the autopsy to 'take baths' [in Fushun, this means to visit a place for prostitution] and have a feast. That cost us a lot of money."
According to eyewitness accounts of those who were near the No.1 Division on the afternoon of April 2, 2003, an emergency ambulance drove up to the No.1 Division at about 3:20 p.m. Ms. Li's family therefore went to the Fushun Chinese Medical Hospital to check the ambulance record. The record indicated that when the emergency ambulance arrived at the No.1 Division, Ms. Li had already passed away. Ms. Li talked to her husband at noon on the day of her death. This indicates that Ms. Li must have died somewhere between 1:00 p.m. and 3:00 p.m. on April 2. Because she practiced Falun Gong, Ms. Li experienced excellent health, and lived free of sickness without taking any medicine for several years. However, in the No.1 Division, she passed away from "natural causes" within several hours after interacting with her family. (See also http://www.clearwisdom.net/emh/articles/2004/4/14/47014.html)
7. Ms. Yang Hailing, 34, a winch operator employed by Donghai Mine from Changzihe District, Jixi City, Heilongjiang Province
Ms. Yang Hailingg experienced a drastic change in both mind and body after starting her cultivation in Falun Gong. She became increasingly known for her upstanding character by her co-workers, friends, and family. When Ms. Yang went to Beijing to appeal for Falun Gong after the persecution began, her mother-in-law took care of her two-year-old daughter. She faced arrest and torture on multiple occasions.

Ms. Yang Hailingg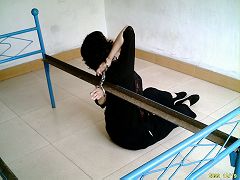 Torture re-enactment: Handcuffing behind the back
The police in Mishan City arrested Ms. Yang on the night of April 25, 2002. That night, she was beaten so badly that she could not stand up, and she needed to be carried to a vehicle. The next day, perpetrators Ju Hongjun and Liu Xiaohu from the criminal police team arrived at the detention center to interrogate her. They jabbed needles into her head, arms, and hands, and they physically beat her.
In June 2002, perpetrators Meng Qinqi, Du Yongshan, Li Gong, and others from the CCP Political and Security Office brought her in for further interrogation. They cuffed both of her hands behind her back, with one arm arm above her shoulder and one at her lower back. They forced hot, spicy mustard oil into her nose with a syringe and smeared it into her eyes; they continued with such ruthless acts for an entire day. Ms. Yang also received shocks from an electric baton, stabbings from broken beer bottles, beatings with metal objects, being hung upside-down for long periods of time, and being hung from the back by her cuffed wrists, causing severe tearing of the tendons in her arms and shoulders. She was dragged back to her cell after enduring the torment .
In August 2002, Ms. Yang and four other Falun Dafa practitioners were sent to a forced labor camp, but the labor camp refused to accept them. Even after two months, the detention center still refused to release them. On October 14, 2002, Ms. Yang and about a dozen other practitioners staged a hunger strike and demanded their release. Their protest, however, was only met with forced-feedings. On November 1, they were sent to the Mishan Hospital for emergency treatment. Eight days later on November 9, they were returned to the No. 1 Detention Station. During Ms. Yang's detention in December, the Mishan Court authorities sentenced her to a 12-year prison term.
On April 11, 2003, when Ms. Yang and three other Falun Dafa practitioners were sending forth righteous thoughts, the detention center head, Ma Baosheng, entered with a guard and a male prisoner to thrash them. Ma Baosheng grabbed Ms. Yang's hair and threw her head against a bed board. Ms. Yang let out sickening groan as she was rendered unconscious. The next day, around 1:20 p.m, Ms. Yang died at the detention center. At 11 p.m., with her contorted body stuffed inside a freezer, Ms Yang was positively identified by her family. Her underarms were still warm, indicating the recentness of her death. (See also http://www.clearwisdom.net/html/articles/2005/3/2/58057.html)
8. Ms. Zhou Caixia, Chief of the Women's Division at the Labor Union in Chifeng City, Inner Mongolia Autonomous Region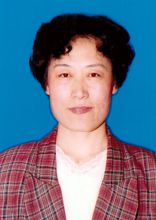 Ms. Zhou Caixia
After already facing arrested several times, Ms. Zhou was once again arrested in October 2000. In December, she was sentenced to three years in Tumuji Forced Labor Camp. Ms. Zhou maintained her steadfast belief in Teacher Li Hongzhi and Falun Dafa despite the onslaught of brutal beatings. After enduring many means of atrocious torture at the hands of Luo (captain of the disciplinary guards), Ma, Na, and Yang in the Women's 2nd Section, Ms. Zhou's face became severely deformed. Ms. Zhou was later transferred to Hohhot City Women's Forced Labor Camp, where she gained a release after embarking on a hunger strike for over 20 days and suffering a nervous break down. In August 2002, Ms. Zhou was arrested once more and again sent to a detention facility. She protested the illegal imprisonment with another hunger strike. Only after she began to cough up blood was she then released.
The Political and Judiciary Committee Secretaries of both Chifeng City and Hongshan District each agreed that should Ms. Zhou refuse to give up her faith in Falun Dafa, she would be sentenced to death. A Chifeng City 610 Office worker also stated that in the end, even if Ms. Zhou wished to live, they would not allow it, indicating that upper level administration had already ordered her death.
In January 2003, Ms. Zhou was once again arrested and taken to Hongshan District Detention Center in Chifeng City, where she occasioned another hunger strike to protest her illegal detention and persecution. On July 4, Ms. Zhou was transferred to Bao'anzhao Prison where she endured an extensive final round of torture.
As soon as Ms. Zhou entered the prison, Warden Zhou Jianhua ordered the other prisoners to drag her into her cell, ripping the pants from her body. Warden Zhou Jianhua cuffed her in a position that rendered her unable to sit or lie down. Ms. Zhou went on a hunger strike to protest, but the warden persisted in brutally beating her. The wounds on Ms. Zhou's still-cuffed wrists began to fester with infection.
On the evening of July 12, 2003, Warden Zhou Jianhua entered the cell to personally kill Ms. Zhou. Over and over, she furiously pounded Ms. Zhou in the head with a boot, forcing blood to splatter everywhere. Despite the ruthless and inhumane treatment she endured, every time Ms. Zhou's faith was called into question, "Still believe? Still practice?", Ms. Zhou solidly maintained her determination, answering, "Believe! Practice!"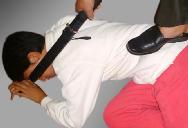 Torture re-enactment: electric baton shocks
Faced with the unwavering fortitude of a Falun Dafa practitioner, at about 10 p.m. Warden Zhou Jianhua became infuriated and ordered four prisoners to drag Ms. Zhou's battered body outside, where they hung her by handcuffs from a basketball hoop. Ms. Zhou died there around 4 a.m. In an attempt to cover up the murder, Warden Zhou Jianhua threatened the prisoners, forcing them to keep quiet, and officially reported that Ms. Zhou's death resulted from a sudden sickness. (See also http://www.clearwisdom.net/html/articles/2003/11/9/42075.html)
9. Ms. Wang Yuhuan, 52, a retiree from Changchun City, Jilin Province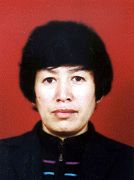 Ms. Wang Yuhuan
Ms. Wang Yuhuan was born in 1955 and was a retired worker. During eight years of the persecution of Falun Gong, she was arrested and detained more than ten times. On one occasion, she endured the torture method of tiger bench for three days and two nights until the bones in her ankles were exposed from the constant grinding of the shackles, and the tendons in her arms were torn from the repeated beatings by the guards. Ms. Wang's face was charred from the constant shocking of electric batons. Her eyeballs were burnt with cigarettes, and her eardrums were punctured with bamboo toothpicks. Her body was completely covered with bloody lacerations. She was stripped naked and tied down on wooden boards with her limbs spread out for 26 days, suffering insult and humiliation by guards, prison doctors, and male inmates.
On May 9, 2007, Changchun City police again arrested Ms. Wang and sent her to the Rongguang Street Police Station. From there, she was transferred to the First Branch of Changchun City Police Department where Officers of Domestic Security tortured her repeatedly. The thrashing resulted in many injuries: Ms. Wang experienced difficulty hearing in one ear, and she found herself unable to eat. A few days later, she was taken to a secret location in Jingyuetan, Changchun City and was brutally beaten that night while suspended from the ground. When Ms. Wang was returned to the First Branch of Changchun City Police Department, she was injured so badly that she had to be carried by two policemen. She was then taken to an interrogation office specifically designed for Falun Gong practitioners that contained many means of torture. The guards forced her onto the tiger bench, where she remained throughout the night. When Ms. Wang was retrieved the following day, she was unable to walk or eat as her internal organs were badly damaged. On the morning of September 24, 2007, Ms. Wang passed away in the Changchun City Central Hospital. Relatives and friends, however, did not receive notification of her death until October 9, 2007.
Torture re-enactment: cuff on the bed with four limbs spread apart (dead person's bed)
Ms. Wang was one of the practitioners interviewed by the renowned lawyer Gao Zhisheng. (See also http://clearwisdom.net/emh/special_column/death_cases/10/v101.html)
10. Ms. Shi Yingchun, approximately 60, from Bohai Community, Lianshan District, Huludao City
Ms. Shi was a vegetable vendor who was once plagued by Gingiva (gum) cancer, cholecystitis (inflammation of the gall bladder), and neurasthenia (exhaustion of the central nervous system), among other illnesses. After one month of cultivating Falun Gong in 1995 all of her ailments disappeared.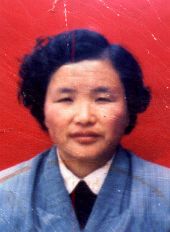 Ms. Shi Yingchun
On August 2, 2008, the police arrested Ms. Shi while she was clarifying the truth to people. She was sentenced to seven years of imprisonment in Liaoning Province Women's Prison in Shenyang. She endured through many forced brainwashings, but refused to accept "transformation."
At 7 a.m. on March 17, 2010, while prisoners were working in the workshop, Section Chief Liu Qili summoned Ms. Shi to his office in an attempt to persuade her to "transform." When Ms. Shi refused, she was later called to the office again, this time by guard Zuo Xiaoyan for the same purpose. When Ms. Shi again refused, Liu and commander Yang Yang ordered prisoners Gao Lan, Huang Yeqing, Du Xiuyun, Lu Jing, Wang Xiujuan, Li Lili, Wang Tong, Yao Yuanyuan, and Fang Lili, to beat Ms. Shi into submission from 11:00 p.m. until 2:00 a.m. After these severe beatings, Ms. Shi was barely alive. At 2:30 a.m, Gao and commander Yang dragged the unconscious Ms. Shi to the prison hospital. Due to the severity of her condition and the deficiencies of the prison hospital, she was rushed to a local hospital where she later died. The forensic pathology report stated that her death was caused by internal injuries.
On March 18, the prison administration called Ms. Shi's family to the prison. After they arrived, the family was told that Ms. Shi had died from an illness. Guards Sun Gang and Wang Zhi (female) were assigned to handle her case. Ms. Shi's family asked why she died so suddenly. Under the escort of 150 officers, Ms. Shi's family was allowed to see her body. They found her body terribly battered: her ears were badly swollen, her buttocks were severely bruised, her pants were stained in blood, and her shoulder was impressioned with teeth marks. Ms. Shi's family was forced to sign a form of consent stating that they had no further questions, agree to cremate her body, and take her ashes. (See also http://www.clearwisdom.net/html/articles/2010/6/26/118178.html)
(To be continued)