Turkey: Special Topic Seminar Introduces Falun Gong (Photos)
October 21, 2011 | By a Falun Gong practitioner in Turkey
(Clearwisdom.net) Falun Gong practitioners in Turkey were invited to give a special topic seminar to introduce Falun Gong to representatives of an influential organization at the Germir Palas Hotel on October 18, 2011.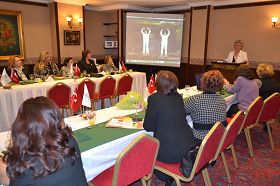 A Falun Gong practitioner introduces Falun Dafa and its wide spread around the world.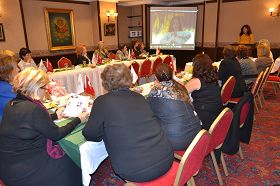 A practitioner tells about how Falun Gong miraculously cured her chronic disease.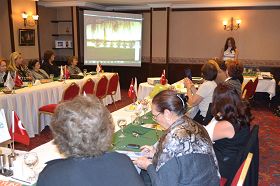 A practitioner shares the huge change Falun Gong brought to her health and spirit.
Practitioner demonstrates the five sets of Falun Gong exercises.
Exposing the brutal persecution of Falun Gong practitioners in China by the Chinese Communist Party.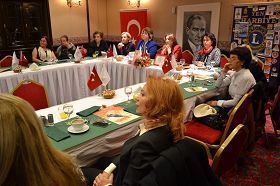 Representatives of Lions Club International listen to the introduction.
The Lions Club International in Turkey is an influential organization. Its Istanbul Harbiye Branch invited Falun Gong practitioners to present this seminar to twenty-five primary representatives of its organization.
Falun Gong practitioners gave a two-hour introduction covering five topics: Introduction to Falun Gong, Sharing of Falun Gong cultivation experiences, exercise demonstration, persecution of Falun Gong by the Chinese Communist Party (CCP), and Shen Yun Performing Arts and Art Exhibition.
The representatives were fascinated by Falun Gong's principles, health benefits, and exercises. Three practitioners shared their personal experiences in practicing Falun Gong and received warm applause. Everyone at the seminar learned the great changes Falun Gong had brought to practitioners. They were shocked by and felt resentment upon learning of the brutal persecution of Falun Gong by the CCP over the past twelve years, especially regarding the CCP's crimes of harvesting organs from living Falun Gong practitioners. Seminar attendees expressed their wishes to end the persecution, and extended their sympathy to Falun Gong practitioners being persecuted. Many attendees wanted to learn the Falun Gong practice. Close to twenty bought the book Zhuan Falun. They repeatedly and sincerely thanked Falun Gong practitioners and said they planned to spread the information they learned to other branches of their organization.