Australia: Gold Coast Multicultural Festival Feels the Energy of Falun Dafa
October 17, 2011 | by Australian Dafa disciples
(Clearwisdom.net) On September 18, 2011, Falun Dafa practitioners in the Australian tourist city of the Gold Coast participated in the town's Multicultural Festival.
The Falun Dafa Association of Queensland was invited to the annual celebration of international food, music and dance that drew more than 22,000 people to the Evandale Parklands. The Gold Coast City Council and Gold Coast Arts Centre buildings are nearby.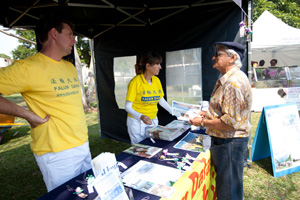 Practitioners set up their information booth in an event tent, pinning up vertical Falun flags to the rear and a photographic history of Dafa on the side. They also held exercise demonstrations under a tree.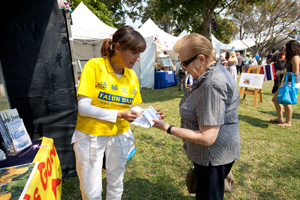 Passersby showed great interest. Some said they could feel the power of the exercises while watching practitioners do the Falun Dafa exercises; the energy made them feel very peaceful.
One man said he saw Mainland Chinese practitioners protest on Tiananmen Square in Beijing; the practitioners were quickly surrounded by Communist police and taken away.
One couple spoke about the types of mystical things explained in Zhuan Falun, so practitioners encouraged them to read the Falun Dafa books.
A Mainland Chinese photography student came to the event and took photos for this experience sharing, even though he had to juggle his work commitments to do so.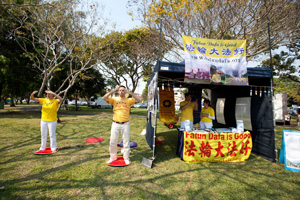 Practitioners later performed traditional Chinese and lion dances with some live drumming. Many of the Chinese spectators were impressed by the authenticity of performances.