Hong Kong Resident Li Yaohua's Health Deteriorates, Prison Authorities Refuse Bail for Medical Treatment
October 16, 2011 | By a Clearwisdom correspondent in Shanghai
Name: Li Yaohua (李耀华)
Gender: Female
Age: 65
Address: Unknown
Date of Most Recent Arrest: June 2009
Most Recent Place of Detention: Songjiang Women's Prison (松江女子监狱)
City: Shanghai
Persecution Suffered: Illegal sentencing, forced injections/drug administration, imprisonment
(Clearwisdom.net) On June 4, 2009, Xuhui District 610 Office officials broke into Hong Kong resident Ms. Li Yaohua's home in Shanghai and arrested her. During her detention, she suffered a health relapse and subsequent return of previous illnesses. As a result, she was unable to stand during her trial. The illnesses developed into sciatic nerve and cervical disk degeneration. She was nauseous while eating, and her blood pressure was dangerously elevated. She experienced intense chest pain, and was taken to the prison hospital for emergency treatment in early March, 2010.
Ms. Li's son Mr. Zhang Yiyuan, who teaches at University of California at Los Angeles, telephoned prosecutor Xu Zhenhui multiple times concerning Ms. Li's deteriorating health. According to the current law, bail is warranted for medical treatment after a physical examination confirms the severity of a disease. However, Xu Zhenhui replied, "The hospital does not have this authority. It is our decision whether or not to grant bail." Ms. Li's 91-year-old father Mr. Li Shanzhen also requested her release on bail on multiple occasions, but was denied. Later, Ms. Li was sentenced to three years and six months in prison, and subsequently taken to the Songjiang Women's Prison.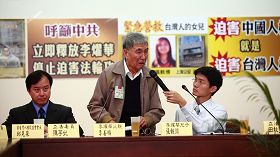 Mr. Li Shanzhen in an emotional appeal to the public: "Please help rescue my daughter. Don't leave her to suffer daily."
When her family visited her in prison, they observed that her health had quickly deteriorated. She suffered from an abnormally curved spine that caused nerve compression and long lasting cervical pain. Her blood pressure was dangerously high. She looked quite pale and suffered from insomnia, had a lack of appetite and was emaciated. Fearing responsibility for her condition, prison authorities forced her to take several medications daily. Her family was extremely concerned, and submitted a written request for her release on bail for medical treatment.
Although her situation was compliant to the regulation on medical bail, her father's written requests were denied twice by the Shanghai Prison Administration Bureau and Shanghai Department of Justice. The denial decision was not delivered as a formal document, but communicated to her family via a phone call.
Ms. Li Yaohua used to suffer from a congenitally abnormal curved spine, which when severe, produced a partial paralysis. Ms. Li started practicing Falun Gong in 1996; her diseases then disappeared. Her 31-year-old daughter Zhang Yibo holds a Masters degree, and worked as a business manager for a foreign company in China. Her father Li Shanzhen moved from Taiwan to mainland China in 2006, hoping that Ms. Li could help take care of his daily needs. He didn't anticipate that his daughter would be arrested for distributing Falun Gong materials.
Songjiang Women's Prison of Shanghai: +86-21-576-15998 ext.2202, +86-21-576-15595
Kan Chunfang, warden
Li Ying, deputy warden