Falun Dafa Brought Changes to My Whole Family (Photo)
January 25, 2011 | By Clearwisdom correspondent Sun Bai
(Clearwisdom.net) "I have never seen Master, but I think His teachings are great, and that I should study the Fa diligently. When I know that I am making progress towards Truthfulness, Compassion, and Forbearance, I have the best feeling in the world!" Ms. Cao Jinzhu was born on the Mazu Islands in the Taiwan Strait. She had a hard childhood, which left her wondering about the meaning of life. She often asked herself what true spiritual fulfillment was. One day in 2004, she finally found the true meaning of life. She became a Falun Dafa practitioner.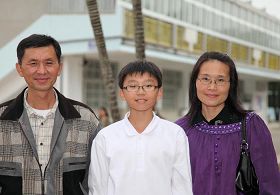 Ms. Cao Jinzhu (right), Mr Fang Fushan, and their youngest child Fang Weiteng, who is attending the Feitian Arts Academy in Taiwan.
At the age of eight, Ms. Cao's family moved to Taiwan. Her parents made a living by opening a snack shop. Since she was young, she helped her parents with the business. She worked part-time to support herself through high school. She married Mr. Fang Fushan when she was 23, and they have three sons. Mr. Fang was a factory owner, and Ms. Cao became a stay-at-home mom. In 1983, the economy took a nosedive, and the family returned to her husband's hometown in eastern Taiwan to farm. They could barely make ends meet.
As the children grew older, the family moved to Taipei to pursue better education opportunities. Ms. Cao worked as a maid and housekeeper to earn money. Mr. Fang tried direct sales and fruit sales, but could not make a steady living. When work was rough, he would smoke, drink, and then beat or yell at the children. Sometimes he said the children were an insult to the family name. His relationship with his children was abysmal.
Mr. Fang's health was not good, so he spent a lot of money studying Tantrism, but the results were not good. Ms. Cao thought that one should cultivate his or her xinxing instead. One day, they were taking a stroll in a park. Ms. Cao was telling her husband, "How come it is so expensive to practice qigong? We are not rich. We should cultivate our hearts instead of paying people a lot of money." At that moment, they saw a group of people doing the Falun Gong exercises in the park. They found the music wonderful. Ms. Cao said, "Look! How graceful they are! They can just practice in a park, unlike you spending tons of money."
One day in 2004, Mr. Fang was parked on the side of the road, selling fruit out of his truck, when a former business partner walked by. She saw him smoking and chewing betel nuts, and said, "You are a cultivator now. How can you be smoking and chewing betel? Your teacher would not be happy if he saw you like this!" Then she suggested that he read the book Zhuan Falun. As soon as Mr. Fang touched the book, he didn't want to let it go. That was how Mr. Fang and Ms. Cao first came into contact with Zhuan Falun. Later, the couple and their youngest son went to the nine-day lecture series, and they all became cultivators.
Mr. Fang used to smoke three packs of cigarettes a day. On the second day of the nine-day lecture series, he tried smoking, but wanted to throw up. His 20-year addiction to nicotine was eliminated. As he continued to study the Fa and do the exercises, his view on life changed. His skin disease was also healed. He used to need expensive injections to suppress the disease. After he became a genuine cultivator, other ailments such as insomnia and the tendency for heatstroke also disappeared.
Ms. Cao said with gratitude, "We are all growing, and following the principles of Truthfulness-Compassion-Forbearance. My husband no longer smokes or chews betel. He doesn't even fish anymore in order not to harm lives. He used to yell at and beat our children often. Now he reasons with them." Before he was a Falun Dafa practitioner, Mr. Fang and his oldest son did not get along at all. When his oldest son was in high school, Mr. Fang used to criticize him with harsh words. His oldest son even tried leaving home and living on the streets. Ms. Cao often worried about her son, but now, things are different. Ms. Cao said, "Our biggest gain is the change in our family's environment." Now Mr. Fang gets along well with the children. His children consider him a model father as well as a close friend.
Mr. Fang studies the Fa and does the exercises every day. When he has a conflict with another person, he looks inward for his own shortcomings and improves his xinxing. A little while ago, he signed a contract to sell grapefruit from an orchard in central Taiwan. However, the orchard owner breached the contract and picked the best fruit to be sold elsewhere. Mr. Fang saw it, but knew that gains and losses were not to be minded. He decided not to take issue with the owner. Because he is fair and trustworthy, he is well liked by customers. He also shares with others his great experiences from practicing Falun Gong. Whenever he has time, he tells people about the persecution of Falun Gong in China and encourages them to practice Falun Gong.
Ms. Cao has been a housekeeper for many years. She often goes to others' homes and has exposure to her clients' expensive belongings. Her biggest tribulation comes when her clients suspect her of stealing. Once, she got a new client through a referral. She was busy working and finished all three floors quickly. When the owner returned, she asked Ms. Cao, "Have you touched my drawers? Something has gone missing." If this happened before Ms. Cao became a practitioner, she would have been very upset. But after she became a practitioner, she was able to handle things calmly since she was not guilty. She explained the situation and expressed hope that the owner would find her things quickly.
Ms. Cao has an excellent reputation. Her clients often praise her for being responsible, trustworthy and having integrity. They also refer new clients to her. Since the family became Falun Gong practitioners, there has been no more yelling in the Fang household. When there is a conflict, everyone shares their thoughts calmly and looks inward. The great change in the family was noticeable. Their extended family members learned the benefits of Falun Dafa and some became practitioners themselves.
Mr. Cao and Mr. Fang said, "Although we've never met Master, we have read Master's book Zhuan Falun. We are following the path of Truthfulness-Compassion-Forbearance. Master's Fa continues to lift us higher." They thank Dafa, and Master for His immense grace!