Vancouver, Canada: Taking Advantage of Long Summer Evenings to Practice the Exercises in Popular Locations Outdoors (Photos)
August 05, 2010 | By Wang Mei from Vancouver, Canada
(Clearwisdom.net) The first Monday in August is celebrated as British Columbia Day in Canada's westernmost province. This year, local Falun Dafa practitioners held a group exercise practice outside the public library in Richmond, one of the cities within the Vancouver metropolitan area. There were many passersby, including some ready to learn the exercises themselves. Vancouver, and Richmond in particular, enjoy very large populations of Chinese immigrants.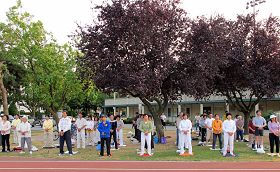 Falun Dafa practitioners held a group practice outside the Richmond Public Library on August 2, 2010
Group practice outside the Richmond Public Library
Learning the Falun Gong exercises
Two children practicing the Falun Gong exercises
The group practice occurred between 6 p.m. and 8 p.m. Many people were out for a stroll, or visiting the busy playground beside the library. The peaceful exercise music was in great contrast to the din from the crowded playground.
Many passersby took in the peaceful scene. Some took introductory materials, and others listened to stories about the benefits of Falun Gong and stories about the persecution in China. Some Chinese people were surprised to see so many Falun Gong practitioners. Others smiled and talked to their families, enjoying the peaceful moment.
An old Chinese lady said she had come to Canada only recently to visit her children. She stood aside and watched for a long time. Later she told a practitioner that she could sense a strong energy field from the exercisers. She even said that her back pain had slowly vanished while standing there and reading the display boards. She said she would return to learn the exercises and remarked that "Jiang Zemin was evil" in his instigation of the persecution of Falun Gong.
A young man from Singapore and another from Russia stopped by to learn the exercises. A practitioner told them about the book Zhuan Falun and recommended they read it if they wished to continue to practice.
Many practitioners realized the benefits of the long summer evenings: more people relaxing outdoors until much later than in the cooler months of the year when night comes earlier. Spending more time exercising outdoors can serve to clarify the truth about the practice and the persecution. After all, group practice is one of the forms that Master has left for us.