My Entire Family Is Blessed from Practicing Falun Dafa (Photo)
July 25, 2010 | Written by Xinmei, a Falun Dafa practitioner in Mainland China
(Clearwisdom.net) I write this article to share the miracles that happened to my entire family after practicing Falun Dafa, to validate Dafa's supernormal power and its beauty; and to express our gratitude toward Teacher's mercy and hard work in giving us salvation!
I. Obtaining the Fa
In July 1995, a friend came to my home and said, "Let me show you a book." It was Zhuan Falun. I opened the book and read it for a little over 10 minutes. I then felt so sleepy that I could not open my eyes anymore. I had to doze off a little, before I could read for another 10 minutes. Then I would again feel extremely sleepy. It took me two days to finish reading Zhuan Falun this way.
I was touched by the book's contents about cultivating (xinxing) and being a good person. I said to my friend, "If I conduct myself according to this book, what worries will I still have?" Up to that point, I was very tired and troubled with fighting for self-interest and recognition at work. I had learned other qigongs before, but they all focused on how to get rid of health problems only, and did not talk about cultivating xinxing. Those qigongs only dealt with the superficial, not the fundamental. I thus told my friend, "This book is excellent, where can I buy a copy? Please help me buy one." My friend told me that she had borrowed it, so right away I started to copy down the entire book. With the spreading of Falun Dafa, I was later able to buy a new copy of Zhuan Falun for myself, and I was also able to find a practice site.
I felt like a seedling getting the first rain after a long drought. It has now been 15 years since I joined in the mighty current of Falun Dafa cultivation. Looking back, a lot of feelings come up; there were many times that I was so grateful that I was in tears. Without the merciful protection from Teacher, I would not have been able to come to be what I am today.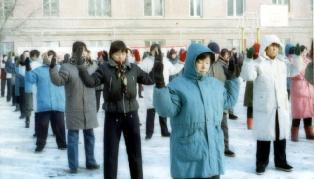 Outdoor group practice in Jilin Province before July 1999
In Jilin Province, before July 20, 1999, Falun Dafa practitioners practiced every day in parks no matter if it was hot in the summer or cold in the winter. So many miracles manifested during those years. Here, I will not mention about other practice sites, but only the one I was in. On several occasions during the Northern China winters, with the temperature below -10°C (15°F), it started to snow when we were doing the sitting meditation. Our surroundings all turned white and each of us turned into a snowman after the one hour. What was miraculous was that we did not feel cold at all and our bodies emitted steam! These extraordinary experiences still stay clear in my memory.
Like many other practitioners, I have transformed from a sick person with the nickname "Big Drug-Jar" to a completely healthy person who has not taken any medicine and not had even one cold in 15 years. Before cultivation, I was thinking of resigning from my job because I could not handle the workload. Now, I have doubled my work efficiency. I have changed from a person who often fought with others, to an easy-going person who takes self-interest lightly. The division I was in charge of was even named the "role-model" division. People around me have witnessed the beauty of Falun Dafa from the positive changes in me.
II. How My Mother Started Practicing
In September 1996, during a business trip out of town, I received a phone call informing me that my 69-year-old mother had just had a cerebral hemorrhage. I immediately rushed to the hospital and found my mother lying on a bed with her mouth and eyes agape and the right side of her body paralyzed. The doctor informed me that she had blood extravasation (leakage of blood) in her brain. He suggested two treatment methods and asked my family to make a decision. Either: 1. Open the skull to take the extravasated blood out, or, 2. Treat it conservatively, i.e. lie in bed without moving and let the brain absorb the extravasated blood naturally. We agreed on the second method. However, after two days of treatment, my mother complained that she could not stand the treatment anymore, because she was not allowed to move her head even a bit.
I then took out Zhuan Falun and said to my mother, "Mom, when I tried to persuade you to practice Falun Dafa before, you said you were too busy for it. Please let me read you Zhuan Falun today." After I had read for a while, my mother said, "By listening to your reading of the Fa, I feel like there is a stream of spring water pouring down my head; it is very comfortable." After that day, whenever she did not feel good, she listened to me reading Zhuan Falun, and felt better.
I told my mother, "It is so obvious that you are feeling better as a result of studying Dafa, which indicates that you have a predestined relationship with Dafa. If you can join the group Fa study, it will have a much better effect than staying in the hospital. Do you believe it?" My mom said, "I do! I do! I want to get out of the hospital and join the group Fa study!" I said, "Wait! You must believe it 100%. You are my mother, and I couldn't play around with your life." She responded, "I truly believe it 100%!"
When I told the doctor that we needed to check out of the hospital, the doctor said, "Don't joke around! With a health problem like your mother's, it takes at least a month before a person can check out. It has only been 18 days, and you are talking about checking out of the hospital?" Later, the hospital had us sign a note that we would take responsibility for leaving on our own.
During the evening on the day we checked out of the hospital, my older sister and I helped my mother walk and we arrived at the Fa study group. When doing the fifth exercise, Strengthening Divine Powers, my mom told us, "I can move the fingers on my right hand now! There is a warm current moving from my shoulders to my fingers!" Everyone who was there witnessed what happened, and the supernormal power of Falun Dafa. On the way home after the exercises, she did not need help anymore. She walked all the way home by herself. The next day, my mother was able to help me make dumplings by flattening the dough into dumpling wrappers for me.
After staying in my home for ten days, my mother told me, "Last night, I was thinking that it is time for me to go back to my village, since I have recovered, and your dad is home alone. And I was thinking about how to tell you. But I had a dream after I went to bed: Under a foggy sky, there was a gymnasium, which was filled with layers after layers of people. They were all watching Teacher drawing the Falun emblem. When I entered the room, there was no seat left for me. Teacher looked at me and said, 'Some people who have just started to practice are not diligent, and worry too much about worldly things. For a practitioner like that, it is very hard.'" My mom continued, "When I woke up, I realized that Teacher was talking about me! I have to stay here and concentrate on studying the Fa diligently for a while before I go home."
After that, my mother and I went to the group study to watch Teacher's lecture videos every night. She told me, "When I watched the teachings, there were law wheels swirling in both my back and head." She stayed with me for 52 days before I sent her back to the village. My mother told me that on the bus back home, there were law wheels swirling in her head and at the tip of her tongue that was numb. We both knew that it was Teacher adjusting her body.
I went to visit her a week later. As soon as I walked in, she said, "This sentence Teacher said is really true. It is, 'In addition, elderly women will regain their menstrual period.' (Zhuan Falun) I was happy enough to be able to recover from my health problem, but did not expect that my period would come back after it had stopped for 22 years. This cultivation practice is truly marvelous! I am really becoming young again!"
The miracles that happened to my mother got the attention of the entire village. 20 to 30 villagers began to practice Falun Dafa through the help of my mom. There were six elderly women in the village who had had a stroke or cerebral hemorrhage, and the four of them who did not practice Falun Dafa paid 400-500 yuan a month for drugs, yet they were unable to recover from their condition. The other two who started to practice Dafa became healthy, and are still doing well today. My mother often tells whoever she meets happily, "It was Teacher who has lengthened my life, and I am the luckiest person!"
III. My Older Sister Comes Back to Practice
My sister witnessed the supernormal power of Dafa through my mother, and she also greatly benefited after joining the Fa study group. But when July 20, 1999 came, her husband got scared, and forbade my sister from continuing to practice. He threatened her with divorce if she were to keep practicing, and he tore up any Dafa books whenever he found them. Under such obstruction from her husband, my sister stopped cultivating. However, one day, she felt pain in her liver, and a CAT scan showed something abnormal in her liver area. The doctor told her that she had a disease that was difficult to cure, and to expect the worst.
After they returned from the hospital, her husband started to beg her to practice Falun Dafa. My sister said, "Before this, it was you who did not allow me to practice, and now you are begging me to practice again? How can you treat Dafa like this!" Her husband said, "I know Falun Dafa is good. I was just scared of the persecution, and that was why I did not allow you to practice. Now your health is an issue. If you do not practice Dafa, you might end up not being able to work, not to mention staying in the hospital, and we will not even have the money to do a check-up. I've lost my job, and the money I make working here and there is barely enough to make ends meet! I beg you, for our child's sake, please practice Falun Dafa and save your life!" Thus, my sister renewed her study and practice in Dafa.
Her husband has since acted like a different person. No matter how tired he gets after working a day at a menial job, when he sees my sister studying the Fa, he will do all the house chores to let my sister concentrate on her Fa study. Our merciful Teacher did not abandon my sister-- after one month of practicing Dafa, her complexion turned rosy, and a hospital exam showed that the abnormality around her liver had completely gone! Laughter and lightheartedness has returned to my sister's household.
My sister's 92-year-old grandfather-in-law had dementia. If you have not experienced taking care of someone who has dementia, you will have no idea how difficult it is. Oftentimes, the grandfather covered the bed and the walls with his feces, saying, "Cake! Cake!" My sister kept in mind to treat herself as a practitioner, and strove to stay kind and compassionate to the elderly. Each day, half of her day was spent washing the old man's diapers and dirty clothes. She took care of him like this for a total of three years. By the time he died, he had not had one bed ulcer.
At the end of last year, my sister's neighbor told me, "The house your sister lives in is only 60 square meters. Yet she takes care of a 94-year-old lady, her 82-year-old mother-in-law, her adopted 12-year-old niece, and her three-year-old grandchild who runs all over the place. It is like a nursing home and a day-care center all-in-one. The local community office said they have never seen such a kind person!" My sister answered pleasantly, "If I had not practiced Dafa, I would not be able to keep myself alive, let alone take care of the elderly and the young!"
IV. Dafa Saved My Niece's Life
[Editor's Note: We've decided to include the story about the author's failed attempt to arrange an abortion for her sister because it shows the process the author went through in rectifying her incorrect notions, because of the righteousness the fellow practitioners showed in dealing with the author, and because it also illustrates how the Chinese Communist Party has been able to deviate Chinese people's understanding of morality to such a degree that makes it difficult for newer practitioners to have a correct view of certain issues. We'd like to stress that Teacher clearly explains the issue of killing in Zhuan Falun.]
My younger sister was weak and always sick since she was a child. When she was in her twenties, she developed psychosis, and talked mumbo-jumbo all day long with an unclear main consciousness. After she married, her husband had a car accident, and had brain damage. It resulted in him becoming completely expressionless. He tried to find a job at a car wash, but people wouldn't even hire him for 5 yuan a day (a regular employee would get at least 20-30 yuan/day). Thus, our entire family is responsible for her family's living expenses. One month after her first daughter was born, the baby was given to her grandmother to be taken care of.
We only realized that she was pregnant again after seeing her enlarged stomach. After discussions within the families, all agreed that this child could not be kept, and we urged her to have an abortion. She was resolute in not wanting one. Ultimately, the family decided to let me take her to the hospital and we lied to her, saying that the visit was to help preserve her child. Only then was she willing to go. When the doctor tried to inject a needle in her stomach, she jumped up, became alert, and started to hit me. She did not hit the doctor, but hit me. As she was beating me, she said, "Didn't you tell me it was to preserve the child? Won't injecting a needle here kill the child?" She punched me hard, saying, "Don't you know that this is killing a person?" (She had never talked so logically before, but I did not realize that it was Teacher who was using her mouth to inform me at the time.) She kept fighting with me as we walked from the third floor of the hospital all the way down to the outside of the entrance on the first floor. Later, a family friend had the doctor agree to travel to my younger sister's home to do the induced abortion. This person arranged for a car to pick up the doctor and the equipment to go there the following morning.
After everything was arranged and prepared, I arrived at the group Fa study late. They asked me why I was late. I was honest and told them the reason. The fellow practitioners said to me, "This is killing! Do you still want to practice Dafa?" I said, "Isn't it that a person will not have a soul until it is born? The baby is not born yet; how can it be counted as killing?" I also gave them my reasons: 1. My younger sister's first daughter was already given to her grandmother to take care of, and now the grandmother was in the late stages of rectum cancer. If the child were born, there would be no one to take care of her. 2. Due to the psychosis, my sister was taking a lot of medication that had strong side effects. It would be difficult to know if the baby could be born healthy.
The Fa-study group assistant saw the way I was attached to my opinion on this issue, so he announced, "Tonight, we are not going to do anything else, but to help her out." Each practitioner there tried his or her best to help me straighten out my wrong thinking. For example, "Whether the child will have someone else to take care of him/her or not, and whether the child will be healthy or not, all depends on his/her own karma. You should let go of this attachment." They kept trying to persuade me until 10 o'clock at night, but I was not convinced yet. I told them, "Please do not worry about me. Unless Teacher says that an abortion is killing, I will not change my mind." The assistant said, "Teacher's lecture in March of this year (1997), Teaching the Fa at a New York Meeting, has just come out, and I have a copy. Let's leave now, and after you reach home, give me a call and I will read it to you over the phone.
When I picked up the phone, he read:
"Question: Then is abortion also considered killing?
Teacher: That's right. An abortion during pregnancy is killing. It doesn't matter how human morality has become, or whether humankind or its laws permit it--laws can't represent Gods-- if you've killed, you've killed. You might argue that according to the law you didn't kill--that's what humans say. We've found that in the space surrounding maternity hospitals there are many babies with nowhere to go--they're missing body parts, or have complete bodies, but they're all young, small lives of babies. Originally, these lives reincarnated, and they might have had their own futures and might have lived for a number of years and then entered another cycle of transmigration. But you kill him before he's even born. Then he has to struggle painfully through these long years--that little being all by himself, it's so sad! He has to wait until all of his years on earth allotted by heaven are over, and only then can he enter the next cycle of transmigration. So you put him in such a painful situation all at once--can you say that's not killing? What's more, the karma is quite large."
Upon hearing Teacher's lecture on this issue with such clarity, saying that abortion was killing, I felt terrified of my actions. The next morning, I went to the hospital and told the doctor that we did not want the abortion anymore. The doctor held in his hand a sterilized package that was still hot, saying that he was already prepared. But I was firm in telling him no.
Just a few days later, our entire district studied the newly arrived lecture, Teaching the Fa at a New York Meeting. I cried bitterly in front of Teacher's picture: "Dear merciful Teacher, thank you for having others prevent me from killing! I am sorry to have worried you. I must let go of my attachments, and not let down Teacher's merciful salvation!"
When my sister gave birth to a girl after carrying her to full term, we found that the girl was not only healthy and wholesome, but also bright and ruddy. Everyone said the baby was beautiful.
One Sunday, my mom called and said, "Your younger sister did not bring her child home. Where has she left the one-month-old child?" I went to the bus station and made some inquiries. Someone told me that my sister was carrying the child when she boarded the bus. I immediately informed my mother that the child got lost on her way home. In the evening, I received a phone call, telling us that the child was found. My sister had become dazed again, and left the child in the reed bushes. Luckily, a Falun Gong practitioner who was washing her clothes in the river nearby heard the child the crying, and the practitioner took her home.
People thought that this child's life was very strong, since she had already gone through the gate of life-and-death three times from when she was only a three-month-old embryo to when she was a one-month-old baby! It was Master's Law Bodies who allowed Falun Dafa practitioners to come to the child's protection each time. She is now being taken care of by my older sister. The child is clever and quick-witted, and at the age of three, she would cross her legs holding a tape-recorder and listen to Teacher's lectures quietly by herself, while the rest of the family cooked a meal. When she was a little older, she was able to do the sitting meditation for 30 minutes the first time she tried, and everyone lauded her good posture. She would even burn incense for Teacher on her own every time she came to my home. Today, she is a 12-year-old Dafa practitioner!
There are still many other stories of miracles that happened in my family and to other practitioners around me.
I am so fortunate to be a Falun Dafa practitioner in this life! I am also honored to be able to become a disciple of Teacher! We must persevere in practicing Dafa, and return to where we came from with Teacher!