Buffalo, New York: Shen Yun Is "Very Enlightening" (Photos)
(Clearwisdom.net) As part of its worldwide tour, the New York-based Shen Yun Performing Arts staged one show at Shea's Performing Arts Center in Buffalo, New York, on May 27, 2010.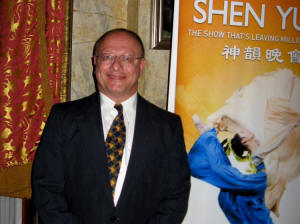 Mr. McCarthy said he found the show unique.
Among the many distinguished guests at the Shen Yun show was Joseph McCarthy, Director of Operations for Shea's Performing Arts Center.
Mr. McCarthy said he was impressed with the diverse range of programs in the show. "It was really our honor to have your performance here tonight. It certainly gave a diversity that we have not seen. I thought the talent was very good. It certainly was new to a lot of people, but I thought the patrons, as they lef,t were very, very, very pleased, and so, please, consider coming back," he said.
He found the show's content refreshing―unlike anything that he had seen before.
"Most of what we have here are more Broadway or musical shows. This one, [with the] interpreter, who was really being the narrator throughout it, really allowed everybody to understand what was going on, and in a culture where many people, like myself, are unfamiliar with. So I found it very enlightening. I think the fans are going to love it."
Church deacon: "It was absolutely stunning!"
Also in attendance were Deacon Paul Weisenberg of St. Lawrence Roman Catholic Church and his wife, Mary.
He was full of praise for the show, saying, "It was absolutely stunning! It was marvellous. I loved the sentiments. I loved the whole spirit of the show, but the colors and the dancing were just wonderful."
Mrs. Weisenberg said that the "sheer grace" of the show was very moving. She especially enjoyed the "spirituality of the show." "The fact is that the church in China, the traditions in China, have been so maligned and oppressed by the current regime. And the message―especially to a very consumerist West―of spirituality and spiritual values being paramount, rather than a drive for riches and greed and power, was so refreshing. I hope the people who came tonight appreciate that."
She felt the show's message was "of redemption and heaven--that's what it's really about. It's not about making production and oppressing the people."
Polish Arts Club President: "Absolutely spectacular!"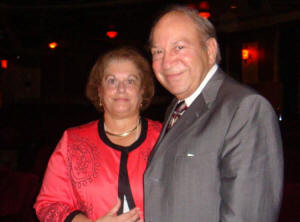 Charles and Loretta Peszynski at Shea's Performing Arts Center
Also attending the show was Charles Peszynski, President of the Polish Arts Club of Buffalo.
"It was absolutely spectacular! There's no way to describe it. The costumes were beautiful--magnificent. The choreography was just terrific--the dancers just flowed. There was such precision in the dancing and the backdrops and the scenery. They were very complimentary to everything that was going on onstage. So it was really a fantastic experience," he explained.
Mr. Peszynski continued, "The music was excellent. The orchestra was a very interesting combination of Western and Chinese instruments. And being someone who does do a little bit of singing and takes vocal lessons, I certainly appreciated the tenor and the soprano. They were superb."
He said he found it difficult to pick out his favorite part of the show because, "Everything was just so, so tremendous."
Mr. Peszynski was both intrigued and appreciative of how Shen Yun portrayed the depth of China's 5,000-year-old culture and history.
"There is a lot to learn from other cultures...The more you know about other people's culture, the more we find out that we are the same in many, many ways. I think if we can start to focus in on that and not the cultural differences, then we'd be much better off."
His wife, Loretta Peszynski, agreed.
"There is something about learning about other cultures that helps us see the similarities, and there are so many similarities."
She continued, "My husband and I taught history for a living, so we know something about Chinese history. And to see something like this put up on stage was a real treat for us.
"I thought the entire show was absolutely, unbelievably spectacular! The colors just sprang off the stage," she said.
Mrs. Peszynski was well aware of the many years of practice and dedication that went into each dance set, saying, "Classical dance, I know, is so difficult to learn and takes so many years, and these people did it just so beautifully. I would come to see this again without any question, and I would recommend it to anybody I could talk to about it."
Shen Yun: "A very spectacular show"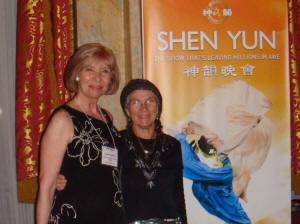 Linda Stephens, President of the Buffalo Arts Council, and her friend Beth
Linda Stephens, President of the Buffalo Arts Council, attended the show with her friend Beth, who works with the Buffalo Performing Arts.
Ms. Stephens described Shen Yun as "a very spectacular show."
Beth concurred, saying, "It was wonderful. Some of the styles of performing and some of the costuming I have not seen used in the way they were this evening. The long sleeves, the water sleeves--that was really beautiful how they used the sleeves. Also, there was another piece that was performed with capes. They were angelic. That was fabulous, really fabulous."
In the dance "Flowing Silk," the ladies use their silken sleeves to create the appearance of rippling water. These "water sleeves" are a favorite feature typically used in classical Chinese dance.
Ms. Stephens was equally impressed by the dancing, saying, "I thought the dancers were wonderful. They were in synch, very much in synch. They work very much together and I didn't see any mistakes.
"I also enjoyed the water sleeves coming out and going in. It was just dramatic and it pulled you in."
She also enjoyed the orchestra. "I like the fact that there were Chinese instruments in the orchestra. That was very interesting. I enjoyed that very much."
Beth summed up her impression of Shen Yun by saying, "The costuming was stunning. The choreographic work was very, very good. I have never seen classical Chinese dance before ... All combined, it was wonderful.
"The synchronization was simply outstanding. It was great!"
Sources:
http://theepochtimes.com/n2/content/view/36428/
http://theepochtimes.com/n2/content/view/36368/
http://theepochtimes.com/n2/content/view/36426/