Interview with Three Participants in the April 25 Appeal in Beijing (Photos)
May 03, 2010 | By reporter Xu Jing
(Clearwisdom.net) A group of Falun Gong practitioners went to Beijing to appeal at the State Council Appeal Office on April 25, 1999. They requested the release of 45 practitioners detained in Tianjin, and asked for a non-discriminatory cultivation environment and the permission to publish Falun Gong books. The Premier of China then held a discussion with representatives of these practitioners and the issue was essentially resolved. Several months later, however, the Chinese Communist Party (CCP) launched a large-scale persecution against Falun Gong and labeled the peaceful appeal on April 25 as "attacking Zhongnanhai" (Note: Zhongnanhai is the CCP central government compound, which is close to the State Council Appeal Office). From that day onward, amidst the massive persecution by the CCP, Falun Gong practitioners all over the world started their arduous journey of peaceful appeal.
We interviewed three practitioners who took part in the appeal back then. Each of them recalled that day and shared their observations with us.
The scene of the Peaceful Appeal
After learning that practitioners had been arrested in Tianjin City, Ms. Li Jie, then 20 years old, who had started practicing Falun Gong one year earlier, joined the appeal on April 25 with a pure and kind heart. Recalling the experience, she said, "Everything was peaceful. We considered this as an opportunity for the government to understand us. We did not shout or call out loud; neither did we have banners or express strong emotions. Thinking we weren't doing anything wrong, we had no fear or anything to be concerned about, but just stood there earnestly. It was indeed very peaceful. The practitioners in the front row were all standing. When someone felt tired, he or she went to the back where practitioners were either doing the exercises or reading [Falun Gong] books."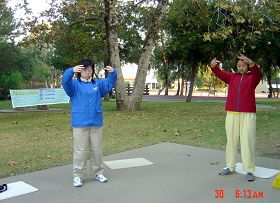 Ms. Li Bin (right) and Ms. Li Jie (left), currently in the U.S.
When the April 25 appeal took place, Ms. Li Bin, who had just finished her graduate degree, was looking for a job in Beijing. She joined the appeal because she had benefited from Falun Gong both physically and spiritually. To help other people understand Falun Gong and also benefit from it, she joined the appeal. She did not even think what might happen on the next day, since her intention was pure, she just wished to tell people the truth about Falun Gong.
Ms. Li Bin said, "Several of us practitioners went there by bus at around 6 a.m. Upon arriving, we saw many practitioners already there, including some from out of town. It was easy to recognize practitioners since some were wearing a Falun emblem and some were holding Zhuan Falun. To avoid blocking the traffic, we left space for pedestrians to pass by. We only stood on the sidewalk, not in the main road. Even on the sidewalk, we left a passage for the pedestrians to get through.
"There were many practitioners. But the scene was not chaotic and instead, it was very quiet and peaceful. None of us called out loud or had banners. We did not even have much on our minds. There was a young policeman in his twenties nearby, and his job was to maintain order. Seeing us practitioners of various ages and smiling peacefully, he was a little bashful. Then, out of shyness, he turned his back towards us. After I told him more about Falun Gong, he understood why we were there. I also saw practitioners pick up the cigarette the policeman left on the ground. The policeman was a little embarrassed because of that."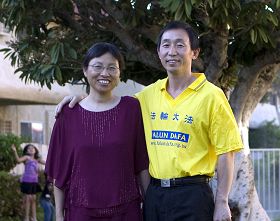 Ms. Zhou Linna and her husband, who joined the appeal on April 25, 1999
When interviewed, Ms. Zhou Linna, who was from Beijing, said, "I stayed there all day long, from morning until 9 p.m. Throughout the entire time the appeal took place, it was very calm. Practitioners were standing quietly reading books. The young ones were standing in the front and older ones were sitting on mats in the back, either reading or doing the sitting meditation. During that period of time, some practitioners walked around with plastic bags to collect trash, even including the cigarettes butts left by policemen."
Police led the way and we were framed
According to Ms. Li Jie, "We spent a long time looking for the appeal center [the State Council Appeal Office], but did not find it. There were local practitioners there and some from other places, some wearing Falun emblems and some carrying Falun Gong books. We went to a place across the street from Zhongnanhai. A guard came up asking if we were there to appeal. We said yes and told them we could not find the right place. The guard offered to lead the way and we thanked him. Later, the road was barricaded by police and no buses or cars were allowed to pass. Then, many police officers came and stood in front of us, with police vans driving around. We did not know what they were doing. Since we were on the sidewalk and did not block the flow of traffic, we were surprised that the police did not allow motor vehicles to go through."
Ms. Li Bin said, "More and more practitioners came, and we still did not know where the appeal center was. Later, policemen came up and asked us to follow them. With pure hearts, practitioners did not think much but followed the police. I just arrived in Beijing and was not familiar with the roads. But I did remember that the police led us to a place across street from the red wall [around the Zhongnanhai compound]. There were police everywhere and they led us to encircle the appeal center. Looking back, it was obvious that the CCP set it up to lead us into a situation to make it appear as if Zhongnanhai was encircled."
Ms. Zhou Linna was familiar with Beijing. She said, "At the beginning, we were all close to the appeal center. Then more practitioners came, but we still did not go to Zhongnanhai. Later at about 7 o'clock, some police officers came up and asked us to follow them and we were thus led to the road next to the west entrance of Zhongnanhai. We were standing there across the street from Zhongnanhai. Practitioners paid special attention not to block the traffic and even made sure to keep a space open for the pedestrians to walk through. So both the buses and people who went to work could move freely.
"At that time, there were many policemen, a few feet apart. In the beginning, the police were relaxed and they chatted with us. As they interacted with practitioners they came to understand that Falun Gong was harmless and were aware that Falun Gong practitioners were good people. They were especially impressed by the peacefulness and calmness of the practitioners. However, in the late afternoon, these police were replaced by armed military police and the situation became tense. The armed military police did not speak with practitioners and the atmosphere suddenly changed, as if something might happen. At that time, practitioners were standing on the sidewalk and the armed police were in the road. At about 8 or 9 p.m. in the evening, practitioner representatives who had gone into Zhongnanhai [at the invitation of the Chinese Premier] came out and told us that the issues had been resolved. Our requests were accepted and practitioners in Tianjin City were released. We were very happy and left there. When I arrived home, a friend called me. He said that his relative, who worked at the General Political Bureau, Operation Department, was having a meeting. He told me if the practitioners did not leave there by midnight, there would be military action."
Escalation: harassment of practitioners after April 25
Jiang Zemin's regime labeled the peaceful appeal on April 25 with various misleading titles and used that as an excuse to launch the persecution against Falun Gong. Ms. Zhou Linna said, "TV reports said that we practitioners went to encircle Zhongnanhai. In reality, we just went there and stood quietly and did not do anything else."
Ms. Zhou Linna said, "The reply we received from the government on April 25 was to continue doing the exercises as in the past. However, the CCP was playing a trick and attempting to deceive us. In Spring 1999, there were many large scale group exercises at various places in Beijing on Sunday mornings. Some of them had up to 1,000 practitioners, and even 2,000 practitioners. I often joined the group exercises on a big playground in Zhongguancun, Beijing. I went there again on the first Sunday after April 25. However, police came to my home two days later and took both my husband and me to the police station. It was the first time I had to deal with police. The police had a very bad attitude and asked if we had gone to appeal on April 25. They also asked us whether we went to the group exercises in Zhongguancun on Sunday. In the end, police warned us not practice anymore and threatened to hold us accountable if we did.
"On the next Sunday, I went to the playground to do the exercises again. The police had ordered various government agencies to send motor vehicles there in advance. The playground was like a parking lot with government cars everywhere. We thus did not have a place for group exercises and introducing Falun Gong to other people. I also heard that the police continued to harass practitioners and asked each employer to check if any of their employees had taken part in the appeal on April 25."
Ms. Li Bin said that many people knew the truth although they did not practice Falun Gong. She said, "After my mother heard that I had joined the appeal on April 25, she was very scared, saying that the CCP would punish us for that. However, when one of my former classmates, who worked in a bank, heard a coworker saying that practitioners went to stir up trouble, she told that person seriously, 'Those practitioners just went there to tell the government what Falun Gong is. I have many friends who practice Falun Gong and they are really good people.'"
April 25, 2010