Brilliant May - The Radiance of Falun Dafa Shines on Taiwan (Photos)
(Clearwisdom.net) Taiwan is known as the "Beautiful Treasure Island," where it is like spring all year round, and pleasant. People living there are uncomplicated and kind, respect heaven, and believe in gods. Fifteen years ago, in April 1995, Falun Dafa was first disseminated in Taiwan. The practice has now spread widely all over the island, featuring more than 1,000 practice sites and approximately 600,000 practitioners. Outside of Mainland China, Taiwan has the most practitioners. At this moment of celebration, let us take a look at how the people in Taiwan cultivate according to Falun Dafa.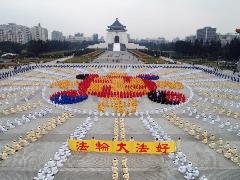 Taiwanese practitioners in front of Zhongzheng Memorial Hall forming a Falun (now called Square of Liberty) in Taipei on December 25, 2005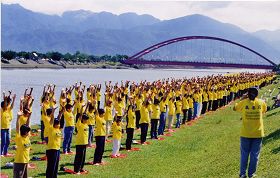 Falun Gong group exercises in Qinshui Park, Dongshanhe, Yilan, on International Children's Day 2001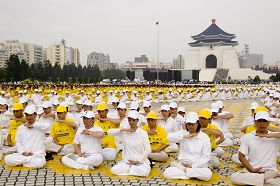 Large group exercise and character formation at Liberty Square
Understanding Falun Gong
The spread of Falun Dafa in Taiwan began with Mrs. Zheng and her husband from Yangmingshan, who brought the practice with them and taught others. Beginning April 23, 1995, the couple held daily morning Falun Gong practice in Yangmingshan Park. Not long after, people at the park doing their morning exercises became curious observing this couple doing exercises to tape-recorded music. They asked, "What exercise are you doing?" The couple told them it was Falun Gong. Gradually, more people joined in. Word was spreading quickly, and Falun Gong became the chosen practice for many in Taiwan.
Not too many people knew about Falun Gong in 1996. Yang Rongsheng, a builder, saw a copy of Zhuan Falun on an office desk in a factory in Kending, Dongping. Curious, he picked up the book and was immediately attracted by the profound content. There was no practice site in Kending then. Once back in Taipei, he looked for practice sites and found one near Jilin Road, where people practiced Falun Gong regularly on Thursdays. Ten or more people were in the group.
Yang Rongsheng recalled his then limited comprehension of Falun Gong. He did not understand the importance of group Fa-study and group exercises. This changed between November 1996 and February 1997, when Taiwan practitioners organized groups to attend cultivation experience sharing conferences in Beijing. Beijing and Taiwan practitioners held a nine-day Fa-study and experience- sharing meeting, and only then did many practitioners realize the importance of Fa-study. Once back in Taiwan, in April 1997, they organized the first assistants training session at the Taipei National Heroes Hall, based on the group Fa-study and the sharing the practitioners in Beijing had modeled for them. This greatly improved and enhanced practitioners' comprehension of the Fa principles.
After that, regular training sessions were organized every two or three months in various places across Taiwan. The number of people who attended the training sessions increased from a few dozen to several hundred. Later on, because the numbers had become so large, the sessions were divided into two kinds: assistants' training and group Fa-study and sharing. In 1997, practitioners in Taipei put a small ad in The China Times and ran their first nine-day seminar, open to the public. Falun Gong had already crossed the Taiwan Strait and taken root in Taiwan.
Falun Gong founder Master Li Hongzhi visited Taiwan in November 1997 and taught the Fa for 10 hours in Taipei and Taizhong. This encouraged local practitioners greatly; nearly 2,000 people listened to Master Li's teachings.
Yang Rongsheng recalled 1998 as their happiest cultivation time. The persecution in Mainland China had not yet begun; all practitioners were immersed in the Fa, and cultivated diligently. A Fa conference was held in New York in March that year. Practitioners in Taiwan found this out on a Tuesday. The conference was that coming Saturday. It seemed impossible to get passports and visas ready for the conference in a matter of 2-3 days. But miraculously, when practitioners thought they wanted to attend, they indeed made it possible. About 40 practitioners went to the conference.
In May that same year, several conferences were scheduled: in Canada; in Germany in mid-May; in Singapore in July, and one in Switzerland in September. Practitioners whose conditions permitted all tried to attend them. Yang Rongsheng remarked that Master Li had been invited to visit Taiwan again, on July 19, 1999, but due the persecution in China the trip had to be postponed.
Dafa Dissemination in Taiwan
In retrospect, the large group appeal of Falun Gong practitioners in Beijing on April 25, 1999 was a dividing line. Falun Gong suddenly became widely known due to extensive media coverage of the "April 25" incident. This event also encouraged many Taiwanese people to begin the practice, laying a solid foundation for a wide dissemination in Taiwan.
Taiwan had only 35 practice sites when Master Li came to teach the Fa in Taiwan in November 1997. In June 1998, Taiwan publishers sold out of 2,000 sets of Falun Gong books within a month; by April 1999, 14,000 copies of Zhuan Falun were published. After April 25, 1999, many new practitioners joined in everywhere, and nine-day seminars were held in various places. Assistants from Huangpuxincun sometimes had to open two rooms, with two TV sets running at the same time, to accommodate the number of people.
After May 1999, to accommodate the needs of new practitioners, another 15,000 copies of Zhuan Falun were printed; the rapid demand was unexpected.
The CCP began its persecution of Falun Gong on July 20, 1999; however, it has failed to defeat practitioners--quite the opposite! Falun Gong practitioners have become stronger in their resistance to the persecution.
One Mulan man went to Mainland China on business in 1999 and saw many slanderous news programs against Falun Gong on TV screens in public places. He was curious why such a large country would use state power to persecute a spiritual cultivation practice. On his return to Taiwan he found a Taipei practice site in Huangpuxincun and attended a nine-day seminar. Following that seminar he told others that he was initially merely curious - to find out how "evil" Falun Gong was, but he discovered that the CCP had lied.
He became aware that Falun Gong was in fact teaching people to be good people, and there was nothing bad about Falun Gong. He said despite visits to well-known doctors and renowned hospitals, and having taken a variety of medications, nothing could cure his 17-year stretch of insomnia. After the fourth day of the nine-day seminar, he slept well without taking any medicine; his insomnia disappeared without treatment. He had a hard time understanding why the CCP persecutes such a wonderful practice.
Lawyer Zhu remarked how impressed she was that once the more than ten thousand practitioners left following their appeal near Zhongnanhai, there was no litter left behind. She thought the practice must be extraordinary if people could have such good morals. She called to inquire about the nine-day seminar. Lawyer Zhu was suffering from late stage cervical cancer and had already prepared for her funeral. Her illness disappeared after she attended the nine-day seminar.
Practitioners spreading the Fa of their own accord
Despite the communist regime launching a full-scale persecution of Falun Gong, the practice has become well-known worldwide; practitioners' peaceful efforts to resist the persecution plays a major role in this. People can see Falun Gong practice sites in Hong Kong and Macao under the "One country - Two Systems" policy. Anyone visiting the Falun Gong website www.falundafa.org could easily find information about all the practice sites around the world, with contact details.
In Taiwan, people are practicing Falun Gong in parks in large and small groups--some groups as large as several hundred people. One can also see advertisements on public buses, posters in parks, schools, government departments or huge outdoor display boards saying, "Falun Dafa is good. Truthfulness-Compassion-Forbearance is good." Strategically displayed hotline numbers advertising free exercise instructions make it easy for people to make inquires about the practice.
Furthermore, switching on the radio or TV, one can listen to or watch programs about Falun Gong. The information is easily available.
The practice has gradually become deeply rooted in people's hearts in Taiwan. The number of people practicing has also increased sharply. In September 1999, practitioners applied to the Taiwan Ministry of Civil Affairs and established a legal association - The Falun Gong Research Association.
Among Falun Gong practitioners are people from a wide range of the social spectrum, including university professors, doctors, lawyers, engineers, public servants, police officers, scholars, farmers, workers, businessmen, housewives and so on and so forth. As stated above, there are now over 1,000 practice sites across Taiwan. Practitioners have become healthy and strong, with high moral standards and have won high praise from government departments and various sectors in society.
With the development of Falun Gong in Taiwan, initially there was no formal organization--people can come and go at will. Later, in order to accord with local laws and regulations for social groups, professor Zhang Qingxi from Taiwan University's Economics Department and well-known economist Wu Huilin and others established the Falun Gong Research Association, currently called Taiwan Falun Dafa Association.
Professor Zhang Qingxi pointed out Falun Gong founder Mr. Li Hongzhi's wish, to have loose organization and make sure not to keep money or property; thus the organization that was established is not of a type people might imagine. Falun Gong does not have a membership roster nor any assets.
Professor Zhang describes one unforgettable scene. Professor Ms. Ye Shuzhen's house is a group Fa-study site and can usually hold around 30 people. After May 1, 1999 when they ran the nine-day lecture seminars, many new practitioners joined. She had the wall dividing the lounge and the study taken down. Still the space was not big enough; many practitioners sat outside in the street, an exceptional scene.
The communist regime persecutes Falun Gong, but what they did and still do helped to make Falun Gong known to people overseas.