Taiwan: Keelung City Council Passes a Bill Calling for a Thorough Investigation into the NTDTV Signal Interference Incident (Photos)
April 30, 2010 | By a practitioner in Taiwan
(Clearwisdom.net) Taiwan officials are continuing to pay attention to the NTDTV Asia-Pacific satellite signal interference case. On April 28, 2010, Keelung City Council passed a bill calling for a thorough investigation into the incident, after county councils in Taoyuan, Tainan, Yunlin, Hualian, and Taidong passed similar bills.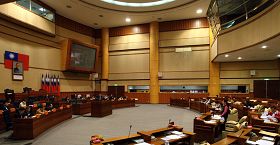 On April 28, 2010, Keelung City Council passed a bill calling for an investigation into the NTDTV signal interference incident
In the first temporary meeting of the Seventeenth Keelung City Council, council member Lu Mei-ling introduced the bill, co-signed by council members Chuang Chin-tien, Chang Han-tu, and Hsie Shou-nan. It was passed unanimously. The bill suggests that city government ask the National Communication Commission (NCC) to conduct a thorough investigation into the case.
This is the first time in Taiwan that a civilian TV station signal has been interfered with for such a long time. The broadcasts during the time slots the signal is blocked focus on people's lives, human rights, and security issues in China. Chunghwa's ST1 signal began experiencing sporadic interference on September 17, 2009, and increased to several hours a day. On October 1, the highly politicized anniversary of China's communist revolution, the signal was blocked for the entire day. But six months have passed, and Chunghwa Communication and the NCC have not released any information on the source of the interference.
Ms. Lu said that many citizens reported the signal interference, and city government should send letters to the NCC requesting an investigation.
It is believed that the signal black out on all of October 1 was politically motivated. Taiwan's firefighting department, Water Resources Agency, Bureau of Meteorology, and the Department of Defense also use Chunghwa's ST1 satellite. Many are worried that, if the Chinese Communist Party can interfere with NTDTV's signal today, it could interfere with disaster relief and prevention systems or other TV stations in Taiwan tomorrow.