Falun Dafa Around the World: Peru (Photos)
December 03, 2010 | By Clearwisdom Correspondent Tang En
(Clearwisdom.net) Designated as a UNESCO (United Nations Educational Scientific and Culture Organization) World Heritage Site, Machu Picchu is a pre-Columbian Inca site located 2,400 meters above sea level. The name means "Old Mountain" and is often referred as "The Lost City of the Incas." It is the best known tourist site in Peru as well as one of the Seven Wonders of the World.
The Establishment of Peru Falun Dafa Association
With it's roots in the divinely-inspired Chinese culture, Falun Dafa has been practiced in many nations, including this ancient South American country.
Falun Dafa, also known as Falun Gong, emphasizes the value of virtue. Through practicing Falun Dafa, practitioners not only improve their physical health, but also uplift their minds. To date, Falun Dafa is practiced in more than 114 countries. More than 100 million people have thus benefited from it. Falun Dafa books have been translated into more than 30 languages and published all over the world.
The Peru Falun Dafa Association was established and registered on May 23, 2010. More people in Peru are thus able to benefit from the principles of Truthfulness-Compassion-Forbearance.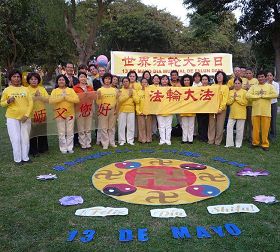 May 13, 2010 was the 18th anniversary of Falun Dafa being introduced to the world. It also coincides with the 11th Falun Dafa Day as well as the birthday of Mr. Li Hongzhi, the founder of Falun Dafa. Peru practitioners wish Mr. Li a happy birthday
Improving Together through Experience-Sharing Fa-Conference
The Eighth Peru Experience-Sharing Fa-Conference was held on October 30, 2010, in Lima, the capital of Peru. Twenty practitioners shared their experiences during cultivation, as well as doing the three things--Fa-study, sending forth righteous thoughts and truth-clarification. The First Peru Experience-Sharing Fa-Conference was held in Lima on February 9, 2000, accompanied by a photo exhibition entitled "Falun Dafa Around the World".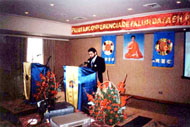 Western practitioners share experiences during the First Peru Experience-Sharing Fa-Conference
The Second Peru Experience-Sharing Fa-Conference was held in Lima on November 14, 2004. Practitioners from various nations attended the conference including the US, Australia, Sweden, France, UK, Spain, Chile, and Venezuela.
Introducing Falun Dafa to More People
After benefiting from Falun Dafa themselves, many practitioners began to introduce the practice to more people. In fact, this mouth-to-mouth recommendation is an important reason why Falun Dafa has become so popular around the world.
During an expo held at San Borja in Lima between November 19 and December 3, 2000, practitioners introduced Falun Dafa to the public. This was the second time that practitioners gave such presentations about Falun Dafa and presented truth-clarifying pictures.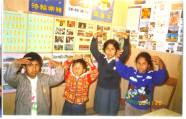 Children also came to learn the exercises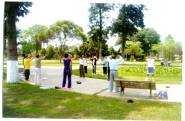 Practitioner gives exercise demo to the public
In March 2002, Peru practitioners held a 20-day campaign to introduce Falun Dafa to the public across 19 provinces. They demonstrated the exercises, delivered Falun Dafa books and truth-clarifying materials to city and town government officials. In addition, practitioners visited various radio stations and television stations where they left a copy of a Spanish-language exercise-demonstration video, exercise music, and Falun Dafa book to each station.
People at Cajamarca learning Falun Dafa exercises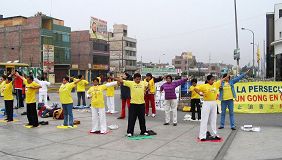 People at Santa Anita learning Falun Dafa exercises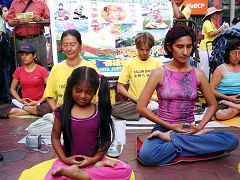 Practitioners introducing Falun Dafa to the public at Capon Street in Lima's Chinatown on February 18, 2007 (Chinese New Year according to Lunar Calendar)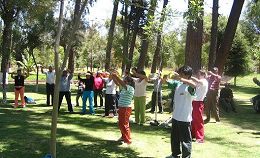 Practice site in City of Arequipa. As the second largest city in Peru, Arequipa is also known as the White City due to the many buildings built of white volcanic rock
Truth-clarification to Expose the Torture
The CCP (Chinese Communist Party) began a massive persecution of Falun Dafa on July 20, 1999. To date, more than 3,400 practitioners are confirmed dead due to abuse by the officials, hundreds of thousands have been sent to prison or forced labor camps, thousands are sent to mental hospitals and forcibly injected with nerve-damaging medicine. In addition, many practitioners were sent to brainwashing centers, or forced to stay away from home to avoid further persecution. To make things worse, numerous labor camps have been found to be involved in live organ harvesting from Falun Dafa practitioners to make a profit.
Between September 28 and October 8, Peru practitioners completed a 300-kilometer SOS Walk from Lima to Ica on the Pan-American Highway. The words, Truthfulness-Compassion-Forbearance were written on their yellow T-shirts, in both Chinese and English, as well as on the banners carrying words of Falun Dafa, attracted much attention from the passing vehicles. Many drivers honked their horns to show their support. Some even stopped to give practitioners fruit or water. Police officers they encountered saluted them and shook hands with the practitioners.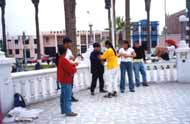 After the SOS Walk, practitioners showed people how to do the excises at a park in Chincha City
After the CCP's live organ harvesting from Falun Dafa practitioners was exposed in March 2006, Peru practitioners held photo exhibitions, collected signatures, and wrote letters in order to clarify the truth to the public and the government.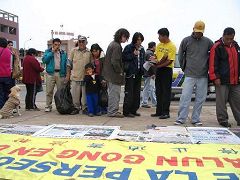 People shocked by the CCP's brutality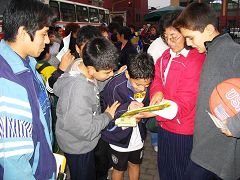 Children signing forms at the Italian Square (Plaza Italia) to oppose the persecution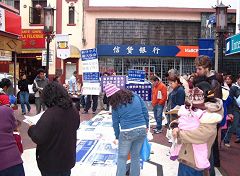 Practitioners came to Capon Street, a tourist site in Chinatown, to expose the persecution of Falun Dafa with pictures and banners
Practitioners held another activity at Capon Street in Chinatown on July 20, 2008. They exposed the CCP's brutal persecution and called to end it.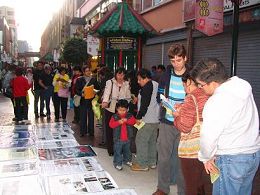 Pedestrians stopped to learn the truth
Some Lima practitioners held a candlelight vigil in front of the Chinese Embassy in Peru on July 20, 2010. They mourned the practitioners who had died in the eleven-year-long persecution, exposed CCP's brutality, and called to end it.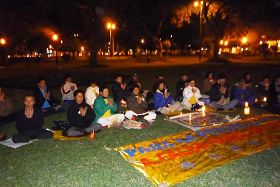 Lima practitioners held a candlelight vigil in front of the Chinese Embassy
Media Pays Attention to the Persecution
Channel 11 of the Abancay Television had a special program introducing Falun Dafa
Peru practitioners once again delivered truth-clarification materials to various media in early September 2007. The investigative report about the live organ harvesting of Falun Dafa practitioners being carried out by the CCP drew media attention.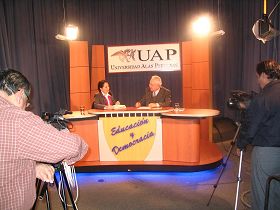 Channel 51 invited practitioners for an interview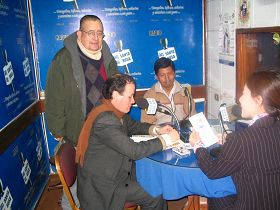 Santa Rosa radio station interviewed practitioners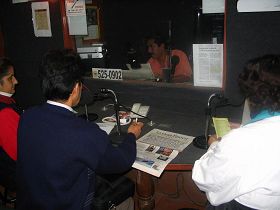 Chuai Sang radio station invited practitioners to clarify the truth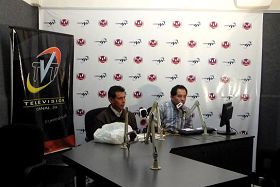 Practitioners visited news media in Arequipa to clarify the truth
Practitioners also held a campaign from October 15 to 20, 2009, to clarify the truth in Arequipa, the second largest city in Peru. Practitioners visited newspaper agencies and radio stations. Their activities were given a lot of attention by the news media. Three newspaper agencies and three radio stations interviewed practitioners. Local cable TV station Channel 39 had live coverage, broadcasting the peaceful and wonderful practice to thousands of families.