Ms. Zhou Yunxia Persecuted to the Point of Mental Collapse, Current Whereabouts Unknown (Photo)
October 22, 2010 | By a Clearwisdom correspondent from Hunan Province, China
Name: Zhou Yunxia (周云霞)
Gender: Female
Age: 60
Address: Ningxiang County, Hunan Province
Occupation: Unknown
Date of Most Recent Arrest: November 2, 2001
Most Recent Place of Detention: Changsha Women's Prison (湖南省长沙女子监狱)
City: Changsha
Province: Hunan
Persecution Suffered: Detention, beatings, hung up, illegal sentencing, imprisonment, forced labor, electric shock, physical constraint, forced injections, drug administration, detainment in mental hospital
(Clearwisdom.net)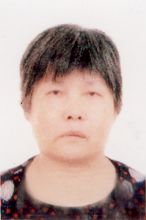 Ms. Zhou Yunxia
Ms. Zhou is related to an employee of the No.7 Division of the Huaihua Subsidiary affiliated with the Hunan Province Construction Company. She lives in the Huaihua No.7 Division residential area. In 1997, Ms. Zhou began practicing Falun Gong, and lived by the principles of Truthfulness-Compassion-Forbearance. However, on November 2, 2001, officers led by Zhou Youliang from the Political and Security Department in Ningxiang County Police Bureau illegally arrested her at home. They then cruelly tortured her through such means as beatings while being hung up and other methods. She was sentenced to four years imprisonment and taken to Changsha Women's Prison in Hunan Province.
At Changsha Women's Prison, Ms. Zhou was forced to do hard labor for 16 straight hours daily. She was struck with electric batons, handcuffed and shackled, with both her handcuffs and foot shackles secured to a bed frame. She was forcefully injected with and fed unknown drugs, and her front teeth were knocked out due to force-feeding. Ms. Zhou suffered a mental collapse due to such cruel, long-term torture, but the prison officials wouldn't release her. She was finally released on November 2, 2005, when her term was completed.
After Ms. Zhou returned home, officials from the Ningxiang County 610 Office took her to the Ningxiang Mental Hospital, where she was persecuted for three months. After her release, she was mentally disoriented and kept saying that someone was going to harm her and force-feed her poisoned food. Ms. Zhou wandered away from home a few times over the past few years, but was found and brought back by her family members.
She left home again on March 23, 2010. Her whereabouts are currently unknown. She was last seen wearing a light-red jacket, red shirt, black pants, and black shoes.
Related article:
http://www.clearwisdom.net/html/articles/2009/9/8/110668.html