Canada: Amnesty International Condemns the Persecution of Falun Gong (Photos)
July 20, 2009 | By Minghui/Clearwisdom reporter Ying Zi
(Clearwisdom.net) On July 16, Alexander Neve, the Secretary General of Amnesty International Canada, condemned the Chinese Communist Party's (CCP) persecution of Falun Gong practitioners at a press conference on Parliament Hill. He called upon the Canadian government to take more action to help stop the persecution of Falun Gong.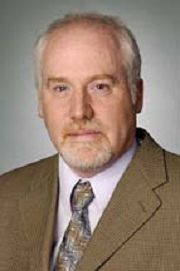 Alexander Neve, the Secretary General of Amnesty International Canada
Ten years ago, on July 20, 1999, the CCP launched the brutal persecution of Falun Gong. Mr. Neve said that July 20 is a symbol of the serious human rights violation of Falun Gong practitioners, including torture, 3000 deaths, and thousands of people being jailed. He said that at the core of these human rights violations is the deprivation of millions of people of their right of belief, conscience and expression.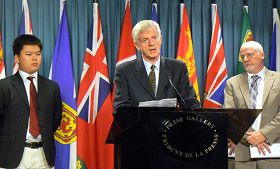 David Kilgour (middle), lawyer and former Canadian Parliament Member
David Kilgour, lawyer and former Canadian Member of Parliament, and David Matas, well-known Canadian human rights lawyer, have collected 52 pieces of evidence and verified allegations of the CCP harvesting organs from living Falun Gong practitioners. Mr. Kilgour said at the press conference that the brutal persecution of certain groups by the CCP has happened periodically since the CCP obtained power in 1949.
Mr. Neve said that the persecution not only targets Falun Gong practitioners, but also those who dare to speak out for Falun Gong. Many lawyers in China who defend Falun Gong have been attacked, harassed or even jailed. He pointed out that many lawyers who handled Falun Gong practitioners' cases have had their professional licenses illegally revoked by the CCP.
David Kilgour pointed out that in July, three Chinese lawyers were arrested because they defended Falun Gong practitioners.
Neve said that July 20 is a sad date for many Canadian citizens and permanent residents, because their family members and relatives are jailed or tortured in China because they practice Falun Gong.
Zhou Limin, spokesman for the Falun Dafa Association, said that currently, sixteen family members of Canadian citizens are jailed, and one was sentenced to sixteen years because of their practice of Falun Gong.
Shen Yue, a Falun Gong practitioner from Montreal, told stories of his mother and three aunts. His mother was sentenced to two years in prison in 2001. Later, on June 30, 2007, because she handed out Falun Gong informational materials, she was arrested again and sentenced to five years.
Shen Yue said that his mother was badly tortured in jail. His three aunts are still imprisoned in the Shijiazhuang Women's Prison. "In 2004, two of my aunts were sentenced to four years and one was sentenced to five years. They are forced to do heavy labor from 7:00 a.m. to 10:00 p.m."
Mr. Neve said that the Canadian government should also take note of July 20. He suggested that the government protect the rights of Canadian citizens' family members and exert pressure on the Chinese government [to end the persecution]. He said that the Canadian government must deliver a clear message to the Chinese government on this tragic date.
David Kilgour said that business partnerships with the Chinese government during the current financial crisis sound appealing, but we must remind the leaders that this vague attitude toward the human rights situation in China is against basic Canadian values.
Background
Falun Gong, also known as Falun Dafa, is a traditional Chinese spiritual discipline for mind and body. The practice involves slow, gentle movements and meditation. It is easy to learn, enjoyable to practice, and free of charge. Its principles are based on Truthfulness-Compassion-Forbearance. The practice began in China in 1992 and quickly spread by word of mouth throughout China and then beyond. Today, Falun Gong is practiced by over 100 million people in 60 countries. The main works of Falun Gong are available in over 30 languages.
On July 20, 1999, the Chinese Communist Party (CCP) launched a brutal persecution of Falun Gong. Since the start of the persecution, Falun Gong practitioners throughout the world have been constantly speaking out about the truth of Falun Gong and exposing the CCP's crimes in a tireless effort to end the persecution.
á