Ms. Zhang is in Critical Condition at the Zengcheng City Detention in Guangdong Province (Photo)
(Clearwisdom.net) After being persecuted for close to nine months, Falun Gong practitioner Ms. Zhang Chunhe was secretly tried and "illegally sentenced" to three years in prison on April 8, 2009. When she appeared in court, she was in critical condition and in a lot of pain. Her Ms. Zhang appealed the unlawful verdict and a new trial date was scheduled for May 15, 2009.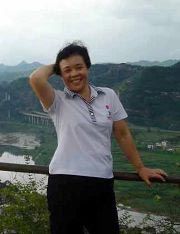 Ms. Zhang used to work as an accountant as well as the head of Zengcheng Wuxie County's Financial Department. After she started practicing Falun Gong in 1994, her body, mind, and character underwent huge changes. People that know her consider her a very good person.
On July 23, 2008, while Ms. Zhang was on her way to work, she was illegally arrested by 610 Office agents. Without telling her the reason for her arrest, the agents took her to the Guangzhou City Brainwashing Center. After Ms. Zhang arrived, she was given a thorough physical exam. When a doctor discovered that she had numerous tumors in her body, the biggest being the size of an infant's head, the brainwashing center refused to accept her.
Ms. Zhang's family was pressured into signing a form giving the brainwashing center permission to take her to a hospital and have her tumors removed. Knowing that Falun Gong practitioners are often subjected to live organ harvesting, Ms. Zhang's family proposed that the Guangzhou City Brainwashing Center release her on bail for medical treatment so that her family members could secure a surgeon themselves.
After the family's proposal was rejected, Ms. Zhang was handcuffed behind her back by officers from the Xiyuan Police Station and 610 Office agents. In addition, her feet were shackled, causing her to suffer severe edema.
She was later taken to the Guangzhou City Police Hospital where she was strictly monitored for close to half a year. A few months ago, the hospital's head doctor repeatedly called the Zengcheng City Police Department, telling them that Ms. Zhang was in critical condition and that they should come pick her up.
In early April 2009, when Ms. Zhang was just about to leave the hospital, the doctor who had been assigned to her said, "You won't be dying today, right? I am in the middle of preparing the paperwork for your release."
Within a few months, three of her tumors had grown dangerously large. There was an obvious lump in her abdominal area and she was also passing blood. In addition, her heart beat was abnormally fast and she experienced profuse sweating as well as dizzy spells with pain in her abdomen.
After the trial, Ms. Zhang was transferred from the Guangzhou City Police Hospital to the Zengcheng City Detention Center. During this time, she was in critical condition with severe abdominal pain. It was obvious that neither the 610 Office, Police Department, Judiciary Department, or the Procurator Department cared whether Ms. Zhang lived or died.
Related article:
http://nondeterministically/emh/articles/2009/3/21/105782.html