Practitioner Ms. Guo Zhaoqing of Yiyang City Paralyzed by Torture (Photo)
(Clearwisdom.net) Ms. Guo Zhaoqing, 37 years old, is a calligrapher working as a cadre in the People's Art Center of Yiyang City, Hunan Province. She had been given awards for being an outstanding worker many times. In her work unit and her community, she has been praised as an outstanding young woman. In 1996, Guo Zhaoqing started to practice Falun Gong. In mid April 1999, she was recommended to be the person-in-charge of the Yiyang Falun Gong practice site. After the persecution started in July 1999, as she persisted in her practice of Falun Gong, she was fired from her position as secretary general of the city Calligraphers' Association.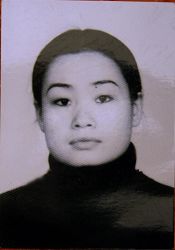 Guo Zhaoqing
In 2000, Ms. Guo went to Beijing to appeal for Falun Gong and was arrested. She was illegally incarcerated in Tianjin City. On January 15, 2001, the local Party officials took Guo to the Baimalong Forced Labor Camp in Zhuzhou City for two years of forced labor. During this period, she was brutally tortured with electric batons, hung up by handcuffs, physically assaulted to the brink of death before her family was allowed to take her home.
Later Guo's residence was ransacked many times and she was harassed repeatedly. On December 20, 2004, Guo and her parents were arrested by local personnel Wang Yongkang, Wu Xiyong, Huang Junhua from Wuling District, Changde City. Their savings of twenty three thousand yuan was confiscated. Her parents were aged and had heart problems and a relapse of high blood pressure (as high as 210 mhg) but they were still incarcerated for three months before being released. Guo was incarcerated alone at Linli County Detention Center in Changde City and later escaped.
During the last ten years, Ms. Guo has been arrested and detained nine times. She suffered from extensive torture until her whole body was covered with wounds. According to her persecutors, she went on a hunger strike for 300 days and regardless of the severe torture, she did not sign any documents renouncing her faith in Falun Gong. When they tried to "transform her" she refuted them and left them speechless.
On April 21, 2009, a dozen policemen barged into Ms. Guo's residence in Beihu District of Chenzhou City, Hunan Province. They physically assaulted her and she lost consciousness after losing a lot of blood. The police tried to hide their crimes. They quickly cleaned up all the blood before taking pictures of the scene.
Ms. Guo was incarcerated in Chenzhou City for nine days. She did not cooperate with the police and was tortured very severely. She was covered with wounds. On April 29, she was transferred to Linli County Detention Center. She is currently paralyzed, and officials of the detention center do not allow her family to visit her. Ms. Guo's aged parents have no one to take care of them.
Hereby, we urgently appeal for international help from all levels of society. Please help to save and demand the release of Ms. Guo Zhaoqing!
Dai Xi, Head of Politics and Law Committee (also 610 Office Head) of Wuling District, Changde City: 86-13762861513 (Cell)
Zhongqing, Deputy Head of Politics and Law Committee (also 610 Office Deputy Head): 86-13762612626 (Cell)
Liu Yaobo, Linli County Detention Center head: 86-13975678616 (Cell)
Related article: http://www.clearwisdom.net/emh/articles/2009/6/2/107927.html