Stories of Falun Gong's Founder (Photos)
May 10, 2009 | By Tang En
(Clearwisdom.net) May 13 is the seventeenth anniversary of the first public introduction of Falun Gong, and the tenth anniversary of World Falun Dafa Day. The founder of Falun Gong is Mr. Li Hongzhi from Changchun, Jilin Province, China. He initiated the first Falun Gong teaching session on May 13, 1992 in Changchun, publicly introducing Falun Gong for the first time. In March 1995, Mr. Li went to Paris, France and started teaching Falun Gong overseas for the first time. He emigrated to the US in early 1998.
Falun Gong is based on universal principles "Truth-Compassion-Forbearance" and stresses improving oneself. It has marvelous effect on health and fitness. In the last seventeen years, it has spread to over 100 countries. More and more practitioners of virtually all ethnic backgrounds continue to benefit from practicing Falun Gong.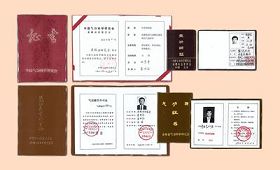 Qigong teaching certificates issued by Chinese government to Mr. Li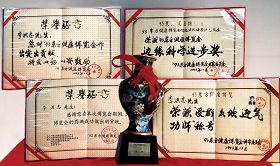 Mr. Li was honored with the greatly coveted "Award for Advancing Boundary Science" and a "Special Gold Award," as well as the title "Qigong Master Most Acclaimed by the Masses." Mr. Li Hongzhi received the most awards at 1993 Health Expo in Beijing.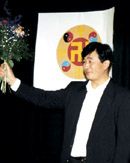 Mr. Li held a seven-day teaching session in Gothenburg, Sweden, in 1995. It was one of the few such sessions that Mr. Li held overseas and was the last one of the series.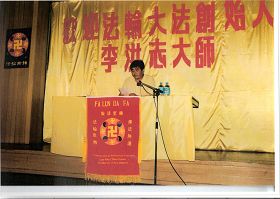 In 1996, Mr. Li answers questions of practitioners in Australia
One hundred million people benefit from practicing Falun Gong
Mr. Li's major work Zhuan Falun has been translated into more than thirty languages and published across the world. Mr. Li and Falun Gong have received more than 1500 awards and proclamations. More than one hundred million people benefit from practicing Falun Gong. Mr. Li was nominated for the Nobel Peace Prize in 2001 by more than 30 congressional representatives and university professors in US and Britain.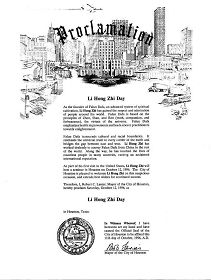 On October 12, 1996, Mayor of Houston declared Master Li Hongzhi Day.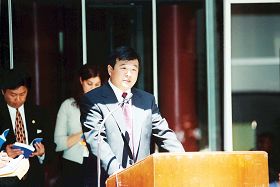 On June 25, 1999, Mr. Li speaks at a Chicago ceremony, accepting proclamations from Secretary of Illinois Finance Department, Governor of Illinois, and Mayor of Chicago.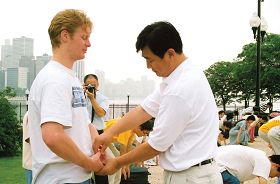 Mr. Li corrects hand gestures of a practitioners in 1999 in Chicago
Practitioners remember and appreciate Mr. Li's teaching in words and deeds
Mr. Li lives a simple life. Wherever he goes, he teaches by words and deeds. In early summer 1995, Mr. Li spent all the money gained from teaching Falun Gong sessions to produce video tapes of his teachings, and donated them to practice sites across China. It was a set of five tapes with a total of 900 minutes of teaching. There were nearly one thousand practice sites in China. They used this set of video teaching tapes to spread Falun Gong. Within a few years, one hundred million people benefited from practicing Falun Gong.
Some miraculous things occurred along the way. For example, at the 1993 Health Expo in Beijing, a cancer patient who could not walk was carried to the expo by his family members. After Mr. Li treated him, he could walk right away on the spot. A lady called Sun Baorong, paralyzed from wounds in an accident and having been in hospital for one year, was carried to the expo. After Mr. Li treated her, she stood up on the spot and could walk again. Since then, she listened to Mr. Li's teaching wherever he held a session. In the seventh session in Changchun, people seeing her said she was healthy and appeared young. Such examples are numerous.
Teaching in Taiwan
In November 1997, Mr. Li went to Taiwan to teach Falun Gong. He taught Falun Gong in Taipei and Taichung. More than 2000 people attended the sessions. Those who attended recall that Mr. Li was very kind and polite to everyone. Ms. Chen Hui-ching attended the two sessions. She said, "I felt the hall was so auspicious and was not tired after sitting so long. I remember that Master Li was very tall and compassionate. He did not take a break or drink water after teaching five or six hours. Practitioners asked him to have a break. He said he was fine."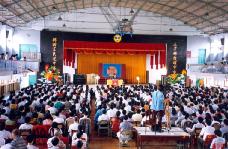 Mr. Li teaches Falun Gong in Taipei in November 1997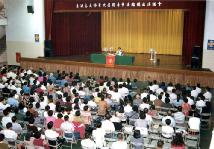 Mr. Li teaches Falun Gong in Taichung in November 1997
After the teaching sessions, Mr. Li traveled throughout Taiwan. He stayed a day at Sun Moon Lake, and paid all costs himself during the trip. Mr. Li stayed one week in Taiwan and only a few practitioners accompanied him. He did not like to bother other practitioners. One practitioner said, "Master Li thinks of others all time, which is something we ourselves should follow."
Before he left Sun Moon Lake, Mr. Li wrote a poem "Tour Sun Moon Lake". The lake is now the most visited place for overseas Falun Gong practitioners when they visit Taiwan.
Mr. Chiu Tian-hsi from Taichung said, "Before Master Li came to Taiwan, only a small number people practiced Falun Gong. After his teaching in Taiwan, Falun Gong became spreading throughout Taiwan."
Persecution accelerates the spread of Falun Gong around the world
On April 25, 1999, ten thousand Falun Gong practitioners had a peaceful appeal in Beijing. The wide coverage by media outlets put Falun Gong onto the world stage. On July 20, 1999, Jiang Zemin and the CCP initiated a massive persecution campaign against Falun Gong. Since then many Falun Gong practitioners were tortured to death, imprisoned and persecuted. With more and more media coverage, Falun Gong became better known around the world. More and more people in other countries began to learn Falun Gong. The scale of Falun Gong's welcome and development around the world were beyond the CCP's initial anticipation.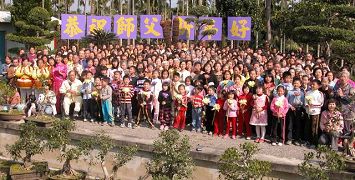 Before 2007 Chinese New Year, Falun Gong practitioners in Pingdong County gathered to wish Master Li happy New Year.
In Taiwan, Falun Gong has spread for 15 years and near half a million people practice Falun Gong. More than one thousand practice sites are set up across Taiwan. The only place in the world with more Falun Gong practitioners than Taiwan is mainland China (where tens of millions of people practice).
Steadfast belief while countering the persecution for 10 years
On July 20, 1999, CCP initiated persecution of Falun Gong with all state media, judicial system, police, army, spy, party, government and diplomats. Falun Gong practitioners were unlawfully detained, beaten, raped, injected with toxic drugs, or even killed for their bodily organs. The countless persecution means are inhumane. More than 3263 Falun Gong practitioners are confirmed to have died as a result of mistreatment and torture at the hands of Chinese authorities. Countless innocent citizens have been detained, imprisoned, locked away in brainwashing sessions, and wrongly confined and "treated" in mental hospitals. Many of them have ended up handicapped, jobless, homeless or with broken families as a result.
During the last ten years, Mr. Li taught Falun Gong practitioners to keep belief in Truth-Compassion-Forbearance and protest the inhumane persecution with peaceful, rational and tolerant manners. Falun Gong practitioners keep explaining the facts of Falun Gong and exposing the persecution to the world's people, awaking people's consciences. Many people have changed their attitude from the hatred and indifference resulting from the CCP's relentless evil propaganda, to sympathy, understanding, and support.
Mr. Li being interviewed by a CBS reporter right after the CCP began the persecution of Falun Gong in 1999
106th Congress of US issued Congressional Record in recognition of Falun Gong week.
Master Li observes the world quietly in meditation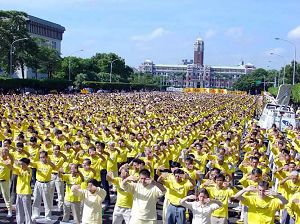 On November 15, 2003, nearly ten thousand Falun Gong practitioners had a group practice in front of President Office in Taiwan and called for public trial of Jiang Zemin and an end to the persecution.
Celebration of World Falun Dafa Day
In 2000, Falun Dafa associations across the world decided together that May 13 should be celebrated as World Falun Dafa Day. To commemorate this year's World Falun Dafa Day, I, as one Falun Gong practitioner, wrote this article to express my highest respect to Mr. Li.
On May 15, 2001, New York Senate issued a resolution to honor World Falun Dafa Day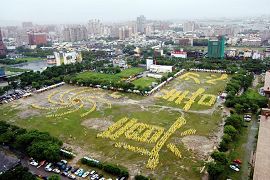 To celebrate World Falun Dafa Day, On May 15, 2005, 3500 Falun Gong practitioners in Taiwan formed characters "Truth-Compassion-Forbearance' in Chinese and Falun emblem.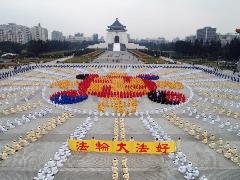 On December 25, 2005, 4000 Falun Gong practitioners in Taiwan formed Falun emblem to wish Master Li happy New Year.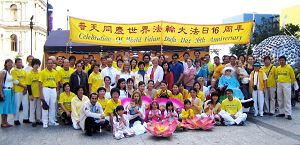 In 2008, Falun Gong practitioners in Queensland, Australia celebrate World Falun Dafa Day