Sydney Arts Community Amazed By Shen Yun Performing Arts: "Extraordinary! We Haven't Seen Anything Like This - Ever!" (Photos)
April 27, 2009 | Compiled by Clearwisdom staff
(Clearwisdom.net) As Shen Yun Performing Arts continues to grace the stage at the palatial Parade Theatre, audience members continue to enthusiastically respond to the New York-based company.

Mrs. Ware, whose daughter had bought the tickets for them, but was unable to make it, said her daughter would have enjoyed the performance because she was a dance teacher. "I think it is extraordinary. We haven't really seen anything like this--ever! It's amazing."

Mrs. Ware, Bethany, and Sam
Mrs. Ware had brought her granddaughter Bethany, a dancer. Bethany was amazed that the costumes were so "flowing" and also at the joy exhibited by the dancers. "They are colourful, bright and happy and fun," she said.

Mrs. Ware added, "It's a totally new picture of China because we don't see this picture at all."

She explained, "I see a lot of happiness and beauty which I hadn't realised, and a reverence for the past which I hadn't thought was there," she explained, "I thought that was gone so that was really exciting to see. I think they need to keep [this], and I think there is a reverence for it."

Indonesian Dancer: "It was like Wow!"
Indonesian dancer Ms. Hidayati saw the show with her boyfriend, "He took me here as a surprise, so I didn't know I was coming tonight. I'm so glad he did!"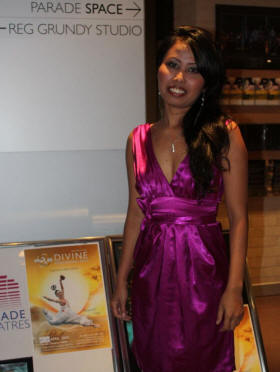 Indonesian dancer Ms. Hidayati
Ms. Hidayati has danced since the age of five, she said, "It was like: Wow! I couldn't describe it, it's very good. The dancing is very, very excellent. I love the set!"

She said the entire show touched her heart, and that she was moved by the performance "Heaven Awaits Us Despite Persecution." "I learned a lot about the soul, especially all the stories--I really didn't know before about Falun Gong or about Mulan. A few stories I knew about, but it is a learning experience for me--learning more about Chinese culture."
Former Ballet Dancer: "They Performed Beautifully Together!"
Former ballet dancer Ms. Strykowski, was delighted to be at the Parade Theatre on Saturday, to watch the show. She said, "To me, the work is excellent. They perform beautifully onstage. ... I'm really enjoying it very much. It's colourful, it's beautifully timed ... [the] costumes are beautiful. The backdrop is interesting."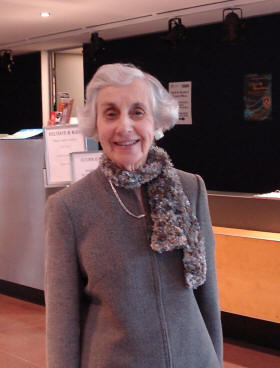 Former ballet dancer Ms. Strykowski
As a former professional dancer herself, Ms. Strykowski remarked on the dance performances. "I think the techniques are very good, and I think they performed beautifully together ... the timing is excellent. I think their artistic work was excellent and very expressive, and their hands and arms are lovely ... beautiful movements! Their turns are very good, their pirouettes are very, very good."

She was moved by "Heaven Awaits Us Despite Persecution." "When the bad ones came in and split up families ... it was really well portrayed."

Dance Teacher Impressed By Shen Yun

Mr. Hunter, the director of a popular dance school in inner Sydney, was impressed after seeing Shen Yun. "The coordination, the perfect timing!"

Shen Yun features coordinated dance in both Chinese classical and ethnic forms. Mr. Hunter said it was very difficult to achieve this type of coordination, and he was full of admiration for the discipline of Shen Yun's dancers.

He added that he was also intrigued with the backgrounds, and said that he was impressed with the movement and amount of detail in them.

He added that he was disappointed he had not known about the show earlier so he could bring his students to see it.
Source: http://theepochtimes.com/n2/content/view/15916/
http://theepochtimes.com/n2/content/view/15920/
http://theepochtimes.com/n2/content/view/15912/
http://theepochtimes.com/n2/content/view/15903/