Falun Gong Demonstrated by Entire Student Body for Taiwan Middle School Anniversary (Photos)
December 17, 2009 | By a Falun Dafa practitioner from Taiwan
(Clearwisdom.net) On December 11, 2009, Dulan Middle School of Tai Dong County held its annual sports meeting and anniversary. All students of the school, totaling over 100, demonstrated Falun Gong exercises at the opening ceremony. Their orderly and peaceful movements won high marks from the parents and guests. The principal made a speech at the ceremony and he also introduced Falun Gong to visitors.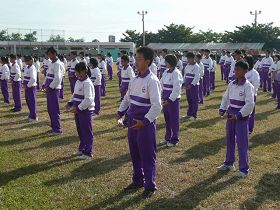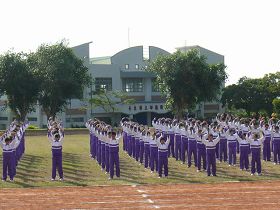 All students of Dulan Middle School in Tai Dong County Taiwan demonstrate Falun Gong exercises at the sports meeting opening ceremony
A few years ago, Falun Gong practitioners were invited to demonstrate the Falun Gong exercises in the school, which left principal Chung Chie with a very good impression. "Falun Gong is a healthy and peaceful exercise," Chung said, "Falun Gong teaches Truthfulness-Compassion-Forbearance. It teaches people to do good deeds and be good. It also has very good health benefits."
The principal also believes that if students have Truthfulness-Compassion-Forbearance in their hearts, it will be them good fortune when they grow up, so he decided to promote Falun Gong in the school and hopes the students can cultivate both mind and body with the exercises. Starting a few weeks ago, the students began practicing Falun Gong after school, and the results were surprising. The students not only had a beautiful demonstration at the ceremony, but many students also had beautiful experiences to share after practicing the exercises.
Many students said they became more concentrated, had a better temper, and were more energetic. Some students said they became smarter and their math scores improved. Students from one class said they now run faster and feel lighter.
A teacher named Weng said students wrote experiences of both body and mind in their communication notebooks. Teacher Weng said he is also benefited from the exercises and the relationship with the students improved.
Dulan Middle School is located in a remote countryside. The school scored second among all 23 schools of the county this year. A teacher named Lim, who practices Falun Gong, was asked by the school administration to introduce Falun Gong to all the teachers and students. The students of his class willingly apply Truthfulness-Compassion-Forbearance in their daily study and lives.