UK Falun Gong Practitioners Expose the Persecution at Manchester City Centre (Photo)
(Clearwisdom.net) On Saturday, October 17, 2009, Falun Gong practitioners from northern England went to St. Anne's Square in Manchester to raise awareness about the persecution of Falun Gong in China by the Chinese Communist Party (CCP).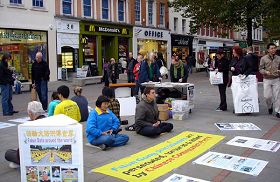 Passers-by carefully read the display boards. Many people signed the petition in support of Falun Gong practitioners calling for the end of the CCP's persecution.
On the square, many people were coming and going. After reading the fliers or the display panels and watching the demonstration of Falun Gong exercises, some people came over to talk with practitioners. They wanted to know why people who practise such peaceful exercises are being cruelly persecuted in China. A practitioner told them that the evil nature of the CCP is the main reason that people who believe in Truthfulness-Compassion-Forbearance are targeted for persecution. In fact, the CCP regime is paranoid about losing its power and has been persecuting many different groups of people in its 60-year rule.
Many signed the petition supporting Falun Gong practitioners and wished that the persecution would end as soon as possible. Showing their support, some offered to buy hot tea for the practitioners.
One middle-aged man was reading the display boards very carefully. When a practitioner walked over, asking if he had any questions, he turned and said, "I am so sad." The practitioner asked him, "Would you like to sign the petition and help end the persecution?" "Yes!" he answered.
A mother and her five-year-old daughter walked straight to the table and signed the petition. After a practitioner thanked them for the support, the mother was ready to leave with her daughter. But the little girl was reluctant to go, as she wanted to sign the petition as well, because her mother had told her to help those who were mistreated. Approved by the practitioner, the kind mother helped her daughter write their home address and then the little girl signed her name very carefully.
A middle-aged, elegantly dressed lady and her companions all signed the petition. When a practitioner thanked them for the support, the lady answered, "You are welcome. I am willing to do it from my heart. And I want thank you."
On this day, the practitioners distributed almost 3,000 leaflets, collected over 300 signatures and helped 26 Chinese people quit the CCP and its affiliated organizations.