Falun Gong Welcomed at Boston University Student Organization Expo (Photo)
September 22, 2008 | By a practitioner in Boston, Massachusetts, USA
(Clearwisdom.net) On September 17, 2008, Boston University held a student organization expo in the student activity center. More than one hundred student organizations participated in the expo. Falun Gong practitioners set up a stand to introduce Falun Gong and taught people how to make folded paper lotus flowers.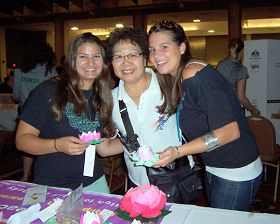 Photo of a practitioner with students who have just learned how to make folded paper lotus flowers
Falun Gong practitioners demonstrated the five sets of Falun Gong exercises onstage for fifteen minutes. Many students watched the demonstration and some of them came to the stand to take a flyer.
Throughout the afternoon, students came to inquire and ask for introductory flyers. One Chinese student came to ask for more information and stayed quite a while. He said to the practitioners, "The Chinese Communist Party should not interfere with people's freedom of practicing Falun Gong." Some students expressed interest in the practice and asked where to learn. A total of fifteen students signed up to join the Falun Gong Club.
Many students were attracted by the paper lotus flowers on display and wanted to learn how to make them. They also listened to the practitioners' explanation about the flower: "In traditional Chinese culture, the lotus symbolizes purity, kindness, and steadfastness. After the Chinese Communist Party started the persecution of Falun Gong, many practitioners suffered brutal torture for not giving up their belief. These lotus flowers represent their steadfast belief." The students expressed appreciation to the practitioner for sharing and posed for a group photo.