PACE VP Requests Eutelsat Resume NTDTV's China Broadcast (Photos)
(Clearwisdom.net) On July 11, Mr. Goran Lindblad, Vice President of the Parliamentary Assembly of the Council of Europe and a Swedish Parliament member, issued a media statement which requests Eutelsat to resume NTDTV's China broadcast.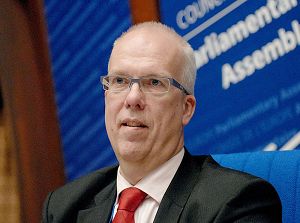 Goran Lindblad, Vice President of the Parliamentary Assembly of the Council of Europe
Mr. Lindblad's media statement
According to a recording of a conversation between a Eutelsat Beijing Representative and a person posing as a Chinese Communist official, the termination of the broadcast was a political decision made by the satellite company to please the communist regime. The recording was obtained by the organization Reporters Without Borders.
In response to this incident, Mr. Lindblad issued the following comment: "As the Olympics are approaching, we should have more debate and information on what is happening in China. More people should be able to criticize, as many things happening in China are just 'image projects' and people are consequently suffering. The regime's persecution of Chinese people should be debated around the world. To them, the government is a terrorist regime. Growing worldwide concern, debate and pressure will escalate the collapse of the communist regime."
Below is the English translation of the July 11 Media Statement:
Media Statement; Communist Regime Colludes with Greedy Capitalist
Eutelsat CEO took independent television - New Tang Dynasty TV - off the air in order to build a closer relationship with the Chinese Communist regime. For nearly 3 years, the company has been under pressure from related Chinese representatives: if Eutelsat terminates NTDTV's China broadcast, the company will receive bigger contracts and can use Chinese rockets to launch satellites.
A desire for profit turned Eutelsat into a servant of the Chinese Communist regime (or in the words of Lenin, a "useful idiot"). Reporters Without Borders recently released a phone recording, which revealed that Eutelsat took NTDTV off the air following the Chinese Communist regime's will and lied to the public as it claimed that NTDTV was removed due to a technical problem.
Even Lenin said: "Capitalists forgo principles in front of profits and will face their own consequences." I have to acknowledge that he was right this time. In addition, this incident itself will accelerate the disintegration and collapse of the communist regime.
Swedish Parliament Moderate Party member
Goran Lindblad