Congressmen Applaud Falun Gong at Festival of the Arts (Photo)
May 02, 2008 | By a Falun Dafa practitioner in New Jersey
(Clearwisdom.net) The "Communiversity 2008 Festival of the Arts," sponsored by the Arts Council of Princeton and Students of Princeton University, was held on Nassau Street in downtown Princeton New Jersey on the afternoon of April 26, 2008. Falun Gong practitioners from New Jersey participated in the festival.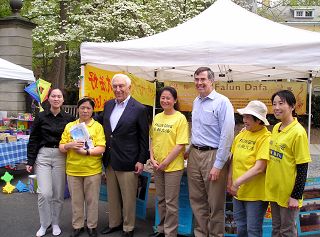 US Senator Frank Lautenberg (third from left) and Representative Rush Holt (third from right) pose for a group picture with Falun Gong practitioners
It was a nice day, and crowds of people visited the festival. Falun Gong practitioners set up a display and banners reading "Falun Dafa Is Good" and "Truth-Compassion-Tolerance" at their booth. Some practitioners demonstrated the Falun Gong exercises wearing golden practice suits. Their smooth and beautiful movements, along with the music, attracted people. Some practitioners distributed fliers and exposed the persecution of Falun Gong by the Chinese Communist Party (CCP).
US Senator Frank Lautenberg and Representative Rush Holt visited the Falun Gong booth. Representative Rush Holt was previously a professor at Princeton University. He has been very supportive of the anti-persecution effort, and he was happy to see Falun Gong practitioners again. He shook hands with practitioners and praised their persistence. He praised the practice upon hearing that Falun Gong had cured fatal diseases. Both congressmen happily took a group picture with Falun Gong practitioners.
Many people were shocked upon hearing about the persecution and condemned the CCP. Some Chinese quit the CCP on the spot. Many showed great interest in Falun Gong and took information with them so they could find out more.