Missoula Montana Welcomes Human Rights Torch Relay (Photos)
The steps of the Missoula, Montana Courthouse were bathed in sunshine on Saturday, April 26, 2008, as the Global Human Rights Torch Relay was greeted by supporters. State Representative Franke Wilmer, proudly carried the Human Rights Torch, leading a procession from the Courthouse to Caras Park Pavilion. Banners alerted onlookers to "Support Human Rights in China, Never Again, Berlin 36 Olympics, End Live Organ Harvesting, and The Olympics and Human Rights Violations Cannot Co-exist in China."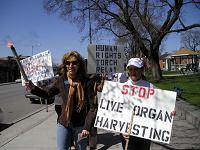 State Representative Franke Wilmer carries the torch
Missoula Mayor John Engen began the afternoon's events by welcoming the audience and expressing empathy for those who are oppressed in China. He granted the Human Rights Torch Relay a proclamation and declared April 26th Human Rights Torch Relay Day.
Missoula Mayor John Engan speaks
Heather Meng, a Falun Dafa practitioner, spoke about how she came to this country in 1987 to pursue a Masters degree, and have a second child. She stated "In 1989, the Tiananmen Square massacre shocked me, and made me realize for the first time, that the biggest advantage of living in the US is actually the freedom, which is far more important than an academic career or having more children." She explained how her family in China were concerned that she may never return to China because of her belief in Falun Gong.
The winners of the children's poem contest, which was organized for today's event, read their poems, which concentrated on human rights, and were awarded their prizes. Audience members were impressed and moved by the insights of eighth graders Molly Stark-Ragsdale and Ali Kaiman, and all the poems were displayed for reading.
Elizabeth Tomlinson, a Christian and supporter of human rights in China, explained the abuses of Christians in China, and the differences between the State-delegated Christians and those of true faith. She stated that every Catholic bishop in China is either under house arrest or imprisoned.
Randy Cox, incoming president of the American Board of Trial Advocates, addressed the audience on behalf of Gao Zhisheng. Lawyer Gao was granted the "Courageous Advocacy Award in 2007 by ABODA. Cox stated, "It takes an act of courage to challenge the legal system of a country and it takes a greater act of courage to do that in China."
Jennifer Hunt and Traci Kutzleb, musicians from the University of Montana School of Music, played melodious flute duets.
Ms. Wilmer, appointed as chair of the Montana Human Rights Commission in 2005 by Governor Brian Schweitzer, stated that "The state of Montana is committed to Human Rights as a policy." Her uplifting speech called upon us to recognize that each religion counted, which makes all of us one body and interrelated.
Jessica Letters, representing Congressman Rehberg's office, expressed her personal support of the Torch Relay and then read a letter of support from the congressman. Additionally, Senator Jon Tester of Montana, sent a letter of support which was read by Linda Lightfoot.
A minute of silence followed, for all those suffering under persecution, and this brought the Human Rights Torch Relay in Missoula to a close. A documentary of the Torch Relay will be produced by the Missoula Access Channel, MCAT, and will be aired in the near future, and replayed during the Olympics.