Two Alabama State Congressmen Send Letters of Congratulation to Divine Performing Arts (Photos)
April 23, 2008 | By Minghui reporter Wang Xiaode
(Clearwisdom.net) After 45 shows of Chinese Spectacular in 13 European countries, the Divine Performing Arts came back to U.S.A and will hold several shows in Mid-U.S.A.
Seth Hammett, the speaker of the House of Representatives of Alabama State sent a congratulation letter to the arts troupe, wishing a big success on the show which will be held in Huntsville, Alabama.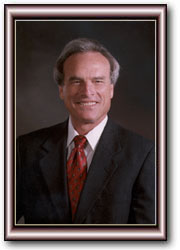 Congressman Seth Hammett, Speaker of the Alabama State House of Representatives
Congressman Hammett's letter
Mr. Hammett said in his letter:
"It is my esteemed pleasure to welcome you to the Divine Performing Arts' first Alabama presentation of Chinese Spectacular. I commend all of the performers, sponsors, Donors, and organizers for all of their hard work in making this program possible. Divine Performing Arts has set out to cultivate understanding between Chinese and Western cultures through their performances. They've had presentations all over the world, and I am sure you will enjoy the orchestrated music, graceful choreography and the elegant costumes that will be seen throughout the show. I am excited that you will have the opportunity to experience electrifying theatrics that many around the world have described as breathtaking. I'd like to encourage you to sit back, relax and enjoy the show. Best wishes on a wonderful production."
Alabama State Congressman Mike Ball also wished the show a big success. He said in his letter:
"It is a pleasure to have this opportunity to bring greetings to you and to thank you for bringing the Chinese Spectacular here. Your presence in Huntsville and the performance which we will enjoy are most gratifying.
"I, and the community at large, appreciate the beauty and traditional behind the Chinese Spectacular and wish you tremendous success as you take this presentation across the United States.
"May these performances help to promote international understanding and cross-cultural relationships."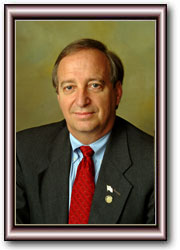 Alabama State Congressman Mike Ball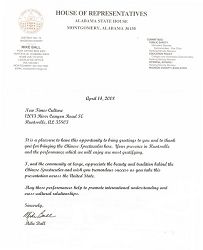 Congressman Ball's letter