Boston: "Olympics Cannot Coexist with Crimes Against Humanity" (Photos)
April 02, 2008 | By Minghui reporter Cheng De and Li Ruoyun
(Clearwisdom.net) The Human Right Torch Relay (HRTR) with theme "Olympics and Crimes Against Humanity Cannot Coexist in China" reached Boston on March 30. One thousand people attended the rally and several notable speakers gave speeches at the rally. Since China won the bid for the Olympics while promising to improve the human rights situation, it has instead escalated the persecution of Falun Gong, especially in the past few months leading up to the Olympics.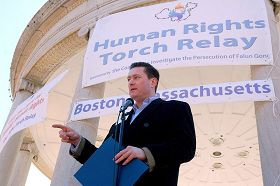 Congressman Edward Augustus from MA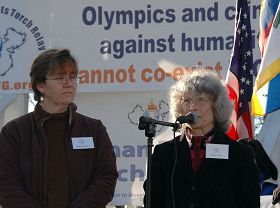 Madelyn Good, representative of HRTR in MA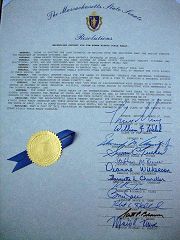 The Massachusetts State Senate passed a resolution to support HRTR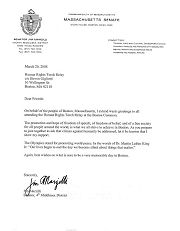 Mr. Marzilli, MA State Senator, sent a letter of support to HRTR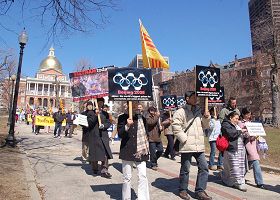 March to support the HRTR
More than 10 local media outlets reported the event, including Metro West, WCVB, ABC5, WHDH, NBC7, NECN, New England Cable TV, Emerson College, Videoshpere and Wellesley.
Seven-time Boston Marathon runner and Iron Man competitor Paul Guzzi ran 27 miles from Hopkinton to Boston Common carrying a torch and a message. At noon, the torch got to Boston Common, and a rally was held.
Steve Gigliotti, the spokesman for HRTR in MA, expressed that Boston is the origin of the American Revolution and is a symbol of freedom, so it is a perfect place to host the HRTR.
At a rally on Boston Common, speakers were expected to include State Senators Edward Augustus and Dianne Wilkerson and representatives from Students Against Genocide, Doctors Without Borders and the Tibetan Association of Boston.
In his speech, State Senator Edward Augustus quoted Edmund Burke, a great British philosopher: "The only thing necessary for the triumph of evil, is for good men to do nothing." ?He welcomed HRTR to Boston.
City council member Mike Ross said in his speech that his father was a survivor from a Nazi concentration camp. He said that the 2008 Olympics in China reminds people of the German version in 1936. Many people thought that the Olympics could make Germany change, but the massacre of Jews happened afterwards anyway. He said that we are facing a battle and encouraged for everyone to fight it together.
State Senator Dianne Wilkerson said that the people of Boston were happy about every Olympics, but this year things are different. The 2008 Olympics is not something that makes people happy. Many people are suffering from persecution in China, but many media outlets have kept silent. She thanked HRTR for bringing the real Olympic spirit.
"I wish very much that I could be with all of you in person for this important rally," U.S. Senator Edward M. Kennedy wrote in a letter to organizers, sharing his concern over China's "serious human rights abuses."
"President Kennedy believed very deeply that 'each of us can make a difference, and all of us should try," the Senator wrote, commending those rallying. "That principle should guide us now."
State Senator Jim Marzilli said in his letter: "The Olympics stand for promoting world peace. In the words of Dr. Martin Luther King Jr., 'Our lives begin to end the day we become silent about the things that matter.'"
Many citizens of Boston came to the rally. Rollin Murray, an elementary school teacher, said, "Everybody has human rights. It is sad that many Americans don't stand up for those who don't have human rights."