New York: The Chinese New Year Splendor Astounds Mary Anthony, a Renowned Dancer (Photos)
February 02, 2008 | By Minghui reporter Li Jingfei
(Clearwisdom.net) The Chinese New Year Splendor, presented by the Divine Performing Arts of New York, staged its second show at New York's Radio City Music Hall on January 31.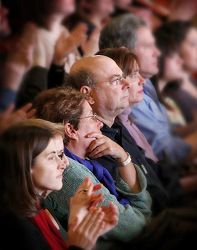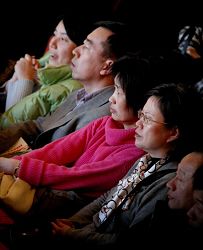 Show Astounds Famous Dancer
Ms. Mary Anthony, a famous modern dancer who has performed on Broadway, was amazed by the show. She said she had only praise for the director.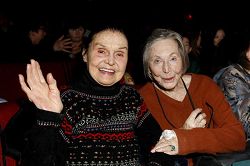 Ninety-one year old Mary Anthony and her friend, Maia Hellea, a ballet dancer, had high praise for the showMs. Anthony wondered where the actors came from and who trained them. "Such a great performing company is very rare, and every performer was beautiful."Ms. Anthony was a famous modern dancer in New York's Broadway dance community. Many dance companies around the world have performed her productions. In 1956, she set up her own performance troupe. She has won many awards, and recently she won the 2006 Martha Hill Dance Award. New York City issued a proclamation for "Mary Anthony Week" in her honor.
Ms. Anthony liked the traditional Chinese dances very much. She said that people from every city in the world should have a chance to enjoy this great show, especially New York, the arts capital of the world. She said she had nothing but praise for the show.
Wall Street Banker: "My granddaughter was moved to tears"

Yolanva Melendez, a former Wall Street banker, came to the show with her seven-year-old granddaughter, Gabriela.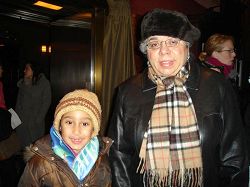 Yolanva Melendez, a former Wall Street banker, and her granddaughter, Gabriela
Ms. Melendez said it was her first time seeing such a show. She liked the music, background design, and the dances.
Ms. Melendez said her granddaughter was moved to tears when she saw the Falun Gong practitioner raised to the heaven after being tortured to death. Seven-year old Gabriela said she could not help crying. The show impressed her deeply, especially the first program, "Creation." She likes Chinese culture and learned several Chinese words during the show.
New Yorker: "The Chinese people will have freedom
"
Birk Hauk, 64, of New York came to the show with his friend, Bonilla. Birk said they had planned to see the show last year but missed it. This year they booked their tickets early.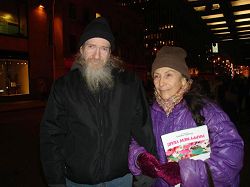 Birk Hauk of New York came to the show with his friend, BonillaMr. Hauk said the show portrayed traditional Chinese culture, which impressed him. He likes the "Tao" in Chinese culture and said that high moral standards and compassion should guide everyone in their daily lives.
Mr. Hauk said he has been concerned about Falun Gong for years. He liked the dances in the show that conveyed the spirit of Falun Gong practitioners, and he said he believed that the show would make more people think about Falun Gong. He said the principle of "Truthfulness-Compassion-Forbearance" is not attractive to the Chinese Communist Party because it is a tyrant power. Birk believes that when everyone in China knows the truth, the Chinese people will have freedom.
New York Lawyer: "I see the hope of China in this show."
Mart, a lawyer in New York, and his wife Maggie, highly praised the show and said they learned a lot about Chinese culture.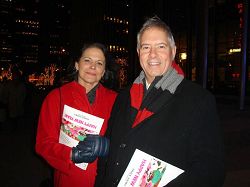 Mart, a New York lawyer, and his wife at the show
Mart didn't understand why the Chinese government tried to interfere with the show. He asked what the Chinese government is afraid of and what is wrong with promoting traditional Chinese culture. He said he sees the hope of China in the show.