San Francisco: Spectacular Moves People from All Circles (Photos)
(Clearwisdom.net) On the evening of January 26, more than 2000 people packed the Orpheum Theatre to watch the acclaimed Chinese New Year Spectacular, drawing to a successful conclusion after a run of 7 shows. Many in the audience commented that the show was very moving and hoped it will come back to the city next year.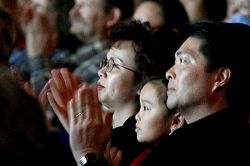 Spectacular audience in San Francisco

Korean immigrant Steve Song works for the Santa Clara County Transportation Department, and he said: "I watched this show before on TV, however, watching at the theater is a much different experience. It was very beautiful and touching.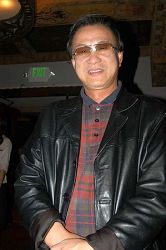 Steve Song, an employee of Santa Clara County Department of Transportation: It is very beautiful.
Jim Ferrer works as an insurance broker. He said that he loved the Chinese historical stories and the songs which had lyrics in English and Chinese projected onto the backdrop.
It was not until this performance that Jim learned that classic Chinese dance is so profound. "I didn't know that many movements in martial arts and acrobatic performances actually originated from classic Chinese dance. I just learned this tonight. I am very happy," he said.
Mary Han and Ms. Pan were both born in the US and they share the interest in Cantonese drama. For this reason, they know the stories of Lady of the Moon and General Yue Fei. "It was great, very beautiful! We love it."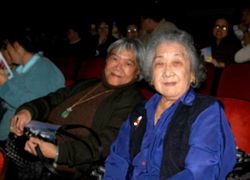 Ms. Mary Han and Ms. Pan

Qingwen Yuan was also born in US. He said: "The show was very good, and I learned a lot of things." Yuan said that he knew little about Chinese culture except some Chinese characters that he learned at a Chinese school.
His mother Ms. Yihua Cai said: "This is the first time he has watched a show like this. I think the programs are all good and very touching. The stage design, music and dancing were excellent."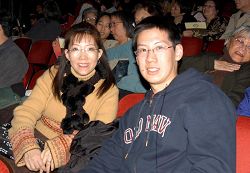 Qingwen Yuan and his mother, Yihua Cai

Qi Liang was born in Canton and grew up in Hong Kong. He and his friend, Huifang Chen, drove two hours to watch the show. Mr. Liang said that he loves reading,"but this is my first time to see a show of this kind. It was very good."
Ms. Chen said that she rarely had an opportunity to watch this kind of show and she loved it. "I am also a Chinese. I am so glad to see our culture presented here. We are old now, and we should not let opportunities like this go."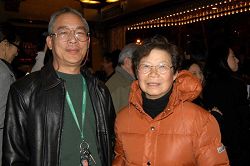 Qi Liang and friend Huifang Chen [phonetic]

The artists of the Divine Performing Arts Company have been touring in North America in two separate groups. After the presentation in San Francisco and Chicago respectively, the two groups will reunite in New York City and present 15 Chinese New Year Splendor shows at Radio City Music Hall. Detailed information is available at http://www.bestchineseshows.com/buytickets.