City Council Member: It Is an Honor to Hold the Chinese New Year Spectacular in Toronto (Photo)
January 18, 2008 | By a practitioner from Toronto
(Clearwisdom.net) From January 18 to 20, the Divine Performing Arts company will present several NTDTV Chinese New Year Spectacular shows in Toronto. Recently, Toronto City Council Member Joe Mihevc praised the contribution of the Spectacular in fostering communications between the Chinese and Western cultures. He said it is Toronto's honor to host these shows.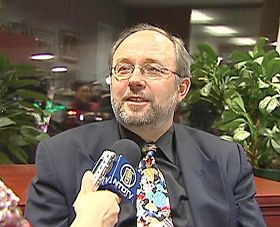 Joe Mihevc, a Toronto city council member
Mr. Mihevc remarked on the 5000-year-old Chinese civilization and its profound system of beliefs and cultural content. He was confident that it would be an excellent show that portrayed the history of Chinese culture and proud that NTDTV was staging the shows in Toronto. "Theater will be packed," he commented. He said every show would bring the joy of the Chinese New Year to the people of Toronto.
Mr. Mihevc said that 600 thousand Chinese in Toronto have been active in the field of politics, economy, and culture. Toronto's three Chinatowns are known for their good food.
Mr. Mihevc doesn't think NTDTV's Chinese New Year Spectacular is just for Chinese: "It is for the whole world." He pointed out that the show makes a great contribution to peace and harmony in the world.
Mr. Mihevc is looking forward to the show. He said his two daughters love dance, art, culture, and history, so they and his wife will come to the show with him. He is certain they will enjoy it and learn a great deal from it.