Chinese New Year Spectacular Debuts in San Diego and Wins Acclaim from Local Political Leaders (Photos)
January 18, 2008 | By Li Ruoyun
(Clearwisdom.net) The Divine Performing Arts touring company, after performing in the eastern and southern US, arrived in San Diego, California, on January 15, 2008. That evening, the first presentation of the Chinese New Year Spectacular in California was held at the California Center for the Arts in Escondido. Four shows were scheduled for January 15-17.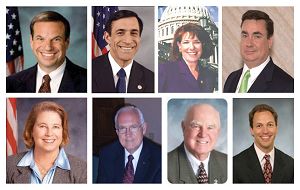 Federal, state and city government officials who issued proclamations or wrote congratulatory letters to the Chinese New Year Spectacular. Upper row from left: US Congressional Representatives Bob Filner, Darrell Issa, and Suzan Davis, and California Assemblyman Joel Anderson. Lower row from left: California Assemblywoman Denise Moreno Duchheny, Mayor Morris Vance of Vista, Mayor Claude A. "Bud" Lewis of Carlbad, and San Diego Council member Brian Maienschein. (Photos from official websites.)
US Government officials for the San Diego region issued proclamations and congratulatory letters
US Government officials in the San Diego region issued proclamations and congratulatory letters praising NTDTV and the Divine Performing Arts in promoting righteous Chinese culture and values, and exchange between different cultures.
US Congressman Filner Declares "Chinese New Year Spectacular Days"
In his proclamation, US Congressman Filner stated: "This spectacular reawakens the Chinese community to the majestic splendor and beauty of their 5000-year-old culture as the greatest names from the Divine Performing Arts of New York come together for an inspirational and exciting show of epic proportions.
"Through classical choreography, inspiring melodies, stunning costumes, and state-of-the-art background scenery displays, the celebration will be a wonderful cultural experience for the Greater San Diego community."
City Council Issues a Joint Proclamation
Mayor Morris Vance of Vista, along with four other city council members, jointly signed a proclamation that stated, in part: "...the mission of the Divine Performing Arts troupe is to rediscover and present the essence of true, traditional culture and to bring arts to the world that celebrate human dignity and positive values.
"...the dancers in the troupe are highly trained in Chinese classical dance, which involves great skill while performing dozens of distinctive movements, rhythms, and postures."
Mayor Claude A. "Bud" Lewis of Carlbad issued a proclamation that said: "NTDTV assists Chinese immigrants to adapt and assimilate to mainstream society and introduce the rich Chinese heritage to American society through its whole range of diversified programs, and NTDTV insists on media independence and ensures the free flow of information to and from China."