Japanese Falun Gong Practitioners Protest at Chinese Consulate in Fukuoka City on Chinese New Year's Day (Photos)
February 24, 2007 | By a Japanese practitioner
(Clearwisdom.net) At shortly past noon time on February 18, 2007—Chinese New Year's Day— Falun Dafa practitioners from Kiuju gathered in front of the Chinese Consulate in Fukuoka City to protest the Chinese Communist Party's seven-year-long persecution of Falun Gong practitioners and commemorating the Mainland practitioners who have died in the persecution. The practitioners raised banners reading "Stop the Persecution of Falun Gong Immediately" and "Falun Dafa Is Good." They also set up display boards to expose the truth of the persecution. To commemorate their fellow practitioners and eliminate the evilness of the Communist Party, the practitioners sent forth righteous thoughts every 15 minutes.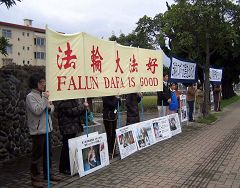 A banner reading "Falun Dafa Is Good"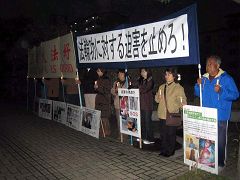 Peaceful protest continues into the night by candlelight
At around 6:00 p.m., some of the guests invited to the Chinese Communist Party's New Year dinner arrived. They walked by the protest and entered the consulate. Many guests slowed down their steps and looked at the display boards and banners with cautious expressions. A security guard wrote down the words on the banners in a notebook.
When night fell, the practitioners lit and held candles in front of their chests. They continued to send forth righteous and protest peacefully in the cold temperature.