Sweden: Falun Gong Receives Warm Welcome at a Community Event in Stockholm (Photo)
August 30, 2006 | By a Swedish Falun Gong practitioner
(Clearwisdom.net) On August 26, 2006, Faun Gong practitioners were invited to attend a community gathering organized by "San You" [Three Friends] Right of Abode Association in Hallunda, a town in the suburbs of Stockholm. Through demonstration of the Falun Gong exercises, informational display boards and making folded paper lotus flowers, practitioners introduced Falun Gong to the event participants and exposed the ongoing persecution in China as well as the Chinese Communist regime's atrocity of organ harvesting from living Falun Gong practitioners.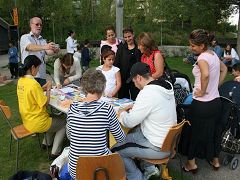 Many people learn to make folded paper lotus
flowers while listening to practitioners clarifying the truth about Falun Gong
The graceful exercise music and the elegant movements of the exercise demonstration deeply moved the local residents. People came to watch the exercise demonstration, buy Dafa books and inquire after information about local exercise practice sites. Some of them learned the five sets of exercises right on the spot. One woman told a practitioner with a smile on her face, "I've been aware of the Falun Gong exercises for a long time. I keep a videotape at home. I will find it and start practicing the exercises."
After watching the exercise demonstration and looking at the photo display, many of the participants indicated that they could not understand at all why the Chinese Communist regime decided to persecute Falun Gong. They were terrified and outraged by the fact that organs are being harvested from living Falun Gong practitioners in China. "It is hard to believe that such things still occur nowadays. It is truly horrible," a lot to them commented. People signed their names to denounce the atrocity and support practitioners' anti-persecution efforts.
Many people also learned how to fold paper lotus flowers while listening to the persecution facts. As exquisite lotus flowers imprinted with, "The World Needs Truthfulness, Compassion and Tolerance," were made one after another, people exclaimed in admiration, "How beautiful this is!" The faces of those who made folded paper lotus flowers glowed with happiness.
A gentleman who maintains the website for the community photographed all of the Falun Gong practitioners' activities. He told the practitioners that he would post the photos on the community website so that more people could know about and pay attention to Falun Gong and the persecution. After signing his name on the petition to support Falun Gong, he also had a group picture taken with practitioners.
Upon the completion of the community gathering, the event organizer approached the practitioners to say how grateful he was that the practitioners introduced the wonderful practice of Falun Gong to the community. He said he looked forward to additional events in the future.