Bulgaria: Bulgarian Helsinki Committee Announces Support for Practitioners
July 30, 2006 | By Bulgarian practitioners
(Clearwisdom.net) The Bulgarian Helsinki Committee (BHC), a non-governmental human rights organization, expressed its support for Falun Gong practitioners during a press conference organized on 20 July 2006, marking seven years of persecution of Falun Gong by the Chinese Communist regime. At the event Mrs. Juliana Metdieva, Editor-in-Chief of the BHC magazine Objective, gave a speech and said that the persecution of Falun Gong is the cruelest crime. She added that Falun Gong is a unique way for people to live a harmonious, abundant and natural life. In her opinion, for the persecution to be stopped there has to be publicity and she categorically stated that on behalf of BHC she would help practitioners in their efforts to enable more people in Bulgaria to know what Falun Gong is and to condemn its brutal persecution.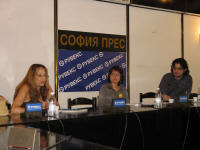 Practitioners at the press conference also announced the launching of the Bulgarian version of the European Falun Gong website Clearharmony: www.bg.clearharmony.net.
In informal conversations, representatives of various media openly shared with practitioners that the Chinese Embassy in Sofia had sent faxes with false and slanderous information about Falun Gong to the media every time some newspaper or TV exposed the atrocities committed by the Communist regime in China.
A week before the event, practitioners sent letters to many NGOs, media and government institutions, revealing the facts about the organ harvesting from living Falun Gong practitioners for profit as detailed in the report of two Canadians, David Matas and David Kilgour. They also informed people about the recent support from the European Parliament.
Letters with similar information were sent to all 240 MPs in the Bulgarian parliament.
In 2003, after interference from the Chinese Embassy in Sofia, the former Parliament Secretary canceled an art exhibition by renowned Australian artist Ms. Zhang Cuiying, whose paintings are on the walls of the European parliament. Ms. Zhang is a Falun Gong practitioner who had been in a Chinese labor camp for eight months for appealing to the Chinese government to stop the persecution, and who was later released with the help of the Australian government. She was invited to hold the exhibition in the building of the Bulgarian Parliament on behalf of Mrs. Snezhina Chipeva, an MP from the then majority political party. Just a day before the opening, the exhibition was canceled and investigations of the media revealed that it was due to interference from the Chinese Ambassador. However, the exhibition was successfully held in the Hungarian Cultural Institute.