Louisiana: KATC TV Reports on Van Tour in Southeastern US (Photo)
(Clearwisdom.net) On May 8, 2006, KATC TV Channel 4 in Lafayette, Louisiana reported the van tour in Southeastern US. Falun Gong practitioners demanded an end to the Chinese Communist Party (CCP) regime's brutal persecution of Falun Gong at the press conference held in front of the City Hall.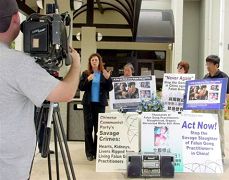 KATC TV interviews Falun Gong press conference
Falun Gong practitioners held display boards reading, "Stop the CCP's genocide against Falun Gong." Reporter from the KATC TV came to the press conference to conduct an interview and cover the event. The announcer said in TV program that Falun Gong is a cultivation practice including meditation. She mentioned Ms. Wang who interrupted the CCP leader's speech in the ceremony at the White House last month. The announcer also said that in today's protest in front of the Lafayette City Hall, more voices demanded an end to the CCP regime's persecution of Falun Gong.
Falun Gong practitioner Nancy said in the interview, "I think this is a matter that everyone in the world should concern about, including Lafayette, and including Louisiana. This is a human rights issue, and also a moral issue."
The announcer finally said that protesters expressed that Falun Gong practitioners have been detained, tortured and even killed by the CCP authorities in China.