Czech Republic: Protesting Against the CCP's Killing of Falun Gong Practitioners in the Concentration Camp (Photos)
April 01, 2006 | By a Czech practitioner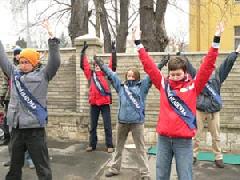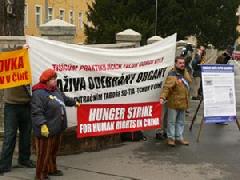 Protest in front of Chinese Embassy in Czech
(Clearwisdom.net) Starting from 10 a.m. of March 25, 2006, Czech Falun Gong practitioners launched a 24-hour hunger strike in front of the Chinese Embassy in Prague to protest against the CCP's atrocity of killing Falun Gong practitioners in Sujiatun Concentration Camp, Shenyang city, China.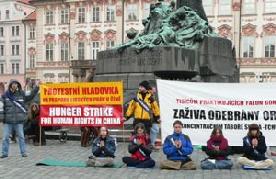 Exposing the CCP's crimes of killing Falun Gong practitioners in a concentration camp
People are shocked by the facts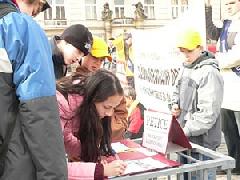 Signing to call on the Czech government to mobilize an international investigation
At 3 p.m., the hunger strike venue moved to a tourist attraction in the city centre - the Old City Square. Practitioners set up a banner reading "Several Thousand Falun Gong Practitioners' Organs Have Been Harvested While They Were Alive in Sujiatun Concentration Camp in China" and presented related introductory materials about this matter. Practitioners handed out leaflets, collected signatures to call on the government of the Czech Republic to urge the international society to conduct an investigation on the Sujiatun incident and stop the persecution of Falun Gong.
Having understood the truth, people were shocked and lined up to sign their names on the petition form.
Some Chinese people, being poisoned by the CCP's lies and used to keeping away from Falun Gong, also took some of our fliers.
Two tourists from Iceland raised their thumbs and said, "Falun Dafa is good! We wish you good luck!"
A middle-aged person wept after learning the facts. After half an hour, the person returned to the spot again and said to the practitioners, "I have never experienced such a thing. I have to do something about this."
A reporter from Deutsche Welle newspaper office in Munich, Germany told us that he will do his best to write a story after reading our fliers.
Some people raised the question of whether or not this is the only such camp in China.
The activity in city centre lasted into the night