Central News Agency: UN Commission on Human Rights Investigates Sujiatun Concentration Camp (Photo)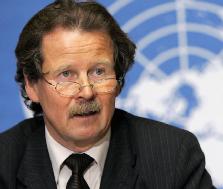 Manfred Nowak, UN Special Rapporteur on Torture states torture is currently widespread in China at a news briefing held at UN Office at Geneva on March 30, 2006 (AFP/Getty Images)
(Clearwisdom.net) The Central News Agency reported on March 31, 2006 that the UN Special Rapporteur on Torture Manfred Nowak expressed yesterday that he is looking into the allegations by the Falun Gong group that the Sujiatun Concentration Camp in Shenyang, Liaoning Province has secretly imprisoned Falun Gong practitioners and harvested live practitioners' organs to sell for profit.
BBC's Chinese language web site cited Nowak that if these allegations are found serious and well-founded, he will officially submit it to the attention of the Chinese government.
The report said that the Falun Gong group recently alleged that since 2001, Liaoning Provincial Thrombosis Hospital of Integrated Chinese and Western Medicine in Sujiatun, Shenyang City, started secretly detaining 6,000 Falun Gong practitioners and harvesting these practitioners' kidneys, livers and corneas and other bodily organs to sell for profit.
In addition, Nowak condemned the Chinese Judicial system for extorting confessions from suspects and local officials widely using torture in China without being held accountable.