Washington DC: Protesting the CCP's Sujiatun Concentration Camp and Calling for Conscience in Front of the White House (Photos)
(Clearwisdom.net) (Minghui correspondent Li Jingfei reports) On March 15, 2006, Falun Gong practitioner Guan Guimin played trumpet on Lafayette Square in front of the White House in Washington DC to call people's attention to the crimes at the Sujiatun Concentration Camp. As a famous singer, Mr. Guan said that he wanted to call for conscience and justice and help stop the CCP's brutal persecution.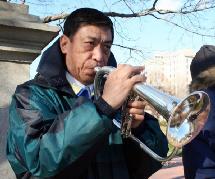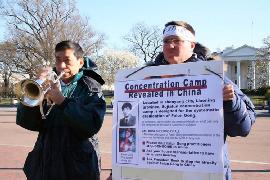 Mr. Guan plays trumpet to call for attention to the Sujiatun Concentration Camp. A practitioner holds a truth-clarification poster board
Mr. Guan said, "I learned that in a secret concentration camp at Sujiatun in Shenyang City at least 6,000 Falun Gong practitioners are locked up. Their internal organs are harvested and sold for profit, and their murdered bodies are cremated to destroy the evidence. I felt sorrow. When I was a singer in China, I heard that kidneys, hearts and other organs were harvested from death-sentence convicts for transplantation to patients."
Mr. Guan, continued, "Such a barbaric atrocity is outside of a human being's imagination. It is horrible. It is a shame."
Hearing about the atrocities at the Sujiatun Concentration Camp, Falun Gong practitioners across the world conducted many protests in various forms to expose the CCP's evil nature and help bring them to an end.
Though it was cold, Mr. Guan played the trumpet continuously. Many people came forward to inquire and take photos. He said he wanted to call people's attention to the barbarity in Sujiatun, either the US President, local people or tourists.
Mr. Guan called on the international community to investigate the incident. He believes that more and more kind-hearted people will stand up to expose the CCP's behavior.
From 9 a.m. to 6 p.m., tourists come and go one after another. The 62-year-old Mr. Guan played again and again the music he composed two year ago, "Please Sit by My Side". While playing the music, his tears ran down.
"Sit by my side
Closing your eyes
Together in silence
We call for
The end of torturing
The end of killing
The end of the persecution
Compassion grows in our hearts
Together in silence
Our wishes can make a difference"