Connecticut: Falun Gong Participates in Chinese New Year Celebration (Photos)
March 14, 2006 | By a practitioner from Connecticut
(Clearwisdom.net) On March 5, 2006, Connecticut Chinese Culture Association (CCCA) held the fifth annual celebration and traditional culture exhibition in New Haven. The Governor of the State of Connecticut proclaimed the day as "Connecticut Chinese New Year Celebration Day." Eight hundred people attended the celebration. Practitioners participated in the entertainment. The audience very much enjoyed the performances.
Picture of the dance "Drum spreading the strongest sound"
Soprano Jiang Min's first song called "Awake from Dream" touched people's hearts. Her second song called "Good Wish of Farewell to Old and Greeting the New" presented people with warm wishes from the bottom of her heart.
Renowned Chinese tenor Mr. Guan Guimin came out to the hallway before the event to chat with local Chinese. His first song was self-composed, a Shanxi folk song called "Wish." The words go, "a year passing by as a moment, any meet could be an opportunity, have you ever heard of the truth I talked to you, which is out of compassion. I wish you have a beautiful future, wish you make best use of each year, wish you mind is clearer, you can see through everything." An audience member from China told me she was surprised to see such a high level performance, and to have the opportunity to hear Guan Guimin in person was a great honor.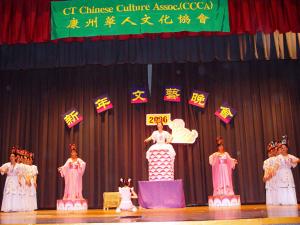 Dance "Childhood" brought many in the audience to tears
Practitioners also performed the dance "Childhood" and "Drum Spreading Strongest Sound". "Childhood" tells a story that a practitioner was taken away for persecution, while her lonely daughter dreamed that her mother become a Bodhisattva, and took her into heaven.
A retired professor from Yale University said that the performance of "Childhood" made him cry. He himself was forced to leave his daughter when she was only 15 days old, only because he and his wife were persecuted for their belief in Christianity. He told state congressional member Joe Mioli next to him that the story in the dance is still happening, right now in China.
| | |
| --- | --- |
| Members of Falun Dafa Club in Yale University showing how to fold paper lotus flowers | Calligraphy presentation |
The professor also explained the rich Chinese culture in the performances. He said: "Art should not just entertain people. ... the performances tonight really depicted the truthfulness and benevolence nature of Chinese culture, they are both enjoyable and able to lead people beyond the joy and reaching the higher level satisfactory of pure truthfulness and benevolence, and that's the true purpose of culture exchange."
Many practitioners just finished the Global Gala Troupe tour, and then went to California for an experience sharing conference. Without a pause, they came back to the east coast and took time to practice for this celebration. Why?
A practitioner said: "What we performed contains compassionate power, which can clear up the audience's bad thoughts and Chinese Communist Party-like ideas in their mind. We are purifying them, in order to let them learn the facts about Falun Gong, so they can choose a better future. Thinking of the responsibility, we have to do it no matter how tired we are. During the preparation and the performance, we took all the interference as opportunities to clarify the truth, and we took all the hardship that we run into as opportunities for improvement.