Practitioner Mr. Yu Shujin Dies of Persecution (Photo)
(Clearwisdom.net)
Practitioner Mr. Yu Shujin of Yongji County, Jilin Province, was persecuted to death. On June 25, 2004, Mr. Yu was arrested and detained in Shulan Detention Center. The torture he endured led to the calcification of his liver, excess fluid building up in his abdomen, and heart trouble. In December 2004, he was sent to serve 12 years in Tiebei Prison, Changchun City, Jilin Province, where he continued to be tortured. To avoid being responsible for his death, the prison allowed Mr. Yu to go home on November 10, 2005, for medical treatment. He died on February 11, 2006.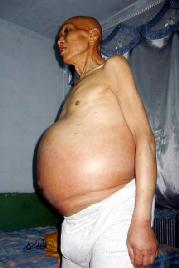 Mr. Yu Shujin was 56 and had worked as a driver for the material supply section of Zhongxiao Department. After July 22, 1999, when the government started to persecute Falun Gong, Mr. Yu went to Beijing many times to speak out against the persecution. He was arrested, detained, and forced to do hard labor several times. On June 25, 2004, while he was helping some fellow practitioners move from their house, two police officers barged in to arrest them. Mr. Yu was outside the house, but instead of running away, he helped all the others get away by stopping the officers. To vent their anger, the officers apprehended Mr. Yu and put him in Shulan Detention Center.
On June 27, Mr. Yu refused to report his name to the duty officer. Instead he sang out, "Falun Dafa is good." Angry at his behavior, five other officers immediately jumped on him and beat him. Two days later, on June 29, several officers from the Jilin Central Police Department came and took him for interrogation. They took him to a remote room, tied his arms behind his back, and hung him up. One officer poked at his head and ears with a broomstick, while another officer bashed his head with a bottle containing frozen water. Blood sprayed all over his face, and Mr. Yu gasped for air. Mr. Yu was forced to breathe oily fluid held under his nose while his mouth was gagged.
Twenty days of torture and barbarous treatment at Shulan Detention Center drove Mr. Yu to the verge of death. Over a month later he still had no sensation in his right arm, though this was not the end of his ordeal. Six months later he was sentenced to 12 years of forced labor at Changchun Tiebei Prison.
Mr. Yu battled hard to survive but was unable to recover from the injuries inflicted on him. His whole body was bruised and swollen, and his internal organs malfunctioned from the beating. He was unable to eat, unable to breathe, and his abdomen was bloated. On November 10, 2005, the office released him on medical grounds. Mr. Yu failed to recover from the beatings and died on February 11, 2006.
Contact information of those responsible for Mr. Yu Shujin's death:
Shulan City Police Department: 29 Shulan Street Post Code 132600
Chief Officer: 86-432-8224808
Deputy Officer: 86-432-8224793, 86-432-8218390, 86-432-8230606, 86-432-823562
State Security Team: 86-432-8225509
Jail: 86-432-8251226
Detention Center: 86-432-8251265, 86-432-8251225
Shulan Legislative Committee: 86-432-8258078
Jilin Prison Corporal Punishment Execution Office: 86-431-2750074
Tiebei Prison Address: 68 Xingye Street, Changchun. Post Code: 130052
Main Exchange: 86-431-5870891, 86-431-5870892, 86-431-5870893, 86-431-5870894.
Prison First Executive Zhou Zhong: 86-431-5870601(Office), Internal line Main switchboard: 86-431-5870891 Ext: 0601.
Tiebei Prison Execution Branch: 86-431-2687171, 86-431-2682031
Prison Senior Officers
Zhang Yuewqing: 86-431-5870602(Office), Internal line Main Switchboard: 86-431-5870891 Ext: 602
Sun Zhi: 86-431-5870604(Office), Internal Line-Main Switchboard: 86-431-5870891
Ext: 0604.
Liu Kuiguan: 86-431-5870606(Office), Internal Line: Main Switchboard: 86-431-5870891 Ext: 0606.
Wang Xuejin: 86-431-5870608, Internal Line, Main Switch: 86-431-5870891 Ext: 0608.
Corrective Executive: Ge Baozhong: 86-431-5870605(Office), Internal Line, Main switchboard 86-431-5870891 Ext: 0605