Venice, California, USA: Exposing CCP Crimes on the Boardwalk (Photo)
(Clearwisdom.net) The Boardwalk in Venice is a famous tourist attraction in California. Street artists, street performers, and stands of various arts and crafts form a colorful scene on this pedestrian street. A local resident told me, "Those who come visit California would first go to Disneyland. Next stop would be the Boardwalk in Venice."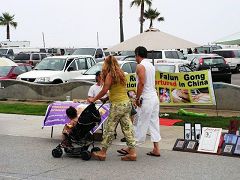 This little information site explains the facts of Falun Gong to passers-by

Ever since the Chinese Communist Party's (CCP) atrocities of organ harvesting from living Falun Gong practitioners was disclosed, practitioners have held numerous activities at the Boardwalk to expose the CCP's grave violation of human rights. Though small, the information stand calls on the conscience of those who hurry by.
Practitioners found it quite important to take into consideration how best to engage the public in this environment. If the stand displayed mostly information about the persecution, most street artists would be scared away. Having lived in peace and comfort, they could not relate to the brutality of the CCP. In order to give people the opportunity to learn the facts, practitioners started displaying more photos about the grace of Falun Gong, along with exercise demonstrations. They put most of the anti-torture exhibits and explanation about the persecution in the background.
Practitioners were allowed to distribute leaflets at the stand. When they demonstrated exercises or sent forth righteous thoughts, many people took the initiative to ask for truth-clarification materials. Some signed the petition calling for an end to the persecution. Some visitors took the leaflets and talked to practitioners about the persecution and organ harvesting. Many tourists had already learned about the persecution from media reports.
People's actions showed their kindness. Many passers-by took truth-clarification materials, and some expressed a willingness to help.