(Clearwisdom.net) On the first day of the 59th International Edinburgh Arts Festival, UK Falun Gong practitioners held an open-air concert called "Rescue Orphans of Falun Gong Practitioners." A small female choir sang about "Stories in the Pictures" and had three paintings entitled, "Homeless," "Why?" and "Come Back Daddy," as the background to the stories. A narrator explained the stories in the pictures to the onlookers in detail. Not one of the onlookers lacked a look of sympathy on their faces.
(Clearwisdom.net) Erected in 1867, Fontaine aux Lions (Fountain of the Lions) in Place Félix Eboué is situated in the center of the 12th District of southern Paris, a tranquil and peaceful area with lots of shady greenery. This is also a common place for citizens of the 12th District to take walks. French practitioners planned and held an activity here to introduce Falun Dafa on July 30, 2005.
(Clearwisdom.net) From August 1 to August 12, 2005, Falun Dafa practitioners held a two-week-long "Peaceful Journey of Falun Dafa" photo exhibition. To clarify the truth in depth, they also held a seminar entitled, "The Brutal Tortures the Chinese Communist Party Applies on Falun Dafa Practitioners."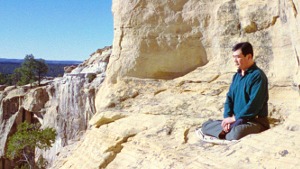 Master Li quietly watching the world from amidst the mountains after leaving New York following July 20th, 1999. (Published January 19, 2000)